March 3, 2022
How Would the Special Taskforce Promote AGVC Sector in India?
The Union Budget 2022 proposes setting up a task force for promoting animation, visual effects, gaming, and comics (AVGC) to consolidate its position in the media and entertainment industry. The task force can help create around 2 million employment opportunities for youth. All the stakeholders in the task force can help recommend ways to build domestic capacity for service markets and the global demands. The step is in the right direction, given the rapid strides India has made in this segment in recent years. The ministry of information & broadcasting (MoI&B) is planning to collaborate with the Indian Institute of Technology (IIT) Bombay to establish a center for training and content creation in animation and gaming. During the pandemic, the online training and skill development for the AVGC became popular through various e-learning platforms as the newer trends of metaverse and digitization of education increased.
The government is emphasizing digitalization in various shapes and forms to boost the digital economy in the country. It is high time that animation, visual effects, gaming, and comics be recognized as an industry, given their significant contribution in generating employment. AVGC promotion task force is a welcome move by the government for the AVGC industry to become a torchbearer for 'Made in India' & 'Brand India.' India has a deep and high-quality talent pool of developers, programmers, and creative artists who are building new platforms for entertainment and contributing immensely to the Indian startup ecosystem. The tax exemptions for startups to four years will benefit the online gaming industry comprising more than 300 companies currently. Furthermore, the digital rupee launch in FY2022-23 would increase the purchase of virtual goods in virtual games through microtransactions, increasing the profitability of other industries.
Rise of Animation & VFX industry in India
Indians account for approximately 10% share in the global animation and VFX market, expected to reach 20-25% by 2027 through structural interventions and to build domestic capacity. In 2019-2020, the sector was able to generate employment for 45,000-60,000, which has now scaled up to 75,000-120,000. Ever since the pandemic erupted in 2020, consumer behavior has largely shifted towards online e-commerce, which has created a need for online content. The global average online content consumption increased from 3 hours 17 minutes to 6 hours 59 minutes, nearly doubling during the pandemic. People are spending more time on social media, shopping platforms, video streaming services, playing more video games, which has created hardcore competition among the media & entertainment industry, which has led to greater utilization of animation and VFX.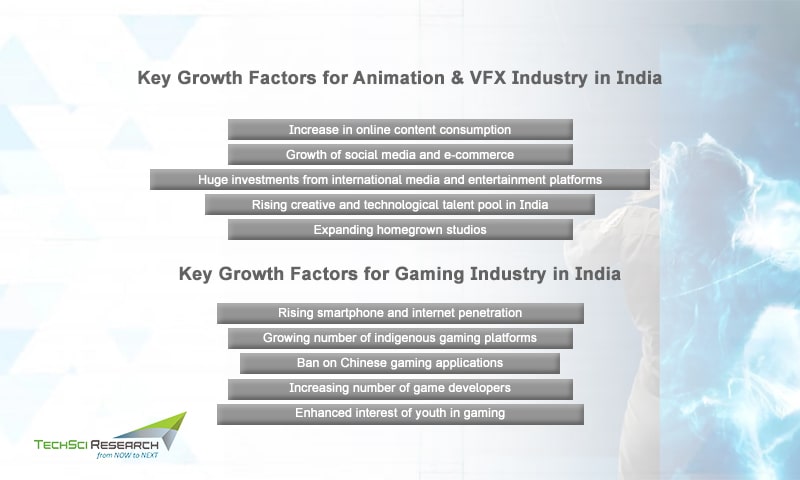 According to a report by the Confederation of Indian Industry (CII), in 2021, the Indian VFX and animation market bounced back by 30-50% in 2021 and was valued at INR24.5 billion after having a challenging year in 2020. The sudden shutting down of theatres and studios packed with editors and creators and shift to remote working put the spotlight on VFX and animation-based work to keep up the content creation for Over-The-Top (OTT) platforms, which were gaining a lot of momentum. Many popular shows and movies depend majorly on special effects and animation like Game of Thrones, Inception, Tenet, Baahubali, Avengers, and more. The animation & VFX industry is expected to reach INR249 billion by 2023, owing to the growing demand for content and rising adoption of cutting-edge technology.
Indian animation sector is clocking revenue from its international clients, mainly due to lower prices for provided services (around 1/5th of western counterparts). There has been a rise of the captive centers of international studios in India, establishing their own studios in India or investing in existing Indian companies. Being a crucial outsourcing partner for large Hollywood studios is attracting investments and adding to India's creative and technological talent pool. Homegrown stories, characters, and domestic content enable the studios to transition from service mode to IP ownerships of original content. If the sector keeps up the momentum, the animation and VFX industry can create 75000 to 125000 direct and indirect jobs by 2025.
Gaming Industry: Fastest Emerging Sunrise Sector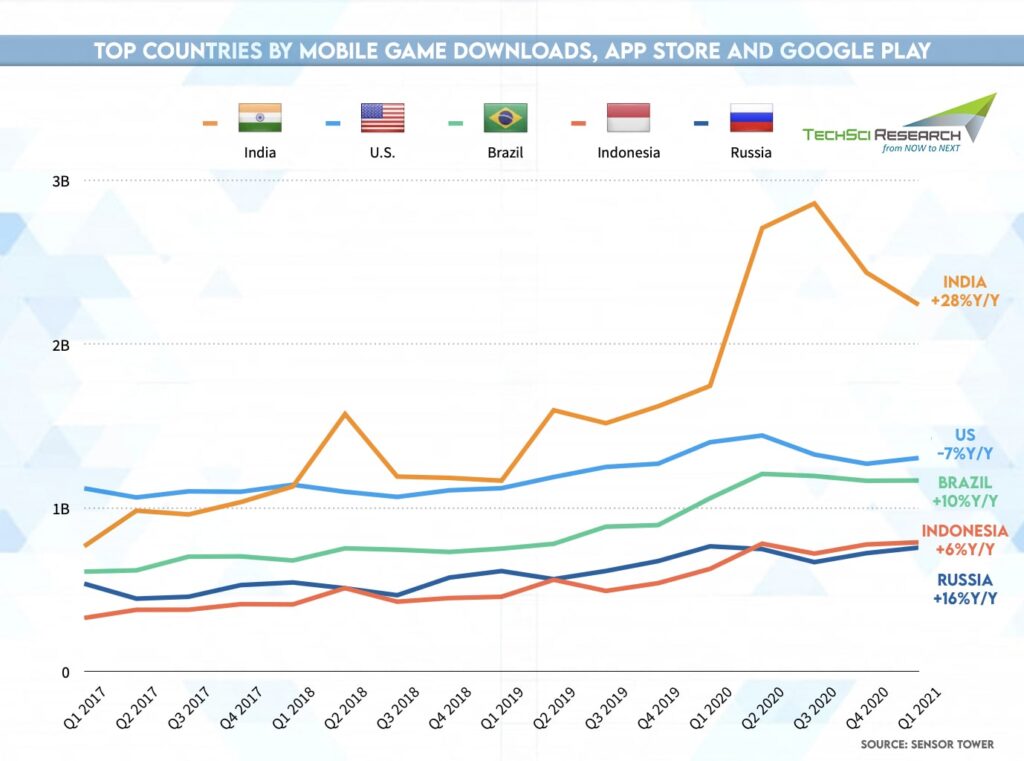 The gaming industry is one of India's fastest emerging sunrise sectors, which is expected to surpass USD5 billion by 2025 on the back of the 'mobile first' phenomenon. Rising penetration of smartphones, internet affordability, and an increasing number of innovative phone gaming applications contribute to the growth of Animation, Gaming, Visual Effects, and Comics (AGVC) sectors. The Indian gaming industry is still in its nascent stage, with a current valuation of USD930 million. In 2021, the country experienced a 22% spike in the adoption of mobile games 2021. Currently, there are 920 gaming startups in India, including Mumbai Premier League (MPL), Winzo, Nazara Technology, Zupee, Halaplay, etc. India's gaming startups raised USD549 billion in the first quarter of 2021. More than 300 million people play games on their mobile in India, leading the market to grow at a compound annual growth rate of 38% in 2019-2020 and 37% in 2021-22.
What's Driving the India Gaming Sector?
Mobile users form an overwhelming 85% of the gaming industry, followed by PC users that account for 11% and tablet users at 4%. Mobile gaming takes the largest chunk due to enhanced access to affordable smartphones, growing at a 15% Y-o-Y for the past five years in India. Besides, high-speed internet at the world's lowest data tariffs and a growing appetite for India's youth for content also contribute to the success of mobile gaming. At its peak, 34 million Indians played one of the most popular mobile games, PUBG, whereas they downloaded the battle royale genre title 175 million times.
High disposable income and wider adoption of digital payments led to a greater willingness to play for leisure services like gaming. The ban on Chinese mobile gaming apps has enabled India to unlock its local talent and develop high-end gaming applications. Since the ban in September 2020, many startups have emerged in this space and taking on the global competition. The Union Ministry of Education is also working on policies to create employment opportunities for students in online gaming, such as Smart India Hackathon to encourage youth to showcase their online gaming skills. Other government initiatives include setting up data center parks aimed at improving digital infrastructure for upcoming gaming companies.
Seeing the popularity of online gaming, many new gaming ventures are entering the Indian market. For instance, Paytm First Games, introduced by the FinTech giant in 2019, witnessed a 200% increase in its intellectual property during the lockdown period in 2020. The gaming platform provides more than 300 games, including Teen Patti, Rummy, Fantasy Cricket, and more. Additionally, game developers are constantly working towards improving the gaming experience and introducing new games. Since cloud gaming is emerging as the most popular segment, faster network connectivity is expected to have a positive impact on the overall market's growth.
Challenges for the AVCG Sector
Although online content consumption is growing significantly, the growth and demand present their own unique set of challenges. One of the biggest challenges that the Indian AVCG industry is facing is the limited availability of talent in terms of volume. To complete and deliver a VFX sequence requires a team of a minimum of 150-200 artists. However, more skills from tier 2 and tier 3 cities can help the industry in delivering faster and more efficient work. Another challenge is to change the opinion of the international market that the Indian animation & VFX industry can handle only low-cost hygiene projects. Leveraging cutting-edge technologies for production and execution can help to change the prejudice regarding AVGC industries. More encouragement from the government in terms of tax evasions and subsidies and financial support from investors can help the industry scale-up. India has an endless wellspring of mythological sagas and contemporary heroes from different regions and cultures, which could be put together creatively to entertain the masses in the domestic and international market.
There is a vast scope of employment in the esports/video games for professional gamers, casters, commentators, game testers, referees, event managers, crew members, product managers, and other support staff for various esports tournaments. Allocation of 5G would enhance gamers' experience and facilitate the adoption of new technologies. Besides, more investments in the AVGC sector would further help the gaming industry build its capacities and capabilities.
Blog : https://www.techsciresearch.com/blog/how-would-the-special-taskforce-promote-agvc-sector-in-india/295.html
Way Ahead
The virtual experience spectrum is becoming a massive space with multiple companies around the globe working towards creating bespoke, Cx technologies. The technology enabling virtual journey has the potential to provide end-user with larger than life, immersive, and detailed experience. Multiple AR/VR solutions are mushrooming in most hotspots by large industry players in India. The increasing adoption of digital technology and transition to the virtual arena is creating a need for VFX and animation, be it for online gaming, virtual walk-throughs, education, or entertainment. With the growth in virtual platforms, the India AVGC industry would contribute more to the economy in the coming years.