November 8, 2021
Why should Every Retailer Opt for Mystery Shopping Program?
Retailers, market research companies, and consumer watchdogs conduct mystery shopping programs to check the quality of service in brick-and-mortar environments such as retail stores, restaurants, bank branches, and so on. The main objective of companies for executing mystery shopping is to ensure that customers have a consistent and high-quality experience at their sales locations and franchisees. The most common sectors where mystery shopping is conducted are retail, credit industry, automotive sector, public health, and telecommunications. Mystery shoppers usually examine the quality of service, appearance of products, sales quality, quality of advice, honesty, and accuracy during the evaluation process.
In this market methodology, mystery "shoppers" disguise themselves as regular customers to ensure transparency during the evaluation process. The marketing tool helps brands see their business from the customers' eyes and help companies improve the average shopping experience for everyday customers. Mystery shopping can be a powerful tool for brands to anonymously audit customer experience, especially for retail locations that operate independently from the main franchisor. Any effective mystery shopping program will encompass these four major themes.
Employee Evaluation
Employees become the face of the company, especially in retail environments. Thus, delivering an exceptional service helps a company to create a positive reputation in the mind of the customers, which could help increase sales. Companies usually execute mystery shopping at retail stores to ensure that their employees consistently provide great customer service and value.
Mystery shopping programs ensure that employees perform their tasks as the brand desires during real interactions with real customers. Because regional managers have the shoppers' eyes and ears monitoring, mystery shopping experience makes them more efficient at their work. Besides, regional leadership spends more time on training employees to make the service as per standards as they never know when the mystery shoppers drop by at their store to make analysis.
Every establishment has more than just a product to offer. There is a wealth of information that can be shared with the customers to enhance their shopping experience and bring value to their experience. For instance, at a clothing store, the salesman can communicate to customers about various trendy designs, different kinds of fabrics, dress as per occasion, or what suits to a particular kind of body type, etc. so that the customers have a high level of satisfaction when they step out of the store. Thus, mystery shopping helps companies reach their highest potential and increase sales.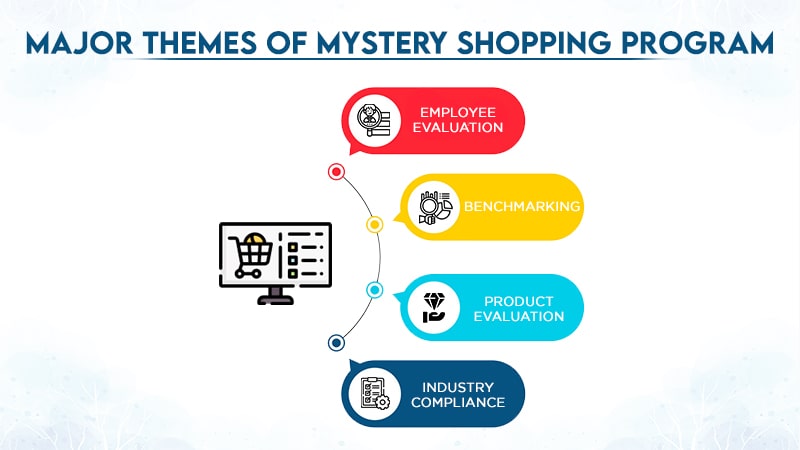 Benchmarking
Simply knowing how your business is performing in the market is not enough unless you set a benchmark for the quality of products or the kind of services you expect to provide to customers. Information collected by mystery shoppers can be used to fuel a benchmarking program, which can help compare customer services to competitors' or company's standards. The benchmarking provides a snapshot of services across the organization to establish best practices and improve the existing ones. Monitoring improvements can also help determine regional leaders' training efforts, the need for the brand to consistently provide the best customer experience and meet the brand promise.
Knowing your organization's place on the industry totem pile can highlight specific reasons why brands at the top continue to enjoy success. Mystery shoppers focus on how specific products are marketed, priced, and sold to the customers to identify the loopholes that might sabotage their sales. Monitoring the marketing methods and price levels of competitors will help organizations accurately place themselves amongst competitors.
Program or Product Evaluation
Mystery shopping programs can be highly beneficial when a company introduces a new product in the market. Mystery shoppers can provide an unbiased and transparent response about the product quality, how it is displayed in the market, offered to the customers, or marketing strategy to attract customers. By gathering all the valuable information, companies can create their strategy so that the product performs better in the market.
For instance, if a retail food chain comes up with a new product offering in a particular locality, mystery shoppers can evaluate its taste, the kind of food service provided by employees, check for the advertisement at a store location, and other parameters and provide that information to the company for making any changes, if needed.
This way brands can ensure to deliver only the best quality products and service to the customers and measure the effectiveness of their marketing strategy and save a lot of time, money, and resources.
Industry Compliance
The most significant theme of mystery shopping is compliance audit, which becomes especially critical for brands offering products/services in the healthcare space and brands that stock tobacco or alcohol products. Food industry, airlines, and financial services also remain under heavy scrutiny and need to adhere to industry standards to ensure the safety of customers. Any negligence can lead to extreme financial and legal repercussions as well wounded brand image. Therefore, mystery shoppers evaluate whether the brand is following the necessary guidelines, adhere to corporate objectives and federal regulations.
Mystery shopping can help uncover necessary insights and information involved in delivering value to the customers. Besides, mystery shoppers provide brands with the required, unfiltered, and outside-in perspective to unlock and deliver industry-leading customer experience.
Process of Mystery Shopping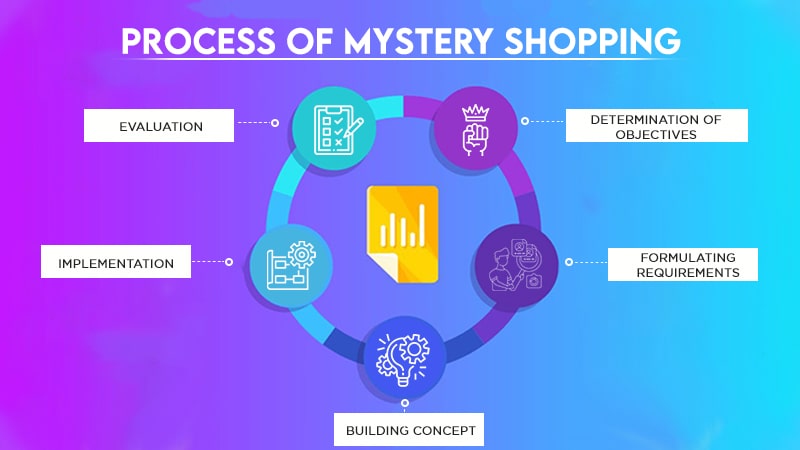 · Determination of Objectives
The mystery shopping process begins with a set of pre-determined goals that outline what exactly is expected out of a shopping experience. Sometimes even the small details are important to ensure the best experience and results for both customers, and brands. Here are some of the common areas that are analyzed during the mystery shopping program.
· If you made an appointment before visiting the store, how did the employee respond to your queries?
· How did employees greet you when you the visit store?
· What is the general appearance of the store?
· How are the products displayed?
· Did you face any difficulty in finding the product or service?
· How many employees are working at the store?
· Do employees act in a professional manner and fulfill the requirements on time?
· Does salesperson have adequate knowledge about the product or service the store is offering?
· Do the offered products have sound quality?
· Does staff maintain hygiene at the workplace?
· How quickly staff responds to the queries made?
· How was the overall shopping experience?
· What is the checkout process including returns and exchanges?
Since finding answers to these questions can tell a whole lot about the company, these evaluations can help companies make important decisions about their products, customer services, and brand identity. However, the questions should remain consistent for the same products/services to make evaluation trustworthy for the client.
· Formulating Requirements
Mystery shopping program must be designed in a way that the evaluation checks all the clearly defined requirements. For instance, if your goal is to determine why your competitor brand is performing well in the market for a similar kind of product offering, then focus your goals surrounding this objective. Mystery shoppers can check for the display of the product, product placement at the store, how the staff convinces a customer for the new product, the product quality, its advertisement at the store, etc.
· Concept
The third step of the mystery shopping process is determining who will act as test customers, experts, or amateurs. The company must select the right kind of mystery shopping technique to analyze its customer journey by gathering valuable insights. Generally, there are four types of mystery shopping programs such as:
In-store mystery shopping
During in-store mystery shopping, the "shopper" is assigned to visit a brick-and-mortar store or business location to assess the whole process. This kind of mystery shopping helps gather comprehensive information about different aspects of a business.
Telephone mystery shopping
Telephone mystery shopping is intended for businesses involving a great deal of telephone communication such as help desks, IT departments, BPO services, etc.
Internet mystery shopping
Internet mystery shopping is aimed at businesses that operate primarily over digital platforms such as e-commerce platforms. The mystery shopper has to visit the website and analyze everything, from browsing to the follow-up process.
Multi-functional mystery shopping
This kind of mystery shopping allows businesses to analyze multiple distribution channels and assess the entire customer journey through a combination of mystery shopping techniques such as in-person, telephone, or internet.
· Implementation
During the implementation process, the mystery shopper needs to make sure that customers test the company's services in a previously determined manner. The whole mystery shopping process needs to be done in a way that goes unnoticed by the staff to maintain effectiveness. Mystery shoppers are advised to be objective in their approach and exclude personal bias while gathering necessary insights. The complexity of the instruction provided to the mystery shoppers depends upon the kind of business operations. Experienced mystery shoppers are trained to extract the information needed by competitive businesses without revealing identities, which can help gauge competitors in the industry.
· Evaluation
Evaluating insights is just as important as any other phase of the mystery shopping process as this portion gives meaning to all the other phases. Collated information can be thoroughly converted into actionable reports to improve the organization's overall efficiency. The mystery shopper survey analytics can be used to highlight top-performing business areas so that you can build a strong foundation and address the loopholes before they get intensified. Mystery shopping can also help reformulate business strategies and make it easier to discuss organizational issues among employees.
Mystery shopping survey can improve the overall performance of staff as well as enhance brand reputation in the market. Thus, a mystery shopping survey can be conducted from time-to-time to ensure that you stay ahead in the competition. Usually, mystery shoppers are instructed to visit a shop twice or more to set a benchmark for the services provided by employees to the customers. However, the frequency usually depends on business goals and available budget.
More Details Visit : https://www.techsciresearch.com/consumer/mystery-shopping-audits.aspx