November 11, 2021
Is India Set to Become a Global Leader in Solar Energy?
As India's population continues to grow at a rapid scale, its energy demands grow as well. Currently, India is among the top-three nations in energy use due to increasing urbanization, expanding carbon-intensive industries, rising power demands from commercial as well as residential sectors. In the next two decades, India's population is anticipated to grow by 270 million, which would burden the overly stressed power sector in the country if sustainable power sources were not developed in the coming years. Besides, the country is more vulnerable to climate change, majorly due to the melting of Himalayan glaciers and changes in monsoon patterns, the shift towards a low-carbon and regenerative economy is imperative.
For a tropical country like India, harnessing the power of abundant sunlight to meet the country's ever-increasing energy needs is a no-brainer. India has taken the place of prominence in the sustainable power shift that's underway globally. According to a report released by the Council of Energy, Environment and Water (CEEW), India presently has a 100 GW capacity of installed renewable energy, of which solar energy constitutes 40 GW of power. To become a net-zero emissions country by 2070, India needs to increase its solar power capacity to 5630 GW. India is one of the emerging renewables and storage powerhouses, which is on its way to meeting most of its Paris targets.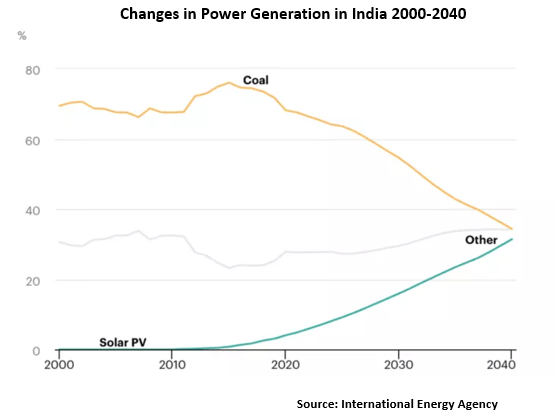 Although the near-term target of achieving 100 GW solar energy by 2022 has been hindered by two years due to the COVID-19 outbreak, India has pledged to install 450 GW of renewable power by 2030, most of which will be met through solar energy. If the target is achieved, India will generate around 60% of its electricity from non-fossil fuel sources by 2030, which would be less expensive than coal-fired power and environment-friendly. This could help bring sustainable, clean, and environment-friendly energy to millions of people across the country. However, sustainable energy transition would require the development of utility-scale renewable energy plants, innovative regulatory approaches, and storage facilities to offer constant supply.
Transforming from today's policy choices to sustainable development plans would not be easy or economical. Instead, the transition would require considerable innovation, cross-border collaboration, foreign investments, strong partnerships, and a huge amount of capital. As the economy is gradually picking up momentum post-COVID-19 outbreak, there have been major developments in the renewable energy sector, both via the public and private sector to scale India's solar ambition and scaling. In India, many companies are starting to set up their climate initiatives under current policy changes to become more carbon neutral.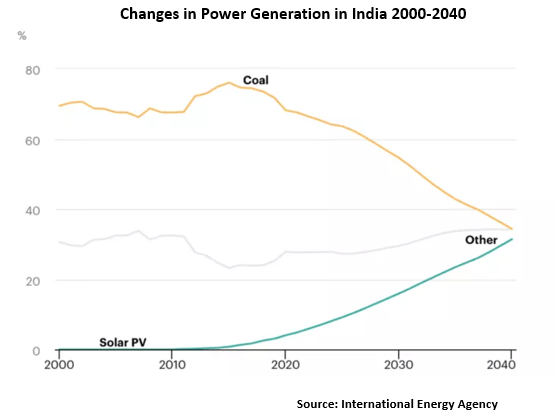 Major Investments by Private Sector for Solar Power Generation
Reliance New Energy Solar Ltd. (RNESL), a fully owned subsidiary of Reliance Industries Ltd. (RIL) has acquired 100% shareholding of REC Solar Holdings AS from China National Bluestar for USD771 million. The acquisition made by the operator of the world's biggest refining complex, Reliance Industries Ltd., comes after the company announced to invest USD10.1 billion in clean energy to become carbon neutral by 2035. REC Group is an international pioneering solar energy company that manufactures and distributes high-efficiency and long-life solar cells and panels worldwide. RIL plans to use REC Group's industry-leading technology in their fully integrated, metallic Silicon to PV Panel manufacturing Giga factory at Dhirubhai Ambani Green Energy Giga Complex. The acquisition is in line with RIL's aim to generate 100 GW clean energy by the end of this decade. Besides, Reliance is also gearing up to make India a manufacturing hub for lowest cost and high-efficiency solar panels.
Adani Green Energy has entered a deal to acquire SB Energy India for USD3.5 billion. The acquisition will add 5 GW of renewable energy capacity, which will boost Adani's operational portfolio by 46% and its overall portfolio to 19.8 GW. The buyout is in line with Adani's plan to become the global leader in renewable energy. Recently, Adani Green also acquired 40 MW operating solar project of Essel Green Energy Pvt Ltd. located in Odisha for a valuation of INR219 crore. Gautam Adani has also announced to make an investment worth USD20 billion in green energy projects over the next decade.
These investments indicate a shift to vertical integration in solar energy, which would be fundamental for a clean energy transition in the country.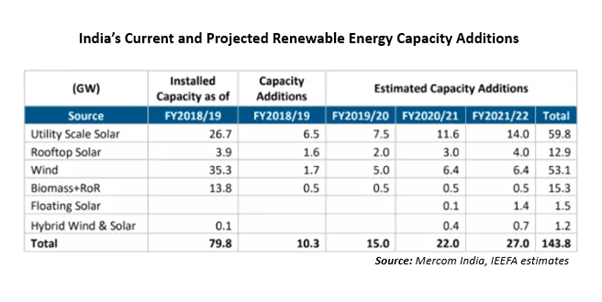 World Bank Group's USD1 Billion Support to Boost Solar Globally
The World Bank Group is backing India to deliver on its plans for scaling up solar energy lending more than USD1 billion over FY2017. The solar investment is the bank's largest-ever finance support to any country for the expansion of renewable energy to data. The World Bank-supported projects under preparation include everything from installing solar panels on rooftops to building massive national parks, providing support for solar mini-grids to promoting innovative solutions for the generation and storage of solar power.
Some of the major projects under preparation to support India' solar energy program includes USD625 million Grid Connected Rooftop Solar Program to finance 400 MW of solar photovoltaic installations and USD200 million Shared Infrastructure for Solar Parks Project under a public-private partnership model. The World Bank has also signed an agreement with the International Solar Alliance (ISA) to promote the use of solar power globally. India is leading the ISA that consists of 121 countries to mobilize a global movement towards a climate-friendly future. 
India's Flagship Solar Project
Rewa Solar Power Plant
Spread over 1590 acres, Rewa Solar Park is one of the world's largest solar parks, which has now become an anthem for India's clean energy evangelists. The solar park has proved to be a game-changer in India's energy mix and added momentum to India's commitment to increasing renewable energy capacities. The Rewa Park has an installed solar capacity of 750 MW, out of which 76% of the power produced is distributed to state electricity distribution companies while 24% is supplied to Delhi Metro Rail Corporation (DMRC).
60% of DMRC's electricity demands are met by the Rewa solar park, which means that 290 trains across 373 kilometres in a single day utilize green energy. DMRC reduced the dependency on coal for electricity needs which would save them around INR793 crore over the next 25 years. By 2022, the Rewa Park will add 2.5% to India's total installed solar capacity and reduce the levels of greenhouse gas emissions by 1.3 million tons every year.
World's Largest Solar Park at Bhadla
Bhadla solar park is the world's largest solar park spread across more than 14,000 acres in the Jodhpur district of Rajasthan. With a total installed capacity of 2245 MW, the solar project is the no.1 solar farm developed by multiple companies through public-private partnership. The solar park has almost 50% more than all solar installations than USA's largest residential solar installer, Sunrun and about 50% larger than China's largest solar installation, Tengger Desert Solar Park. The Bhadla solar park has set a new standard for cheap solar energy costs in India as the large-scale PV project costed about USD0.79/W. Low technology and labor costs are some of the factors that attributed to drop the cost of solar.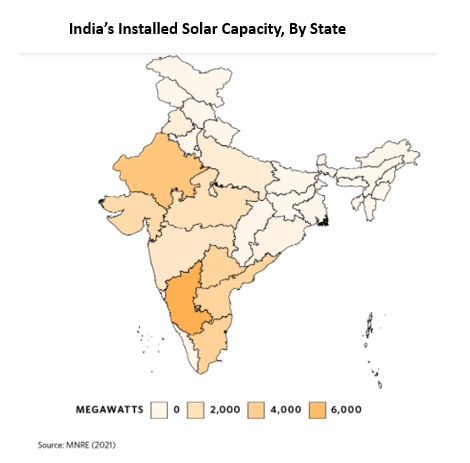 National Programme on High-Efficiency Solar Photovoltaic (PV) Modules
In order to boost the domestic manufacturing capacity of solar PV modules, the Government of India approved an INR4,500 crore Production-Linked Incentive (PLI) scheme. Removing sectoral disabilities by incentivising manufacturers of solar PV modules will help India to reduce import dependency. Besides leveraging its growing green energy market with the implementation of PLI scheme, India also looks forward to playing a larger role in strengthening the global supply chain. Until now, 19 companies have bid for the PLI across sectors like polysilicon manufacturing, wafer and cells, and modules.
Can Clean Energy Overcome the Power Crisis in India?
Several Indian states including the capital city of New Delhi have warned the Central Government about the anticipated power crisis due to coal shortages. Presently, more than 70% of India's electricity comes from coal-fired thermal power plants. But, rising energy demands, floods, and global price fluctuations has resulted in acute shortage of coal, threatening power stability in the country. Therefore, the government is keen on making a transition to clean energy sources to reduce dependency on coal to keep the economic engine cranking. India now plans to ramp up the proportion of its green energy production from current 101 GW to 450 GW by 2030. In the last five years, India has already increased its solar energy production by 11 times. However, India cannot decide to give up on coal completely in the next 10 or 20 years since its energy demands are growing at a rapid rate with growing urbanization and economic activities.
Challenges Ahead
Currently, China is the global leader in solar energy in nearly all aspects, from usage to manufacturing. The solar-electricity market in China is expected to further expand by 13% a year as the country plans to move towards green energy for reducing carbon emission levels. Cheap and skilled labors, state-of-the-art machinery, and abundant raw materials are some of the factors attributing to the growth of China's solar energy generation.
China has increased the prices of solar panels by up to 20% within the last six months, which may put Indian solar power projects at risk. 84% of solar panel requirements of India are still met through imports from China. However, the increased prices have led to uncertainty over solar tariffs, which could put many projects in setback. Local solar equipment manufacturers are facing financial crunch as they are priced out by Chinese competitors despite Narendra Modi government's move to prioritize local manufacturing over cheap imports.
Conclusion
Energy sector is undergoing a major transformation. The 2030 milestone is crucial for a cleaner and brighter future for millions of Indians in the coming decade. India can create a pathway to sustainable growth for nations around the globe, transitioning to clean energy and ensuring inclusive growth for all. India already has more than 30 Bhadla-like solar parks in the pipeline, that could expand the availability of electricity and meet the growing demands of the Indian economy. India's large-scale solar development projects in the pipeline stand at 53.6 GW, whereas 24.1 GW of projects are tendered and the rest pending are in auctions.