November 17, 2021
Shipping Containers Shortage and Its Impact on Global Economy
The COVID-19 pandemic induced travel and transportation restrictions across the world led to a drastic drop in sales & procurement and disrupted global trade substantially. Worldwide merchandize trade fell 5.3% in 2020 as countries imposed lockdown restrictions to limit coronavirus spread. Although the world merchandize trade volume is expected to increase by 8% in 2021, the trade growth will likely slow down to 4% in 2022, according to the World Trade Organization.
What Resulted in Global Container Shortage?
The logistics chaos has become a major concern for exporters around the globe, which is continuing to plague global supply chains. The temporary closure of seaports across the globe and reduction in the number of operating cargo ships because of the pandemic led to a glut of containers in some pockets while creating a massive shortage of shipping containers in others. A significant number of containers are stranded in inland depots, while others are piled up at cargo ports, causing severe container shortages at some ports.
Many companies could not secure containers due to reduced consumer spending and a massive drop in retail purchases, which resulted in a more prominent container shortage. Besides, the entry of mega-containerships in the global shipping scene is causing more delay as they take four to six weeks for transporting goods from Southeast Asian countries to North American ports. Additionally, the unprecedented reduction in global trade during the pandemic disrupted the normal flow of shipping containers, creating a high demand in some regions. Many ports also suffered workforce issues due to lack of truck drivers and other support functions, resulting in vessel delays, container loading volume limitations, etc. Thus, the lockdown restrictions and staff deficit intensified the shortage of containers and disturbed the usual trade flow.
Soaring Prices of Containers
Containers form an essential part of global trade since around 90% of the goods utilized across the globe, including processed food products, medicines, clothes, electrical appliances, etc., are transported through sea. Around USD14 trillion worth of goods are transported via cargo containers, which keeps the global economy running. Accelerated recovery in international trade and lack of unavailability of containers increased the rates of containers by up to 60% since May 2021. The international container shortage has led to a hike in freight rates by over 500% for key shipping routes compared to September 2020. For instance, 40 ft container shipping rates from China to the US climbed above USD20,000 per container in August 2020, compared to just USD4,000 per container in August 2019.
Hike in Freight Prices
Major shipping industry shipping giants like Maersk and Hapag-Lloyd have been hit hard due to the container crisis despite increasing container refilling and emptying times to 25% faster than usual to ensure optimum container utilization. These companies are desperately looking for more capacity to keep up with the global trade demand. Some have started reusing older containers and asking customers to return empty containers earlier.
While China could resume its import-export trade due to rapid recovery from the COVID-19 pandemic, other countries lagged significantly, so containers could not be sent back to the regions where they needed to continue the trade partnership. Indian exporters are complaining to North America and Europe about the long delay times, stretching to even three weeks, causing major trade related issues. The international container shortages have delayed shipments to East Asia for up to 60 days for British exporters.
Chinese shipping container manufacturers are asking USD2,500 for each new container, nearly twice as much as the price in 2020. The skyrocketing price of shipping goods threatens to increase prices for consumer goods, everything from toys, furniture, automobile parts to coffee, sugar, and other commodities. Thus, rising container prices are compounding concerns in global markets struggling to recover from the worst global recession since the Great Depression. According to estimates, a 205% rise in container shipping costs throughout 2021 could raise euro-area producer prices by as much as 2% in 2022, forcing companies to pass the extra costs on to consumers.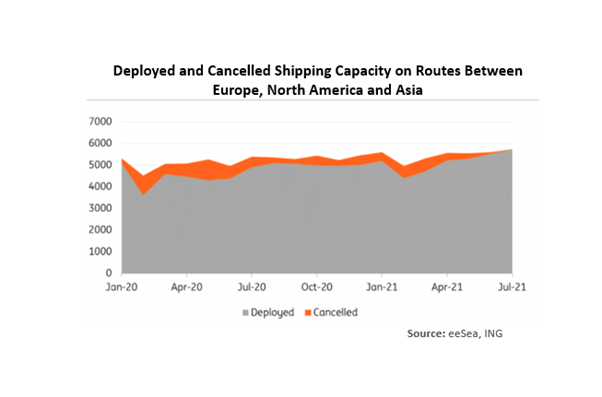 Adverse Effects of Container Shortages on Industries
Almost every industry is facing the brunt of constrained supply chain issues prompted by container shortages. East Asian electronic manufacturing hubs such as South Korea, Malaysia, Thailand, Vietnam, Taiwan, Japan, Singapore, Philippines have been severely hit by supply chain disruption due to unavailability or delayed imports of key electronic components and other essential raw materials. Global automobile and smartphone manufacturers are the key industry segments impacted by microchip shortages due to constant disruptions. Apple's production of its iPhone 13 has lowered due to lesser chip supplies. Many car factories have delayed the production of their cars due to a lack of key auto parts, particularly semiconductors.
Supply shortages are rife in the raw materials market, contributing to a rise in commodity prices. The price of commodities including oil, ferrous and non-ferrous metals and chemicals have increased sharply. The costs of white sugar have jumped to a three-year high whereas delays in the food-grade soybean shipment have increased the costs of soy milk and tofu in Asian countries. The severe shortage of sea containers has left tons of perishables lying uncleared in India due to shipment delay, causing a major rift in the global food supply chain.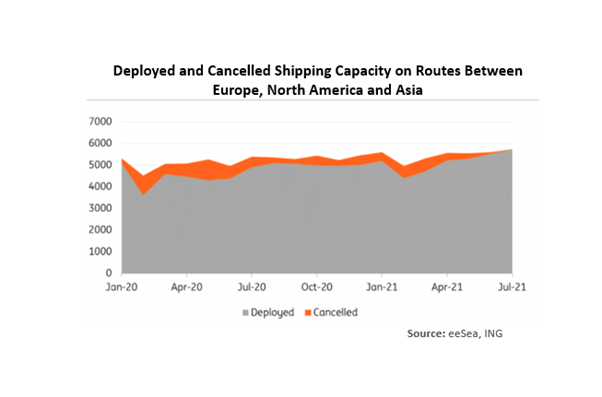 Can Building More Containers Solve the Shipment Problem?
Around 80% of the world's shipping containers are manufactured by three Chinese companies, China International Marine Containers (CIMC), Dubai International Financial Centre (FDIC), and Changzhou Xinhuachang International Containers Co., Ltd. (CXIC). These manufacturers are boosting their production to record rates to keep up with the container demand. However, the inventories of the new containers remain very low despite factories ramping up their production, which is causing the price hike. Also, building more shipping containers is not an immediate solution to the disrupted global trade supply chain because the ordered vessels will be delivered in late 2023 and 2024. Besides, injecting more vessels would compound the bottlenecks at ports and increase the delay period. The ports should be well-equipped to handle the number of ships and containers for rebalancing the global distribution of containers.
With freight rates expected to remain high in 2022, major multinational companies seek to regionalize their supply chains. Big businesses like Walmart, Home Depot, Ikea, etc., are considering purchasing their containers and charter ships to address product shortages. Alibaba Group's Cainiao has launched its container booking service spanning across 200 ports in 50 countries to reduce the backlog of empty containers.
Is Inadequate Port Infrastructure to Blame for International Container Shortage?
Despite the rising consumer demands over the past decade across the world, the port infrastructure has not undergone any major transformation to accommodate the overwhelming needs of exporters. Even before the pandemic, the ports needed investment to upgrade infrastructure to ensure optimum shipping container utilization. Many ports are not equipped for the big ships capable of carrying up to 20,000 containers, requiring deeper docks and bigger cranes. In North America, the average time that container ships spend on anchor rose to more than 30 hours in May 2021, compared with just 8 hours during pre-pandemic times. A glut of containers is an overwhelming, strained port infrastructure, and then unloading them can take up to 12 days, which causes delayed deliveries and a hike in prices.
The pandemic has highlighted the disruption in the global supply chain, creating a greater need for coordination, information exchange, and digitization. Improving the port infrastructure by automating operations, building facilities to handle larger ships, and employing more staff at the port to enhance operations can help deliver goods on time and prevent the containers from stranding at sea.
Impact of Container Shortage on India
According to the report released by the Ministry of Commerce and Industry, India's merchandize exports in September 2021 rose by 28.51% from USD26.02 billion in September 2019. The price for a container to or from India rose to USD7,000-USD10,000 compared to USD3,000-USD4,000 a few months ago. Besides, the freight cost to Europe and the US has increased by 100%, whereas in the American West Coast and UK, the cost has increased by over 200% over the last quarter.
India is a net promoter of many items, from petroleum to electronic components, fertilizers to active pharmaceutical ingredients, and more. Due to global container shortages, small manufacturers in India are struggling to receive raw materials and intermediate goods, which can stoke inflations. The widespread pandemic induced layoffs have led to labor shortages, which is further adding to the delay of items.
In India, very few companies control the shipping lines and monopolize costs to take advantage of the increasing demand for shipping containers. Many companies in South America, West Africa, and eastern nations refuse to import goods from India due to unrealistic increased freight rates. The industry manufacturers are concerned that India might lose out on some serious business during the holiday season due to import-export hurdles. The Federation of Indian Export Organization is seeking help from the government to release approx. 25,000-35000 containers stranded at different ports across the country or those not unloaded due to custom disputes.
Way AheadShipping industry experts are positive that the current shipping problems would soon subside with the inclusion of more vessels and containers entering the market in the coming months. Moving forward, transparency in rule-making and advanced port infrastructure would be fundamental to support the global trade. Predicting shipment quantities in advance through data modeling and technology can help pick the right route, maximize the capacity, and make smarter decisions.