September 29, 2021
How to Develop a Successful Product?
Businesses across the world experienced a shockwave of changes in 2020 due to the disruptions caused by the coronavirus pandemic. Amidst the rapidly transforming business ecosystem and accelerating digital adoption, product development companies are striving to develop new and innovative solutions to meet future demands. Companies are leveraging modern AI and IoT solutions to create quality and sustainable products that deliver excellent performance and efficiency. According to a recent study, spending on AI technologies is estimated to reach USD97.9 billion by 2023, more than 2.5 times the spending level than 2019. 
With the evolving customer choices and nature of competition, companies have started shifting towards a customer-centric approach to develop products and drive business growth. For a keen understanding of the customer segments, companies articulate the whole customer journey with various AI tools and methods to maximize customer lifetime value. For instance, one of the most consumer-centric brands in the world, IKEA creates affordable customer-segment-specific solutions based on lifestyle and location, which appeals to millennials. However, a true customer-centric product strategy requires extensive market research to gather analytical information and promote wider participation.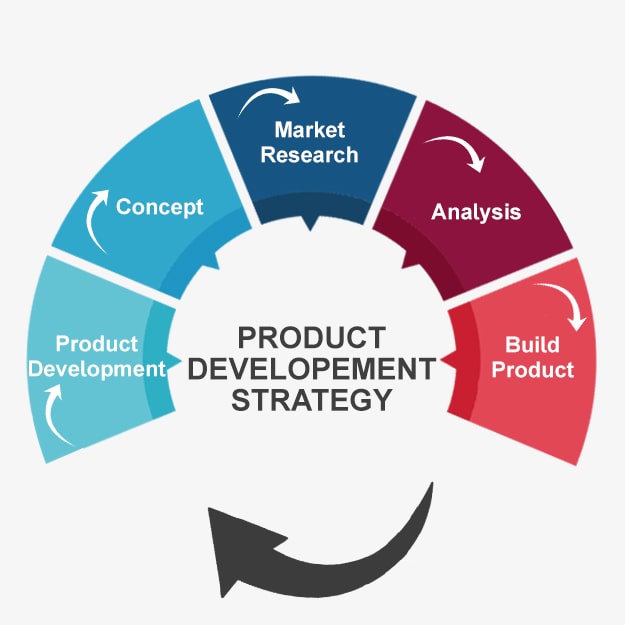 Key Product Development Strategies
Target Market Analysis
Thorough, well-planned, and well-executed target market research help determine potential buyers' needs and wants. The target market analysis provides a high-level perspective of the overall business field, which helps align a product or service into a specific market. Besides, the market analysis helps marketers identify the most and least valuable markets, develop buyer personas, assess the viability of a product or service, and find gaps in the market. Some of the demographic factors that one must identify in the market analysis are age, gender, income, lifestyle, geographical location, and preferences of the target audiences.
Market research can be done by conducting surveys or product testing to determine how the target audience responds to the product/service. Also, research about your competitors by visiting their website, signing up for their email list, and creating a report by identifying how the new product can outperform them and the challenges that one might face. Clearly define all projections such as project lead time, potential sales, marketing costs, raw material costs, tariff costs, labor costs, and other preliminary sales tactics to ensure the success of the product.
Product Designing
If you are developing tangible products, create a sketch to figure out dimensions, features, and their functionality. Make a list of the components, identify vendors that supply those items, and outline specific benefits the customer will receive from the products. Consider patent/legal considerations, dimensions, timelines for production, assembly requirements/process, add-ons/accessories, functionality, storage, and packaging for building physical products. For example, if you are manufacturing a product that utilizes semiconductors, then find answers to questions like how long it will take to receive a particular quantity of semiconductors, who will be supplying the microchips, what happens if the vendors fail to supply a pre-determined number of chips in a definite time, etc.
Service design is stakeholder-oriented since the intention is to improve the company's services better than its competitors and enhance customer experience. Service designing encompasses everything from planning and organizing people to infrastructure and material components. Today, companies go to great lengths to create unique experiences for their customers. Service designers need to focus on human stories and insights and develop empathy for users to ensure the development of relevant ideas. Few things to consider while designing services are features/benefits analysis, cost of materials/software/hardware, defined customer expectations, subcontractors/ team members/other necessary parties, agreements/contracts, and copyrights, and other legal considerations.
Product Prototyping
Prototype, an early form of your final product, is built to test a concept or process. Product prototyping is an inexpensive way to build and test the parts of the design that might turn out to be flawed, which could save a lot of time, effort, and money to make the full product and resolve issues on the front end. Some businesses might choose to run a small-scale release to check the response from the selected target audiences. Product prototyping provides manufacturers the last opportunity to eliminate any technical errors or add highly demanded features to better adoption of the production.
Prototypes can also help engineers determine the overall production costs, the amount of material required, and the true cost-per-unit of mass-producing their product. The structural weaknesses in the product could affect its functionality; thus, a prototype is essential to highlight any design unknowns and avoid downstream discovery. A variety of industries such as automotive, construction, and electronics develop prototypes before starting full production. Although many initial prototypes are rejected for being impractical and difficult to develop, they offer new ideas and inspiration.

Major Product Breakthroughs 2021
· Adidas UltraBOOST 21
Adidas new UltraBOOST 21 reflects the true meaning of sustainability, which is quite rare in the fashion and footwear industry. The sneakers are made from at least 50% recycled Parley Ocean Plastic, designed to deliver premium performance and exhibit luxury with its aesthetic appeal. The idea behind developing UltraBOOST was to fulfill the universal demand for cushioned, comfortable, and functional sneakers while maintaining sustainability and functionality. The brand's new strategy 'Own the Game' intends to create a unique customer experience and expand the company's activities in the area of sustainability to increase sales and profitability as well as gain a larger share in the global footwear market until 2025. The company has announced that nine out of ten Adidas articles would be made using recycled and renewable materials by 2025 to reduce CO2 footprint per product by 15%.
· Lithium-metal Batteries
Unlike lithium-ion batteries that can drive electric vehicles for only a few hundred miles, Lithium-metal batteries can actually boost the range of EVs by up to 80%. At a time when global oil prices are plummeting and governments are pushing towards electrification, Lithium-metal batteries would be a huge boost to the gradually rising EV industry. Besides, the lithium-metal batteries are lighter, more powerful, and long-lasting, which could increase the efficiency of EVs multi-fold. The new battery is still just a prototype developed by a Silicon Valley start-up, QuantumScape. The start-up has a deal with Volkswagen, which plans to sell EVs incorporating new battery types by 2025.
· Mercedes Benz MBUX Hyperscreen
The German-based automaker introduced a revolution in screen technology with MBUX Hyperscreen, a 56-inch-long infotainment system that gives users access to features without scrolling through menus or giving voice commands. Curving through the dashboard, the "zero-layered interface" uses artificial intelligence to adapt the infotainment system as per the user's needs and habits. The Hyperscreen is available on the driver's field of vision for offering assistance to the driver as well as the front passenger, who has their own display and operating area. The context-sensitive awareness reduces the number of interactive steps, which lets the MBUX system display the desired functions at the right time for the user. In a way, the MBUX infotainment system combines unique electrical aesthetics with outstanding user-friendliness to take the riding experience to the next level.
· Medtronic Smartphone-connected Pacemaker Devices
Medtronic launched MYCareLink Heart (TM) mobile app to support a portfolio of pacemakers that can communicate directly with patients' smartphones and tablets. The app allows remote monitoring with secure and wireless transmission of data via smart technology, which eliminates the need to dedicatedly monitor the patient. The technology is a game-changer for people with pacemakers, enabling convenient and secure transmission of information. Patients can track their vitals, from weight to blood pressure and heart rate, in the app to better understand the health status and store that information on the smartphone. Given the busy lifestyle of people, medical innovation is a breakthrough for people dealing with heart conditions due to enhanced connectivity.
· IBM 2 Nanometre Chip Technology
IBM opened a new frontier for semiconductor design and process, unveiling the world's first 2 Nanometre nanosheet technology. Demand for semiconductors has exploded with the rapid adoption of IoT devices and will continue to rise in the coming years. The new microchip technology can help achieve 45% higher performance and 75% lower energy use than 7 nm node chips. The new microchip can quadruple cell phone battery life, requiring users to charge only once in 4 days, cut down the carbon footprint of data centers, drastically speed up laptop functioning, and contribute to faster object detection.
Hence, every successful product starts with a mind-blowing idea, capable of changing peoples' lives and positively changing the environment. However, the next step is research, which should be thorough, highly detailed, analytical, and objective so that the product becomes a success in the market.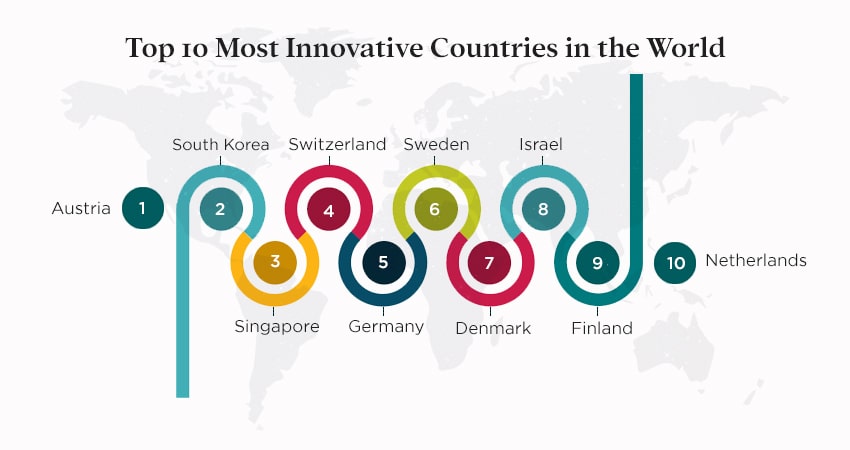 Role of Market Research Companies in Product Development Process
Market Research is the simplest way to identify the needs of the customers, product demands in the market, and demographics of the target audiences. Companies specialized in providing market research services extract all the required information from primary as well as secondary market research. Primary market research encompasses conducting research, analyzing surveys, and finding out which techniques competitors are utilizing, etc. Whereas secondary research involves analyzing data from published studies, government data, and social media, and other sources. Here are some of the benefits of market research for product development. Market research organizations collect and analyze data about the target customers, perform competitive analysis, and consider other forces that come into play for strategic decision-making.
Resources at the market research companies are equipped with the latest technologies such as Big Data Analytics and Artificial Intelligence-powered software to reduce the margin of error and make accurate predictions. Thus, market research companies perform all the labor-intensive tasks, from determining the optimal research design, preparing instruments and methods to sampling, data collection, and reporting.