September 21, 2017
Can a LED Bulb Really Last For 10 Years?
LED lighting may seem to be expensive to all of us. Definitely it will cost you much more when you buy let's say a LED bulb. But that can be an investment generating returns in the long run.
Yes, LED companies like Philips have claimed that their bulbs can last as long as 10 years, saving several thousands of rupees for the user. Well, that's magnificent!
A Philips A19 LED bulb can provide you 800 lumens – as good as a traditional 60 watt incandescent bulb. But the best part is that this LED bulb is tuned to run for 10,950 hours that means for around 10 years. Yes, 10 years! Isn't that astonishing?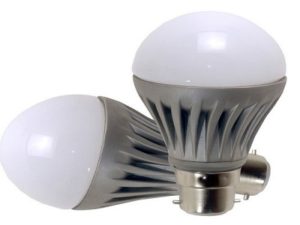 How much LED lighting can save for you?
A regular filament bulb may run for a few months but here we are talking about 10 years. The initial buying cost may be higher but that will save much more than what you pay.
According to Philips, an A19 LED bulb uses only 8.5 watts of electricity while providing you lighting intensity equal to 60 watts. So, let's assume that you use the bulb for three hours a day, that will end up saving around Rs 2,000 over a period of 10 years.
On top of that, an LED bulb provides you soft, white light which is much better than regular bulbs. These bulbs also keep the room temperature low.
What's the LED market size in India?
According to TechSci Research report, "India LED Lighting Market By Type (LED Bulbs & Lamps, Batten Lights, Downlights, etc.), By End Use Sector (Commercial, Residential, etc.), By Application (Outdoor Lighting, Indoor Lighting, etc.), Competition Forecast & Opportunities, 2012–2022", India LED lighting market stood at $ 918.70 million in 2016.
With the growing popularity and awareness about the benefits of LED lighting systems in India, the LED market in India is forecast to grow at a CAGR of 24.66 per cent, in value terms, during 2016-2022.
Going with these estimates, the market will touch USD 3,758.74 million by 2022. Thanks to the ongoing government support to LED lighting systems, this market is slated for high growth in the coming years.
Moreover, easy availability at affordable prices coupled with distribution of LED bulbs by Indian government at subsidized rates to promote the use of LED lights over halogens and incandescent lighting products is augmenting demand for LEDs in the country.
Who are the leading LED companies in India?
The LED market in India is run by leading players such as Philips India Ltd., Surya Roshni Ltd., Harvell's India Limited, Shree Sant Kripa Appliances Pvt. Ltd, OSRAM India Private Limited, Crompton Greaves Consumer Electricals LTD, Halonix Technologies Limited, Panasonic India, GE Lighting India Pvt. Ltd., Bajaj Electricals Limited, etc.