January 18, 2022
Top Trends to Look Out for in the HealthTech Industry in 2022
The coronavirus pandemic in 2020 has dramatically altered the way healthcare is practiced across the world. Even 2021 presented its own set of challenges for healthcare providers, such as divergent views on vaccines, powerful COVID-19 variants, lack of certain medical equipment. Amidst all the chaos, the healthtech industry managed to overcome all the difficulties by leveraging innovative technology solutions.
From the internet of medical things to artificial intelligence, virtual reality to telehealth, cloud computing to predictive analytics, technology is paving a way to provide quick and efficient care management and reduce casualties in real-time access. The emerging trends in healthcare technologies are putting medical practitioners in a better position while empowering patients to demand high-quality and safer healthcare services.
Here are Some Trends that will Dominate the HealthTech Industry Sector in 2022
Increasing Use of Data Analytics and Visualization Techniques in HealthTech Industry
Data visualization has become a common tool in the era of big data to analyze large amounts of unstructured data and communicate it through the visual context for presenting health-related findings and maximizing operational efforts. Hospitals can better understand and improve their operating costs, effectiveness, and customer satisfaction by leveraging the data.
Data visualization techniques are now being employed for depicting health-related trends on a large scale. For instance, graphs showcasing the statistics related to COVID-19 cases are a product of data visualization and data analytics. Since population health management is emerging as a crucial task for organizations to undertake with the increasing geriatric population and increasing expectations from patients, the need for big data analytics and visualization tools would further grow.
Big data tools like machine learning, predictive analytics, and artificial intelligence prove beneficial to finding patterns to analyze thousands of images and a range of patterns for providing an accurate diagnosis.
Growing Role of Telemedicine in Care Giving
Every year chronic diseases take the lives of around 41 million people, equivalent to 71% of all deaths globally. Some of the most common chronic disorders like cancer, hypertension, stroke, heart diseases, pulmonary conditions, and mental illness have put a major economic impact of USD1.3 trillion annually.
With the growing incidences of chronic diseases, healthcare providers are looking for solutions to reduce the cost of chronic diseases without impacting the quality of care. Since many patients with chronic healthcare find it challenging to access specialized care, telemedicine (also known as remote patient monitoring) is emerging as a great tool for reaching out to care providers, including specialists, from the comfort of their homes.
Now doctors can use their mobile devices, live video, and audio to remind patients to take their medications, eat healthily, or find new ways to improve their chance of recovery. Patients can consult their healthcare providers about a new symptom until their health turns for the worse in real-time. With timely medical intervention, hospital admissions could be reduced by around 81%, which can reduce the cost of care for both patients and care providers.
According to TechSci Research report on "Global Telemedicine Market By Component (Software & Services, Hardware), By Deployment Mode (Cloud v/s On- Premise), By Type (Tele-Hospitals, mHealth, Tele-Homes), By Technology (Store & Forward, Real Time, Others), By Delivery Mode (Audio-Visual, Only Audio, Written), By Application (Telepsychiatry, General Consultations, Teleradiology Telepathology, Others), By End Users (Patients, Providers, Payers), By Region, Competition, Forecast & Opportunities, 2026", the global telemedicine market is anticipated to grow at a CAGR of 18.83% owing to factors like growing technological adoption accelerated by the outbreak of COVID-19 pandemic and increasing prevalence of ailments like chronic diseases.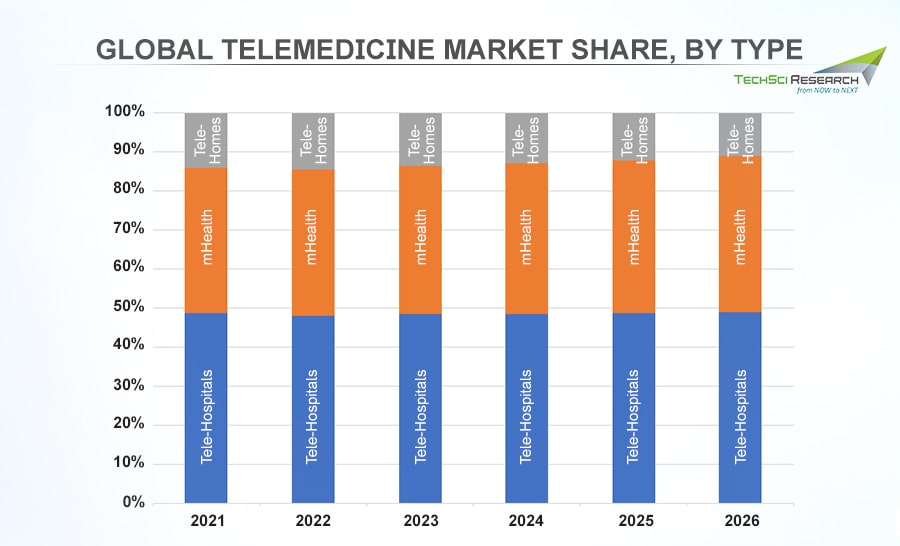 Data from Healthcare Wearables Will Play a Prominent Role in Patient Care
Healthcare wearables and connected medical devices are capable of recording the vital indications in real-time as well as provide long-term data to detect healthcare issues. Vital sign measurement has become crucial after the COVID-19 pandemic as it helps physicians become aware of underlying pathologies when they find changes or abnormal readings and provide quick responses.
For instance, infants wear wireless sensor patches in neonatal units that enable healthcare providers to monitor their body temperatures without disturbing them. Wearable devices with built-in sensors provide users with basic heart-rate variability measurements, which can signal physiological pathologies like atrial fibrillation or other arrhythmias.
Besides, wearable's maintain high data confidentiality and integrity to support their use in the healthtech industry space. Now, the tools like GPS tracking and activity and heart rate/oxygen saturation level monitoring have provided patients the flexibility to self-manage conditions and collect data in a way that was not possible earlier. Harnessing the power of wearable device technology, researchers can better understand the human body and build innovations to address the growing number of medical problems.
Advances in Precision Medicine through Technology
Precision medicine is an emerging disease management approach based on prediction and personalization. This type of approach takes into account individual variability in genes, environment, and lifestyle to predict accurate treatment and prevention strategies for a particular disease contrary to the one-size-fits-all approach.
Since precision medicine requires a lot of data to personalize therapy, technology plays a major role in capturing, utilizing, and evaluating large sets of data for every patient. For instance, computer-guided dosing is a type of precision medicine technology that predicts drug concentrations and drug responses based upon the patient's characteristics, such as age, weight, gender, and so on.
In the coming years, artificial intelligence and machine learning will improve the traditional symptom-driven practice of medicine for allowing earlier interventions and tailor better personalized treatments. The application of precision medicine has largely been limited to treatment for cancers in the breast, lung, skin, colon, prostate, and pancreas.
According to TechSci Research report on "Global Precision Medicine Market By Products & Services (Precision Medicine Platforms, Precision Medicine Tools, Precision Medicine Services), By Technology (Big Data Analytics, Artificial Intelligence, Bioinformatics, Whole Genome Sequencing, Companion Diagnostics, NGS, Others), By Application (Oncology, Cardiology, Respiratory, Neurology, Immunology, Others), By End User (Pharmaceutical and Biotechnology Companies, Healthcare IT, Diagnostic Companies, Clinical Research Organization, Research Institutes), By Region, Competition Forecast & Opportunities, 2026", the global precision market is anticipated to grow at a CAGR of 10.65% during the forecast period. The growth can be attributed to the rising geriatric population and increasing research & development expenditure across different countries across the globe.
More Innovative Technologies in Mental Healthcare
Currently, approx. 1 billion people are living with mental health disorders, according to the World Health Organization. The increasing prevalence of mental health conditions combined with the lack of sophisticated medical care has sparked interest in the use of technology for expanding mental healthcare services.
Prescription video games with futuristic-sounding treatment, AI-and smartphone-assisted therapy for analyzing speech patterns for warning signs of emotional distress, Virtual Reality tools for treating anxiety and PTSD, and digital pills for collecting data and digital symptom tracking are some of the innovative technologies reshaping how mental health problems are treated and managed.
Companies are rapidly building solutions relying on "affective computing" to detect and interpret human emotions for addressing the ongoing mental health crisis. Leveraging emotional artificial intelligence, app-based conversational agents can replicate the principles of cognitive-behavioral therapy. The government is loosening regulatory oversight of digital therapeutic solutions and expediting approval processes to serve patients better with digital therapeutics. 
Offering Care Using Virtual Reality in HealthTech Industry
The consumers' use of virtual reality is growing rapidly, and for healthcare, the technology is proving to be more than just a novelty. As per some reports, the Augmented/Virtual healthcare market is anticipated to reach USD40 billion by 2026, owing to its growing application for chronic pain management, pediatric care, dentistry, mental health and psychological therapy, development of life-saving medicines, stroke rehabilitation, and medical training. As the pandemic continues, some providers are creating tools to foster a connection with patients, especially in scenarios where physical interactions are limited.
Bolstering Cybersecurity Measures Amid Continued Threats
In recent years, the healthcare sector has witnessed a 55% spike in cybersecurity threats as the industry is increasingly becoming dependent on technology to perform daily operations. Cybercriminals target the healthcare space to possess information, private data, and financial information such as credit card details and information related to medical research.
Cybersecurity is a major concern in the healthcare space as it threatens the security of systems and the health and safety of patients. In the future of healthcare, nearly everything will be connected through digital technologies; thus, bolstering improvements in cybersecurity technologies has become imperative. 
Rise of Conversational Artificial Intelligence in HealthTech Industry
Conversational artificial intelligence (AI) is an essential tool for consumers willing to take a more authoritative role in their healthcare journey. As healthcare is gradually shifting to a consumer-driven industry, the industry players must transform their approach to provide a high-quality experience for members and providers.
Conversational AI offers an ideal approach to consumers that prefer digital channels such as SMS, web chat, mobile app chat, etc., over traditional voice interactions. Young adults are more comfortable with texting and virtual assistants than previous generations; thus, AI-driven chatbots can help them interact better and share their problems. With the evolving demands, more sophisticated versions of virtual assistants are emerging to enhance digital experiences and enable members to obtain accurate information. 
Growing Use of Nanotechnology in HealthTech Industry
From regenerative medicine to disease monitoring, vaccine development to drug delivery, nanotechnology has a huge potential to revolutionize myriad aspects of the medical care and life sciences industry. The expanding nanotechnology applications are opening doors for providing better treatment options for various diseases and ensuring precise treatment.
Dose tracking pills, nanoflares, nanobots, nanofibers, and nanotech-based wearables are some of the examples of nanotechnology-based medical devices. With the rising prevalence of cancer diseases and the need to develop smart technologies, the use of nanotechnologies would further expand. Researchers are creating more innovations for the future applications of nanotechnology in healthcare and making nanotech-based devices more affordable for mass manufacturing. 
Conclusion
The use of technology for advancing healthcare solutions has remained fundamental for treating diseases whose cure was unknown or detecting malignancies in complex body parts or rapid vaccine development. In the coming years, technology will be at the forefront of medical innovations and continue to change people's lives for good.