February 4, 2022
Internet of Medical Things: A New Era of Healthcare
According to a report published by Deloitte, the Internet of Medical Things (IoMT) is anticipated to reach USD158.1 billion in 2022. The internet of medical things is a connected infrastructure of inter-networked medical devices and healthcare information technology applications, which allows the collection, analysis, and transmission of data. IoMT and its relationship with MedTech enable healthcare organizations to enhance efficiency in operations, improve patient outcomes, and create new ways to engage and empower patients.
Remote patient monitoring of people with chronic illnesses, tracking of patient medication orders, wearable mHealth devices, infusion pumps connected to analytics dashboards, and hospital beds rigged with sensors to measure patients' vital signs are all examples of IoMT technology. A growing number of applications, medical equipment, and supplies are inbuilt with near field communication (NFC) radio frequency identification (RFID) tags to transfer medical data over a secured network to either a cloud repository or internal servers.
How is Internet of Medical Things (IoMT) Changing Healthcare?
Just like the Internet of Things, IoMT leverages machine-based intelligence and automation to reduce reliance on human intervention, be it for routine monitoring operations or healthcare products. Providing flexibility to patients and providers, healthcare IoT drastically reduces the need to visit medical facilities, thus reducing medical costs. The COVID-19 pandemic significantly prompted the adoption of IoMT, with an increased number of patients seeking treatment from home due to quarantine and stay-at-home orders. As the IoMT market matures, telehealth and telemedicine will evolve significantly, allowing more accurate diagnoses and timely care.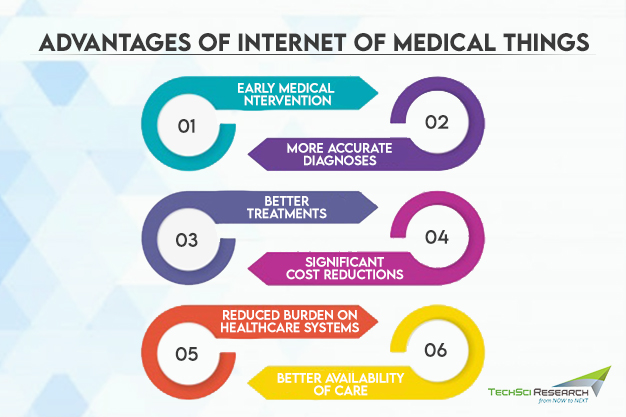 Most healthcare companies are discarding conventional methods of medical treatment and implementing the internet of medical things to streamline clinical workflow management and lead to improved patient care, both in care facilities and remote locations. More than half a million IoMT devices are available in the market to enhance consumers' quality of life and monitor at-risk patients.
Patient monitoring is the largest application of the internet of medical things since it helps to keep the data safe and secure. IoMT also reduces the overall cost of providing services to patients while expanding caregivers' reach irrespective of physical barriers. According to research, 88% of care providers invest in remote patient monitoring solutions. Besides, the introduction of "smart pills" that contain microscopic sensors that allow transmission of data to connected devices and improve clinical outcomes. Internet of medical things includes an array of medical devices, broadly divided into four categories: wearable IoMT, In-hospitable IoMT, In-home IoMT, and Community IoMT.
Types of Internet of Medical Things (IoMT) Devices
Wearable or On-the-body IoMT
Biosensors make it possible for patients to monitor their overall health, checking their vitals in real-time. These kinds of sensors can be fitted under the skin to provide full freedom to the patients without compromising their health. Wearable or on-body IoMT segment can be divided into two categories such as consumer health wearables and clinical-grade wearables.
Consumer health wearables include medical devices such as fitness bands, sports watches, activity trackers, and smart garments to track health metrics for both personal use and for sharing with healthcare providers. These devices are used for specific healthcare applications such as detecting irregular heartbeat, glucose levels, blood pressure, etc. Whereas clinical-grade wearables are regulated devices and support systems required to be used under the guidance of medical practitioners. These devices are mostly designed to manage pain, improve physical performance, and resolve other health problems.
In-hospital IoMT devices can range from huge machines to devices enabled with smart apps for allowing patient monitoring, supply management, detecting issues, etc. Hospitals also leverage IoMT to manage the quality and supply of medical assets as well as understand how to mobilize personnel throughout the premises.
Some other uses of internet of medical things in hospitals and clinics include asset management, patient flow management, and environmental management (adjusting temperature and light to optimize conditions in different rooms). Even popular MedTech companies like GE, Siemens, and Philips are utilizing IoMT to diagnose and maintain imaging devices like CT scans, X-ray machines, etc. Some innovative IoMT devices used at the hospitals are Zoll's wearable defibrillator, Stanley Healthcare's land hygiene compliance system, Boston Children's Hospital's GPS-based MyWay app to guide, and so on.
In-home IoMT devices include remote patient monitoring (RPM), telehealth systems, and personal emergency response systems (PERS) intended for use at home. These devices enable patient monitoring constantly so that they can take medical help whenever some serious medical issue arises.
The applications of In-home IoMT are enormous as they have the potential to improve the management of chronic diseases and reduce mortality rates. Besides, In-home IoMT reduces the need for unnecessary travel and hospitalization, thus lowering the burden on healthtech industry systems.
Based on the need, community internet of medical things is segmented into mobility services, emergency response intelligence, Kiosks, Point-of-care devices, and logistics. Mobility services enable patients to monitor health parameters during transit. Emergency response intelligence systems assist first responders/paramedics/hospital department care providers in providing quick treatment.
Kiosks connected with touchscreen displays help dispense products to care providers. Logistics involve sensors, RFID, barcodes, and drones that allow the distribution of healthcare goods and services required by caregivers.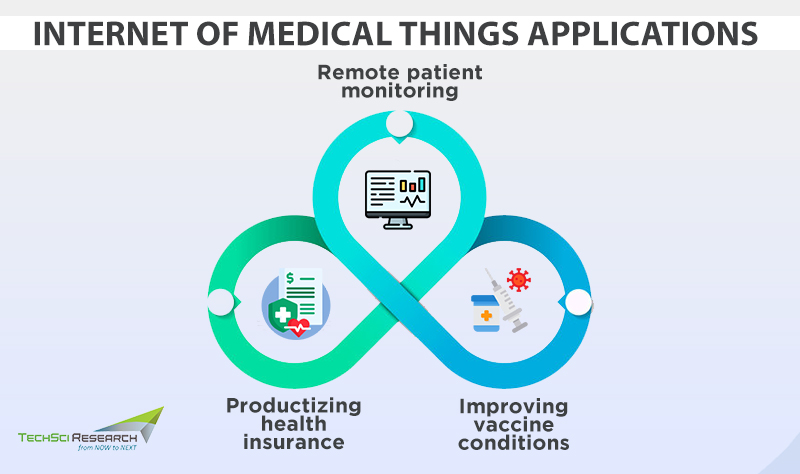 Top Trends in Internet of Medical Things (IoMT) to Dominate in 2022
Nano-enabled Medical Products
Nanotechnology-based medical products such as drugs, devices, and in vitro diagnostics have become quite popular in recent years and continue to expand rapidly in the global marketplace due to their immense contribution to improving health. These devices have the ability to create a major impact in the treatment and diagnosis of central nervous system diseases, cardiovascular diseases, cancer, etc., as identifying, detecting, and monitoring help to get accurate and timely treatment.
Personalized Healthcare
Growing awareness towards health and rising incidences of chronic disorders have created a greater need for personalized healthcare. The adoption of wearable medical devices or biosensors enables patients to live a more carefree life by continuously monitoring their vitals. Increased adoption of internet of medical things devices has reduced healthcare facilities' burden, lower mortality rate, and enhance patient health.
Smart Pills
Ingestible pills that contain microscopic sensors, which, once swallowed, allow transmission of data to the connected devices, are helping to enhance patient outcomes. Smart pills are widely used for the diagnosis of GI diseases and gather an understanding of their cause. These medical devices have the ability to replace conventional techniques such as endoscopy, which causes a lot of discomfort for the patient.
Connected Inhalers
Severe pulmonary disorders involve the risk of attacks with no warnings whatsoever. Monitoring the frequency of attacks, IoT-connected inhalers can help assist patients in determining the causes that could trigger an attack. Connected inhalers can also notify patients when they forget to use the inhaler at an appropriate time or inaccurate use of the inhaler.
Sleep Monitoring
Many sleep tracking devices and software applications equipped with sensors help monitor sleep habits, analyze key metrics, and enhance the quality of rest tracking heart and respiratory rate. The devices synced with smartphones provide in-depth analytics that clearly represent sleep duration, depth, and different stages, which can help care providers draw insights.
Challenges of IoMT for Healthcare Networks
Data Security
Implementing IoMt comes with its own set of challenges. Healthcare ecosystems are vulnerable to cyberattacks, largely due to the abundant amounts of additional data that flows between health practitioners and patients. Data breaches have become really common within the past few years due to the growing use of internet of things devices.
However, healthcare organizations can strengthen mitigation measures against cyber-attacks by establishing real-time data monitoring, performing cyber-threat modeling and analysis, and working with highly secure networking technology. Artificial intelligence and machine learning can be powerful tools in preventing cyber-attacks by predicting danger first that help one take proactive steps.
Regulatory Compliance
Manufacturers dealing with the production of medical technologies have to comply with the standards set by regulatory bodies such as FDA, HIPAA, and others. Changing policies and regulatory landscape create an atmosphere of uncertainty, which can hinder producers from updating medical devices and software for them. However, checking regulatory compliance of the technology stack during the planning stage can save a lot of time and money.
Lack of Interoperability
Patients and doctors generally utilize different medical devices to collect different kinds of medical data. The lack of interoperability among different systems does not allow one to fully unlock the potential of IoMT devices. However, unified open APIs for data exchange and implementation as well as uniform messaging standards can help to overcome the interoperability issues, but the industry is still a long way to achieve that.
High Implementation Costs
IoMT is aimed towards reducing healthcare costs, but the implementation of such a system costs a hefty sum for patients as well as caregivers. Hardware purchases, software installation, storage and maintenance of connectivity systems require a huge investment.
Inability to Update IoMT Devices
While IoMT devices are state of the art when they are first released but upgrading them with new features can be difficult. Consumers are highly unlikely to upgrade their medical devices every year, whereas hospitals are also slow in rolling out expensive new equipment. Besides, upgrades can be even more challenging for implantable devices.