December 1, 2021
Top Ten Countries with Largest 5G Network
The long-hyped promise of 5G is gradually becoming a reality as communication service provides worldwide are battling one another to deploy 5G networks. While 4G networks are quick enough for most users for their internet needs, the next evolution of wireless networks is increasing at a rapid pace. Countries that want to stay competitive in the global economy are building and deploying 5G technology to make them available for citizens. The next generation technology offers a great amount of spectrum for wireless communication, at least one gigabit per second connection speeds, short delays than 4G technology, enhanced reliability, much lower latency, and provides greater flexibility to users.
The new 5G network has the potential to open a world of possibilities for businesses and consumers alike with greater speed and improved connectivity. Wireless technology can play a crucial role in accelerating the adoption of self-driving cars, augmented reality, extended reality, virtual reality, and other devices connected to the Internet of Things. According to certain estimates, 5G technology could generate 22.3 million jobs and contribute USD13.2 trillion to the global economy by 2035. With the rapid adoption of IoT devices and advanced mobile broadband technology, the demand for 5G networks is growing fast. Global 5G connection reached 429 million in Q2, jumping 41% from 305 million in Q1, according to data from Omdia.
Read Full Article : https://www.techsciresearch.com/blog/top-ten-countries-with-largest-5g-network/263.html
As per the VIAVI Solutions report, the number of cities with 5G networks has reached to 1,336 globally since the past year despite the pandemic. Sixty-one countries worldwide have deployed commercial 5G networks since January 2020, the majority of which are from Asia. Overwhelming subscriber appetite for fast speed and enhanced connectivity is the driving factor for the expansion of 5G networks in Asian countries. However, China and the USA are significantly ahead of other nations in bandwidth expansion and 5G rollout.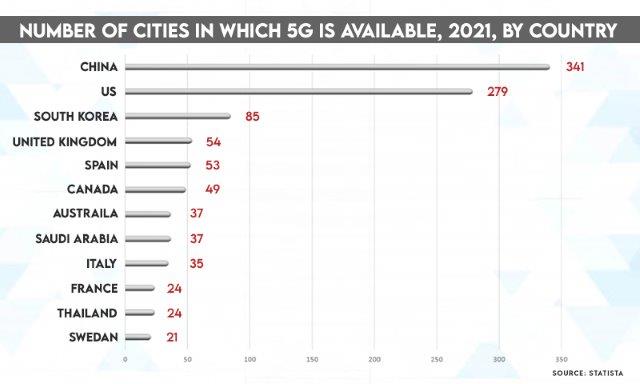 Here are the top ten countries with the largest 5G network.
China has become the epicenter of 5G innovations globally with widespread 5G infrastructure rollouts nationwide and maturation of 5G solutions in the past two years. As the country seeks to become a global leader in technology, China is expected to have 807 million 5G connections by 2025, according to a GSMA report. China has built 961,000 5G base stations, 365 5G terminal connections, while the shipments of 5G phones in the country have jumped to 128 million units. According to statistics from China's Ministry of Industry and Information Technology (MIIT), there are more than 10,000 cases of 5G applications across different sectors such as education, healthcare, smart factories, power grids, mining, transportation, gaming, etc.
Even China's 14th Five-Year plan (2021-2025) outlines the objectives to accelerate the large-scale deployment of 5G networks and increase its penetration rate to 56% over the next five years over urban and rural areas. China has successfully managed to build 718,000 5G base stations (around 70% of the world's total) and plans to invest more than USD40 billion to build the world's largest 5G network. As per the latest Ericsson Mobility report, China's 5G subscriptions are anticipated to hit over 173 million users by the end of 2021 and reach 1.4 billion subscribers by 2026. Smartphone and video consumption are the main driving factors for 5G adoption in the country.
According to the PwC report, 5G coverage is expected to reach 75% of the US population with the expansion of the use of the mid-band spectrum in urban and suburban areas. Major mobile operators such as AT&T, T-Mobile, and Verizon are focused on deploying mid-band 5G through 2021 and 2022. While AT&T and Verizon have been strengthening their high band millimetre wave and low 5G offering, a new entrant like Dish is planning to commence its commercial 5G services from 2022. According to a latest Ericsson report, around 195 million 5G subscriptions can be expected by 2026, and the technology is anticipated to occupy 71.5% of the entire US mobile market by 2029. The economic benefits will be shared across rural communities and minority groups in urban areas to bridge the digital gap to ensure access. As per the Cellular Telecommunication Industry Association (CTIA) estimates, the rapid growth with the expansion of 5G technology could drive USD275 billion in investment and lead to USD500 billion in economic growth.
One of the early adopters of 5G in 2018, South Korea continues to set benchmarks with high-speed and low latency. On the consumer front, 5G connections crossed the 9 million mark in September 2020, and the country is estimated to reach more than 40 million 5G customers by 2025. High subsidies and high consumer awareness are the main driving factors for South Koreans' early adoption of 5G. Besides, immense support from the South Korean government to expand nationwide 5G coverage to 70% by 2025 is expected to accelerate the South Korea 5G market.
With the country providing the fastest average internet connection in the world, a quarter of South Korean mobile users have already subscribed to 5G. Top South Korean telecom operators plan to commercialize new 5G technologies such as millimetre-wave 5G, standalone versions of 5G networks, etc. while making a net investment of USD22 billion through 2022. Besides, South Korea's Ministry of Science and ICT has planned to make available a total of 600 megahertz in the 28 GHz band and 100 MHz in the 4.7 GHz band throughout the country.
Many UK mobile network operators started commercializing their 5G networks in 2019, but its adoption expanded with a wider availability of 5G enabled handsets in the market. Currently, 5G penetration in England, Northern Ireland, Scotland, and Wales stands at 10.9%, 7.8%, 5.3%, and 4.4% respectively. Everything Everywhere (EE) launched UK's first 5G service in May 2019 in some parts of London, Edinburgh, Belfast, Cardiff, Birmingham, and Manchester and plans to cover the whole country by 2028. Besides, another largest telecom operator, O2, has successfully rolled out 5G services in 180 cities of the UK. The introduction of various 5G phones like Samsung Galaxy S20 Ultra 5G, S20+ 5G, One Plus 7 Pro, Galaxy Fold 5G and others are also expanding 5G coverage throughout the country. Besides, the increased adoption of electric vehicles in the country is set to drive the 5G coverage in the country in coming years.
Spanish multinational telecommunications company, Telefónica has planned to make 5G available to 90% of the country's population by 2022. The company is already providing 5G services to 80% of its population, spanning its services across 1300 towns and cities. Other telecom operators such as Orange, Vodafone, MasMovil have also launched their 5G commercial services in large cities to expand the coverage. Spain has prioritized 5G development in the post-pandemic recovery strategy by earmarking nearly USD171 billion to expand the digitization plans.
Although 5G is an emerging technology in Canada, telecom operators are actively working on expanding the wireless network coverage throughout the country at an impressive rate. Mobile speeds in Canada have consistently been in the top ten globally for download speed, but the new 5G technology has made the network 205% faster than 4G. As per statistics, Bell was the fastest operator in the country in Q4 2020, with a median speed of 228.99 Mbps. British Columbia has the largest number of cities with commercially available 5G services, but Montreal has the fastest 5G download speed. Roger Communications network covers 97% of Canada, which has invested over USD4 billion in 2019 and USD2 billion in 2020. Roger 5G services are available in Montreal, Vancouver, Ottawa, and Toronto. The growing internet penetration and the increasing need to boost innovation to keep up with the technological advancements are further boosting expansion of 5G in Canada.
Australian 5G network is anticipated to add up to USD2000 in GDP per person post the first decade of the network rollout. Australia's largest telecom operator, Telstra has already deployed over 2000 5G base stations, covering 41% of the country's population. The telco aims to cover 75% of Australia's population to provide 5G services across the country. Australia has median 5G download speed of 283.56 Mbps, considered as fastest mobile speeds in the world. Australian telecom operators are spearheading efforts to provide outstanding commercial 5G services to the population. Optus is currently taking the lead in delivering the fastest 5G in the country with a download speed of 309.86 Mbps. Telstra has become the first telco to provide a Gigabit-class LTE service coupled with a 4-layer MIMO technique and advanced modulation schemes for the best network availability.
Saudi Arabia has been at the forefront of 5G deployment with an aim to expand digital infrastructure with private companies. The Saudi Telecom Company now has the biggest 5G coverage with a median speed of 370.12 Mbps. The number of governorates covered under the 5G network has reached up to 60, rising from just 7 in the first quarter of 2020, as per the report from Kingdom's Communications and Information Technology Commission. With the faster rollout of 5G, Saudi Arabia plans to support 45 million new "Internet of things" devices, creating a market worth USD12 billion by 2030. 5G is crucial to Saudi Arabia's aspirations of becoming a global leader in smart city development, an essential part of Saudi vision 2030.
For more than two years, 5G has become a commercial reality in Italy, with many network operators providing outstanding services to citizens and businesses alike. TIM has spread its 5G services in Rome, Milan, Turin, Florence, and other regions and plans to cover 120 cities by the end of 2021, including 245 industrial districts. Vodafone has activated its 5G services in many areas and covers almost 90% population in Milan. Italian operator Wind Tre has started its operations in among 59 provinces and eight provincial capitals covering around 79% of the Italian population. For the further rollout of 5G, the Italian government has further planned to launch a USD4 billion investment scheme connecting 6.2 million people to the network.
Finland is a pioneer in 5G technology and the first country to deploy 5G. The front-runner in 5G research and development, Finland has made 5G available in various frequency bands such as 00 MHz, 3,400–3,800 MHz, and 26 GHz, identified as pioneer frequency bands in Europe. Finnish telecom operator Elisa has a 5G network coverage across 100 locations, covering around 50% of the population. More than 1.8 million Finnish households gained access to hi-speed 5G technology by the end of 2020, with 3000 mobile network operators spread across 109 municipalities. Finland's strong history as a prominent player in network technology gives the country a strong network infrastructure. So, while the world still grapples with 5G technology, the country is already performing R&D for 6G.