October 9, 2017
United Kingdom IOT Market Analysis
The United Kingdom is home to rapidly developing community of companies and commercializing IOT component technologies, products and services which are already having impact on business, homes and with individuals lives.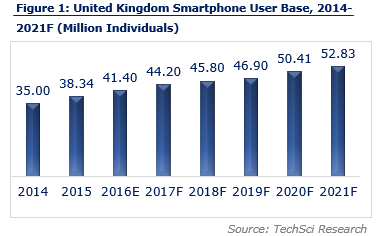 Product Overview:  The revolution of Internet has transformed the way humans search, consume and share information by connecting computers all around the world. Similarly, the Internet of Things connects physical devices (not just smartphones, laptops & tablets) using sensors and data to augment the way people live, work, entertain, travel, and even government organizations & businesses interact. A typical IoT platform or application has many layers that includes, data management, devices and things security and communication protocols, network communication and computing infrastructure and performance management software.
Global U.K IOT Market: Overview
U.K IoT and M2M Communication market is estimated to grow from to USD79.18 billion by 2019, at a Compound Annual Growth Rate of 19.9% from 2014 – 2019. The U.K IoT and M2M communication market is emerging because of adaptation by industrial automated manufacturing process, enable new and efficient way to interact or supervise in production plants.
Internet of Things is described as network of networks and it is a central part of future internet and could be defined as U.K network infrastructure with self-configuring capabilities based on interoperable and standard communication protocols. Machine-to-Machine (M2M) communication enables machines to communicate directly with one another, using various types of fixed and wireless networks.
In U.K the market for Smart automobile is emerging that is the major reason for the growth of IoT and M2M market because the M2M connectivity provides in-cars infotainment devices which include online music, Internet browsing, navigation and remote vehicle diagnostic that gives information about the car's safety and security along with its performance to the driver.
Technology evolution and development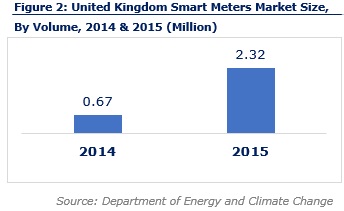 There has been significant movement in the available technology for connecting IoT systems and a number of early deployment in the UK and overseas. Developments in technology have been in   both the cellular space and with new technologies, primarily operating in license exempt spectrum, that offer new operators or organizations the chance to build an independent IoT network. In current scenario IoT products often use a local area connection to a hub before then connecting to the wider world through the use of cellular, Wi-Fi or fixed network technology. An example of this is the Google Nest thermostat, which acts as a hub between                                                                                                         connected home devices and the home Wi-Fi network, allowing data to ingress and egress via the home's fixed broadband connection. Most of today's wearable and connected consumer devices use a Bluetooth, WiFi or similar connection from the device to the owner's smartphone, to provide a connection to the broader internet and applications that provide appropriate user interfaces.
Health & Social Care IOT
With a rapidly cost pressure, aging population, on the NHS and the local government social care budgets, there is a growing requirement for technology, which can help fill the gaps left by growing demand, reduced availability of resources and structural reform. The IoT is being used effectively by a number of businesses in the health and social care sector, including companies developing smart medical diagnostic and treatment devices, platforms and services, and those with more of a focus on the care of elderly, frail or vulnerable people. In the former category are companies such as Healthcare, who make an ultra-low-power, wearable wireless system for monitoring patients vital signs in a hospital. Care specialists include Canary Care5 and eFridgeMagnet, who produce a simple device that can alert concerned family and friends via SMS when an elderly or vulnerable person first opens their fridge in the morning. Some companies address both parts of this sector.
The TOP IOT Growth Industries All Over the World
Manufacturing
35% of manufacturers use smart sensors. This number will grow to 53%, by 2020.
Benefits include: significant increase in capacity utilization, lower unit costs and improved safety
Infrastructure
Municipalities worldwide will increase their spending on IoT systems at a 30% CAGR from USD 36 billion in 2014 to USD133 billion in 2019.
Benefits include: increased productivity, improved safety, predictive maintenance, reduced asset loss – self diagnosing devices will identify product issues early, from temperature and environmental changes to predicting machine failures.
Retail
Beacons, paired with mobile apps, are being used in stores to monitor customer behavior and push relevant advertisements to customers.
Benefits include: greater customer intimacy, more targeted customer offerings and enhanced profitability.
Hospitality
With 31% of hotels using next-generation door locks, and 33% having room control devices, 16% having connected TVs, and 15% using beacons throughout the hotel14, IoT has become a symbiotic link between consumers and hotel providers.
Benefits include: increased personalization and proactive room replenishment, enabling automatic reordering and improved forecasting and staff management.
Request for Sample Report Today!
Logistics
Tracking sensors placed on parcels and shipping containers will further reduce costs associated with lost or damaged goods and increase the speed of order processing. In addition, robots such as the Amazon Kiva, will help reduce labor costs in warehouses.
Benefits include: Accurate real-time shipment tracking, monitored & optimized fleet management, and efficient warehouse inventory management.
Transportation
By 2020, the automobile and transport sectors, will witness over 220 million connected cars on the road.
Benefits include: better automotive analytics, improved traffic conditions, optimized fuel usage and travel routes. IoT will be a key enabler in the driver-less cars and trucks industry, being pioneered by Tesla, Uber and Otto trucks.