January 3, 2023
Top Players in Food Pathogen Testing Market
According to the World Health Organization (WHO) statistics, approx. 600 million people fall sick from foodborne illnesses and 420,000 die every year. Consumption of unsafe food products containing pathogens such as bacteria, viruses, parasites, or chemical substances can lead to acute poisoning or long-term diseases, such as cancer or even death. Rapid urbanization, globalization, trade and tourism have triggered growing consumer demand for a wider variety of foods, which is contributing to an increasingly complex and long global food chain. Besides, climate change and growing adoption of chemical-laden synthetic fertilizers and pesticides are also impacting the food quality, resulting in a growing incidence of foodborne illnesses around the world. Hence, steep rise in food demand has compelled food manufacturers and suppliers to improve the quality of their agricultural produce and food products to ensure the safety of food.
Emergence of new microbial pathogen testing technologies have changed the way the quality of food is determined. The food pathogen testing market is expected to surpass USD570 million, progressing at a CAGR of 5.64% from 2023-2027. Growing presence of food safety regulations and strict monitoring from the Food Safety Agency (FSA), implementation of programs focusing on imported foods, etc. are likely to reduce foster pathogen testing developments and aid the market growth in the coming five years. Key companies in the food pathogen testing are embarking on the innovation and advancements in existing conventional and rapid food pathogen testing methods to ensure safe food supplies and support the steady growth of the industry.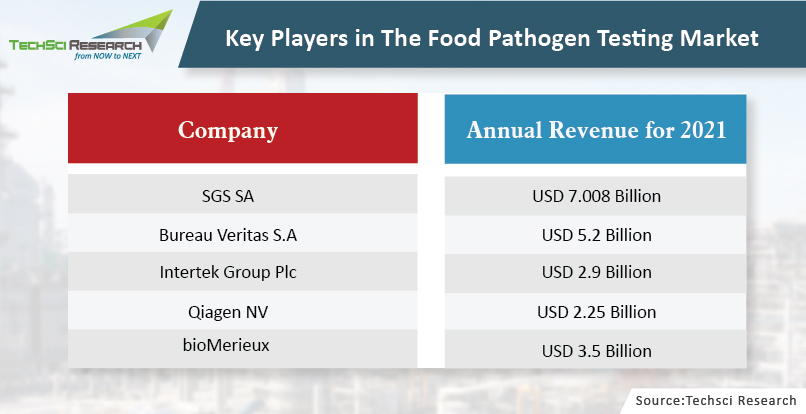 Here are the top key players in the food pathogen testing market that are shaping the industry and positively influencing the overall market growth.

SGS SA
SGS SA is one of the top players in the global food pathogen testing market, with an international network of microbiological testing laboratories, equipped with state-of-the-art technologies and experts using the most up-to-date testing standards. SGS SA provide a wide variety of services, categorized broadly under food pathogen testing, functional food testing, rapid food microbiological testing, and food hygiene testing. The annual revenue of SGS SA in 2021 was USD7.008 Billion, registering a growth of 17.24% increase from 2020. The company operates in these five key areas namely, Connectivity & Products, Health & Nutrition, Industries & Environment, Natural Resources and Knowledge. End-markets covered under Health & Nutrition include Food, Crop Science, Health Science and Cosmetics & Hygiene. Providing a broad spectrum of microbiological testing services across every food category, SGS SA operates over 2,600 offices and laboratories around the world as well as employs more than 94,000 employees.

Bureau Veritas S.A
Bureau Veritas SA is a world leader in the laboratory detection, inspection, and testing of agri-foods. Headquartered in France, the company operates through a network of 1600 offices located across different parts of the world in Europe, Asia-Pacific, North America, South America, Africa, the Middle East, and Eastern Europe and employs around 80,000 people. The company generated an annual revenue of USD 1.065 billion in agri-foods and commodities segment in FY21. Bureau Vistas offers its services and innovative solutions to 400,000 clients while ensuring their assets, products, and infrastructure meet standards and regulations in terms of quality, health, and safety. In September 2022, Bureau Vistas announced the acquisition of Galbraith Laboratories, Inc., an advanced analytical solution service provider in North America to expand their capabilities and client services.

Intertek Group Plc
Intertek Group Plc is a provider of quality and safety solutions that provide its services such as testing, inspection, certification, auditing, quality assurance, etc. in various industries such as aerospace and defense, chemicals, food, and healthcare, medical and pharmaceutical, energy and commodities, among others. Headquartered in London, the company has presence in North and South America, Europe, Middle East and Africa, and Asia-Pacific and employs over 44,000 employees. Intertek Group provide product inspection services for textiles, toys, petroleum, electronics, building materials, and agricultural products. Besides ensuring the quality and safety of physical components and products, the company focuses on assessing the operating process and quality management systems. The company generated a revenue of USD235 million in food testing in 2021 compared to USD 225.8 million in 2020. The comprehensive range of food testing services include the detection of various pathogens such as Salmonella, E. Coli, Listeria, yeasts, and moulds alongwith allergens, residues and contaminants.

Qiagen NV
Headquartered in Netherlands, Qiagen N.V. is a top global provider of sample technologies that enable customers to gain valuable molecular insights. The company provides solutions to more than 500,000 customers around the world in Molecular Diagnostics and Life Sciences and industrial applications. In 2021, the company generated a revenue of USD2.25 billion compared to USD1.8 billion in 2020. The company employs more than 6,000 people in over 35 locations across the world. Qiagen is planning to merge with Bio-Rad Laboratories with a transaction estimated to be over USD10 billion. Recently, Qiagen launched the first syndromic test, QIAstat-DX Viral Veriscular Panel RUOto differentiate between monkeypox and five other pathogens such as erpes simplex virus 1 (HSV1), HSV2, human herpesvirus 6 (HH6), varicella-zoster virus (VZV) and enterovirus – pathogens that all produce similar-looking vesicular lesions.

AsureQuality
AsureQuality is a leading provider of food safety and quality assurance services that offers audit, inspection, and testing services. The company has a team of 1,800 experts at more than 100 laboratories located across 40 countries. AsureQuality has primary production and food manufacturing sectors in Australia, the Middle East, New Zealand, and Asia. The environmental and food testing services provided by the company assures accuracy and reliability in test results. The company's web-based laboratory information system platform, VirtualLabPlus offer clients remote access to results from anywhere in the world. Available testing services by AsureQuality include Microbiology, Food nutrition, genetically modified organism (GMO) and allergens, Food consumption, Residues, Potable and process water, Export wine, Environmental contaminants, Physical and chemical contaminants, Laboratory profiency, and Imported foods.

bioMerieux
bioMerieux is a French multinational biotechnology company, recognized as a global leader in the field of automated solutions for industrial microbiology in the food, pharmaceutical and cosmetics sector. The company was an early pioneer in developing automated solutions for the enumeration of micro-organisms in food products. The application of TEMPO launched by bioMerieux concern the most important market segment of microbiological controls performed in the food industry to validate the commercial value of finished products, from plant release to shelf-life expiration. The annual revenue generated by food testing segment for bioMerieux was USD281.73 million in 2021, compared to 260.05 in 2020. The company spans its operations across 160 countries through a large network of distributors. The company operates in two business segments, clinical application and industrial application (food and pharmaceutical product quality). USDA has selected bioMerieux's GENE QUANT as its method of choice for Salmonella enumeration to maintain control of pathogens in both poultry and pork.
With the implementation of stringent measures and issuance of new regulations to control the proliferation of pathogens in food, new testing methods can be expected in industries. However, lack of awareness and compliance with food & safety norms among manufacturers might hamper the growth of the food pathogen testing market in the coming years. Hence, support from government and international assistance from organizations like FAO, WHO, World Bank is required to expand awareness regarding the importance of food testing, which could positively influence the growth of food pathogen testing market.