January 3, 2023
Major Innovations in Hearing Aid Devices
According to the World Health Organization statistics, over 1.5 billion people live with hearing loss across the world, and the number is expected to rise to over 2.5 billion by 2030. People with hearing threshold of less than 20 dB have a hearing problem. Early onset childhood hearing loss, chronic middle ear infections, noise-induced hearing loss, aging, ototoxic drugs are some of the causes that can damage inner ear. Being hard on hearing can lead to frustration, social isolation, depression, and speed cognitive decline. Hearing aids serve as the perfect alternative to revitalize the lives of those with hearing loss condition and may improve long-term cognition.
Hearing aids do not look like big, bulky, beige, and prominent behind-the-ear models that just sit uncomfortable around the ear anymore. They have evolved from being chunky medical devices to very discreet devices, tuned specifically to one's hearing loss. Most of the advanced hearing aids available in the market today consists of conveniences such as smartphone controls, Bluetooth connectivity, rechargeability, background noise reduction, directional & open 3600 sound with movement, and many other impressive features. Since every individual has different causes for hearing problems and requirements, they must choose one that suits their hearing loss, lifestyle, how their brain process sounds, and personal preferences.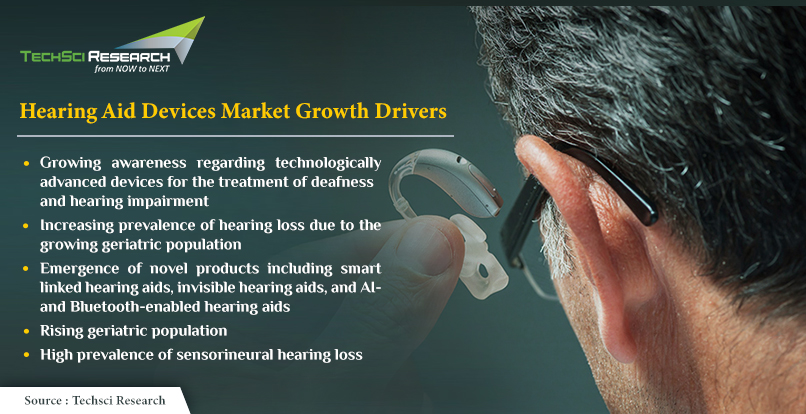 Here are some of the best hearing aid devices, designed to make life better for people with hearing disabilities.
Phonak Audéo Paradise
Introduced in 2020, Phonak Paradise is one of the best hearing aids available in the market today. The latest offering boasts all new Processing Real-time Intelligent Sound Management (PRISM), which provides more Bluetooth connectivity options and power output than its predecessor models such as Phonak Marvel range. The app allows users to manage the listening environment such as volume, bass/treble balance, etc. and have a noise cancellation feature as well. The hearing aid is equipped with motion sensors that allow better hearing and sound directionality which help the wearer to have a conversation while performing activities like running or walking. A simple double tap allows the wearer to alleviate the annoyance of numerous buttons presses or activate Voice Assistants such as Alexa, Siri or Google on your smartphone. Just like previous versions like Phonak Belong and Marvel, the Paradise comes with rechargeable feature and an impressive battery life. The wearer can get a minimum of 16 hours use from charging the device for 8 hours. If you are looking for a wholesome hearing experience that gives you more control, then Phonak Audeo Paradise is the right choice for you.
Ideal for Bluetooth and streaming from all devices
Speech enhancer to improve clarity in quiet areas
Tap control makes hearing aid easy to use
Best for people with mild and severe hearing loss
Rechargeable model that lasts up to 24 hours
Dynamic noise cancellation

Oticon More
In Jan 2021, Oticon released a range of hearing aids named Oticon More, which has become the most popular hearing aids in the world today. The Oticon More device looks pretty discreet and fits well on the ear of the wearer. The hearing aid have a rocker type pushbutton that offers multiple functions such as volume control, program changes, etc. Oticon More hearing aid is rechargeable and offer users the flexibility for hands-free calling and audio streaming. Oticon More has a 360 spherical microphone and leading artificial intelligence features that can capture 12 million real-life situations, which provides brain a fuller sound landscape. The wearer can also suppress background noises and prioritize primarily voice with Oticon More for better hearing in any kind of environment. Oticon More 3 hearing aids are equipped with Bluetooth and rechargeable batteries. Oticon More 3 has all the core features but its technology offers less programming customization and support for background noise. If you are someone looking out for more precision in sound processing and customization in background noises, then opt for Oticon More 1. Oticon More 2 can be ideal for you if you spend more time at home or in small groups as it offers less precision in sound processing and less customization in background noises.
Optimal fitting
Inbuilt Polaris chip has 2X precision and speed than Velox chip in previous generations
User develops complete awareness of their environment
Available in seven different colors
Built-in power bank providing minimum of 3 hours of charging, when away from power source
miniRITE T style to suit clients who prefer disposable batteries
ReSound ONE
The all-new ReSound ONE Behind-the-Ear hearing aids is built with world-class technology to help people with moderate to severe hearing loss deliver an outstanding sound quality. The powerful hearing aids have best-in-class rechargeability and facilitate hands-free calling for iPhone and iPad. The impressive ReSound ONE technology is designed to deliver excellent sound quality with a truly individualized hearing experience, whether in a busy restaurant or on a Facetime with a friend. ReSound One hearing aids support the brain's natural ability to hear and deliver sound adapting to individual's needs and create spatial awareness in all environments. The Behind-the-Ear style in the ReSound ONE comes with a ground-breaking M&RIE (Microphone & Receiver-In-Ear with extra microphone in the ear canal) that uses the unique shape of every individual's ear to collect sound. The natural localization and noise-cancelling function eliminates trouble hearing in noisy environments. Rechargeable batteries provide user power up to 30 hours on a three-hour charge.
Rechargeable and come with traditional battery options as well
Accommodate mild to profound hearing loss
Lightweight, comes in a range of styles
Stremlined fitting to ensure seamless first fit
Regular software updates for enhanced customer satisfaction
Connect to a range of wireless accessories
Available in 10 models
Starkey Evolv AI
In August 2021, Starkey introduced their latest hearing aid offering, Evolv AI that comes in different range of styles and four different technology levels. Available in rechargeable and standard battery options, Starkey' Evolv AI hearing aid helps to treat hearing loss, but also provide essential tools to the wearer for meeting individual goals and perform social interactions. Evolv AI, like its predecessors incorporates motion sensors that tracks physical movement and detects falls. The Edge mode provides real-time and temporary adjustments to your hearing aid's settings with the intent of improving clarity and comfort. The "optimized" setting remains until you choose to change them according to your current listening environment. The Starkey smart phone app, Thrive Hearing Control provides a wide array of controls such as program change, volume changes, equalizer, TeleHear, hearing aid self-check, etc.
Custom-fit wireless options
Compatible with iOS and Android compatibility
Available hands-free calling
Select language of speaker for a translation of speech
Rechargeable custom hearing instrument
Mini Remote Mic and standard Remote Mic+ for improved hearing in restaurants, lecture halls, etc.

WS Audiology Widex MOMENT
With "ultrafast" ZeroDelay and PureSound technologies, Widex MOMENT promises to deliver pure and natural sound. The hearing aid device deliver sound to the eardrum faster by lowering the chances for frequency interference in the earcanal. The signature True-Input Technology of the Widex reduces peak-clipping and distortion. The MOMENT mRIC is the smallest rechargeable lithium-ion RIC, which provides improved moisture protection compared to the silver-zinc batteries used with disposable batteries. SoundSense Learn machine learning technology builds the foundation for the personalized sound enhancement which leads to greater listening comfort and subjective sound quality. Widex offers the most comprehensive remote care, which allows audiologist to make all of the same adjustments to your hearing aids.
High-fidelity sound quality
Solid performance in noisy environments
Ideal for people with one-sided deafness
Offers a range of 30 hearing aid models and 15 accessories
Best brands for musicians
Smallest rechargeable lithium-ion RIC hearing aid
Optimizes sound settings in real-time
Available with disposable batteries and rechargeable option
According to TechSci Research report on "Hearing Aid Devices Market – Global Industry Size, Share, Trends, Opportunity, and Forecast, 2017-2027 Segmented By Type (Prescription-Based v/s Over-the-Counter), By Type (Hearing Aid Devices, Hearing Implants), By style (Behind-the-ear-aids, In-the-ear-aids, In-the-canal-aids, and On-the-ear-aids), By types of hearing loss (Sensorineural v/s Conductive), By Product type (wireless v/s wired), by technology type (digital v/s analog), By patient type (adult v/s pediatric), By Distribution Channel (offline v/s online), By Region, By Company", the global hearing aid devices market is expected to reach a market value of USD18.72 billion in 2021, registering a steady CAGR of 7.7% during the forecast period. The market growth can be attributed to the rising prevalence of hearing loss and increasing geriatric population. Besides, growing technological advancements and introduction of aesthetically appealing hearing aid devices.