December 2, 2022
Top 5 Trends in Anti-Counterfeit Packaging Solutions
With rapid globalization, explosion of eCommerce channels, and multinational sales, the risk of counterfeit products is on the rise. Counterfeit products are not just a passing problem, rather a global problem, pervading all organizations, large and small, across multiple industries. According to trade data trends, the number of counterfeit products could soon rise to USD3 trillion by the end of 2022, more than the gross domestic product of various countries. During the COVID-19 pandemic, eCommerce sales grew from 10% retail sales to more than 30%, which offers a perfect opportunity for counterfeiters to exploit consumers buying products from their desktop. According to the World Customs Organization, the counterfeit products bring in over USD650 billion annually.
Some of the biggest markets commonly targeted by counterfeiters are consumer goods, tobacco, aerospace components, electronics, pharmaceuticals, automotive parts, apparel, industrial components, packaging and labeling, among others. Counterfeit tyres and batteries, filters, brake pads, lights, wheel rime, air bags, etc. lead to economic loss worth around USD2 billion every year. Besides, counterfeit components and parts in the pharmaceutical industry could create safety and health risks. Even counterfeit electrical products could result in malfunctions, which lead to overheating, short circuits or even fire outbreaks, causing significant damage to human lives and property. Hence, companies are ready to invest more on anti-counterfeit programs more than ever before.
The packaging producers are acknowledging the changing anti-counterfeiting landscape and introducing innovative technologies and products to prevent counterfeit activities. Governments across the world are trying to implement strict legislations and penalties to encourage the use of anti-counterfeit packaging for minimizing the production and distribution of fake products are propelling the adoption of anti-counterfeit products.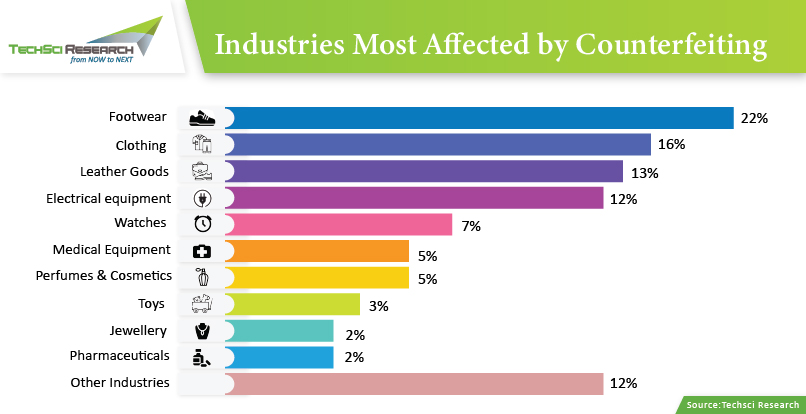 Here are the top trends in anti-counterfeit products dominating the market in 2022.
Anti-copy Security QR Code Product Authentication
Quick Response (QR) codes provide a robust solution to prevent the practice of counterfeiting products. With the rise of smartphone and wireless technology, QR product authentication has been rapidly becoming the industry standard for consumer goods. Anti-copy security QR codes can be printed onto products or its packaging and then digitally verified by consumers using their smart devices. These anti-copy security QR codes have a different visual appearance than regular bar codes and also has a patented watermark feature. Besides, some of these codes are highly secure with bank graded security. When scanning the 1st anti-copy security QR code, the user will be prompted to scan the second hidden anti-copy security code for product authentication. Upon scanning, the user receives a "success notification", which infers that the product has been authenticated. If the second anti-copy security QR code is ever scanned again, the user gets an alert, indicating that the QR code has been verified and the product is likely a pirated copy.
Anti-counterfeit Inks
Security labels used to have an advantage over other counterfeit protection, but the fraudsters have caught up to the technology. They are not as effective as they used to be when it comes to counterfeiting protections as they are merely hard-to-remove. Hence, many packaging solution providers are resorting to anti-counterfeit inks that is variable and not easy-to-obtain. The ink has a certain kind of technology threshold for printing and the counterfeiters cannot determine the special ink hidden inside so that cannot imitate it. This type of ink is being widely used for generating creative printing effects on a variety of designs. The invisible fluorescent ink appears transparent under natural light and only a counterfeit detecting lamp can show the specific colors or patterns. The ink has anti-scanning and anti-copying function and is easy to authenticate. The infrared excitation inks are transparent and colorless under normal lighting conditions, but they can be visualized with infrared projection pens. The photochromic inks (solar discoloration inks) appear transparent under indoor daylight and colorless under natural sunlight. The luminous inks maintain their brightness for a short time in a dark environment after absorbing sunlight. The temperature sensitive inks change color with the change of temperature but look just like normal ink. These are widely used to identify the authenticity of a label by simple frictional heat. With coin-reactive ink, one can easily take a coin and scratch gently to see a color change or a hidden pattern for authentication. The mirror ink appears with different colors under different filters while it has a shimmering metallic appearance in natural light, which helps one to easily distinguish the true from false. The laser hologram inks allow production of simpler holographic patterns allow the production of simpler holographic patterns and exhibit the texture of anti-counterfeit label.
Blockchain Anti-Counterfeit Solution
Blockchain technology is tempting companies to replace their current anti-counterfeit solutions with a blockchain approach since it securely store information on its ledger. The blockchain based anti-counterfeit solution includes tamper-proof data, which allows perfect traceability of the supply chain. Pioneers in luxury goods are leveraging blockchain-based anti-counterfeit solutions for physical goods to prevent counterfeits. Thanks to the initiative by PharmaLedger, blockchain is also entering the pharmaceutical industry, which includes the use of a 2D barcode or data matrix that enables customers to determine the provenance of a medicine and obtain useful information. Companies are implementing blockchain with the use of smart tags that help them in tracing products alongside the supply chain. QR codes, RFID tags, Signatures on metallic or ceramic surface are some of the common types of smart tags used by businesses. As the consumer demand is increasing, there has been emergence of many blockchain powered platforms that provide customized tools to businesses for tracking counterfeiting. Combined blockchain smart tags when with IoT and NFC tags can provide stakeholders the ability to view a product's entire history and prevent Some of the EU SMEs are contemplating to adopt blockchain to perform in-depth analysis for determining the financial benefits of using blockchain technology, especially when dealing with Indian manufacturers or resellers.
Metasurface-Driven Optically Variable Devices for Anti-Counterfeiting
A group of leading Korean researchers and pioneer in anti-counterfeiting technology based on metasurface, have developed optically variable devices that freely regulates light. The tinfoil-like rainbow hologram sticker alters its color and shape based on the angle of incidence and is extensively utilized to detect counterfeit bills and corporate security bills. The metasurface developed by the Korean researchers regulates light by organizing nanostructures. The metasurface-based optical device has the potential to store more than 100 times more data compared to traditional holograms. It is imperative to decrypt the encrypted data without proper optical decryption and can be only viewed with particular analysis equipment by security professionals. The device can be easily stored and comes at a very affordable price. The metasurface technology has immense potential to extend into new areas of application such as lidars, ultra-thin lenses, optical counterfeit, and forgery devices.
Forensic Markers
The use of forensic markers has been growing in the anti-counterfeit packaging solutions, especially for the storage and distribution of specific test kits. Chemical tagging, biological tagging, DNA tagging, and isotope ratios are some of the kinds of forensic markers being employed for anti-counterfeit measures. During chemical tagging, trace chemicals are added to the materials, which can only be detected by specific systems. In biological tagging, biological markers are added at very low levels to the materials. In DNA tagging, a "mirror-image recombinant stand" is required to detect the material and unlock the code. Naturally occurring isotopes can also be added to material, which can only be identified with highly specialized lab equipment.Other types of anti-counterfeit measures include the use of micro-encapsulated distinctive odors that can be applied to ink or coating, which provides a semi-overt feature. The scent is made up of thousands of odour components. The odor-sensing technologies discriminate odour on the basis of characteristics of wave patterns of electric signals.