May 31, 2019
Surging Mobile Data Traffic to Drive Global Distributed Antenna System (DAS) Market by 2024
Growing number of mobile devices, rising adoption of 4G cellular network technology and surging Internet of Things (IoT) ecosystem to drive global Distributed Antenna System (DAS) market through 2024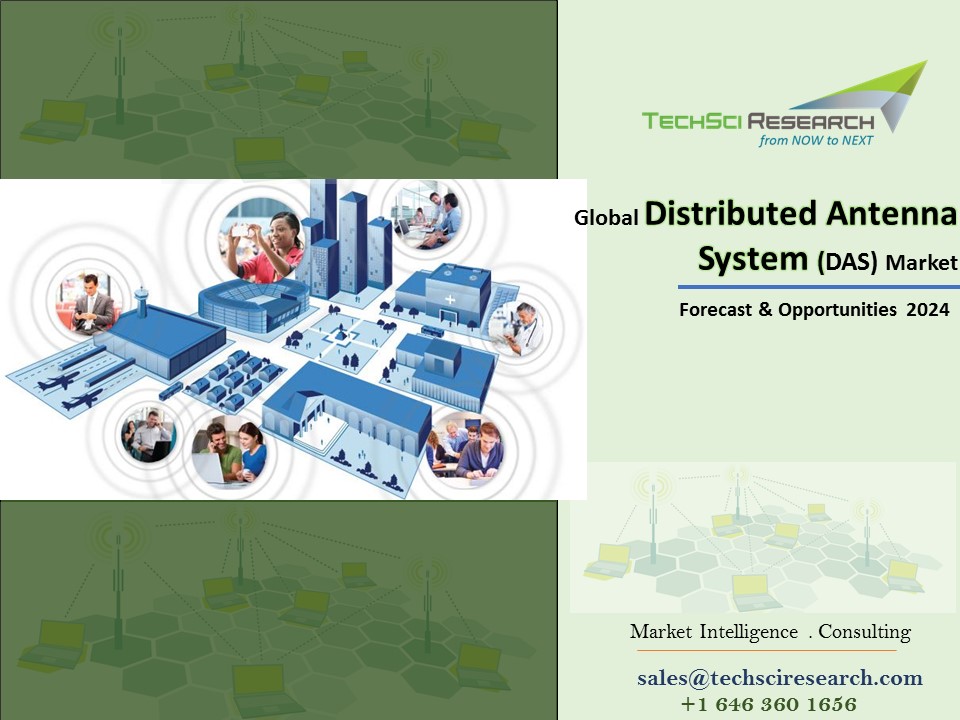 According to TechSci Research report, "Global Distributed Antenna System (DAS) Market By Coverage, By Ownership, By Technology, By End User, By Region, Competition, Forecast & Opportunities, 2014 – 2024", global DAS market is projected to grow at a CAGR of over 10% during 2019 – 2024, owing to cheaper data packages, increasing data traffic and growing smartphone penetration. Some of the other factors that would drive the market are rising development of malls, stadiums, educational institutions and technology driven corporate offices, and growing adoption of Bring Your Own Device (BYOD) trend, edge computing and Internet of Things (IoT) ecosystem. Increasing popularity of fiber and digital DAS, on account of huge investments by telecom companies in DAS to improve customer satisfaction by improving network coverage, would have a positive impact on the market during forecast period
Browse 150 market data Tables and 128 Figures spread through 265 Pages and an in-depth TOC on "Global Distributed Antenna System (DAS) Market"
https://www.techsciresearch.com/report/global-distributed-antenna-system-market/2481.html
Customers can also request for 10% free customization on this report.
Indoor DAS coverage segment is anticipated to dominate global DAS market during the forecast period, backed by high-rise residential buildings, infrastructure establishments (hospitals, mall, auditorium etc.) coupled with growing adoption of Bring Your Own Device (BYOD) work trend and increasing popularity of OTT media streaming services, including web streaming applications Amazon Prime, YouTube and Netflix. In the coming years, neutral host ownership segment is expected to witness the fastest growth in the global DAS market, owing to lower capital expenditure for carrier service providers, increasing adoption of SMACT (Social, Mobile, Analytics, Cloud & IoT) ecosystem and periodic returns for DAS infrastructure owners.
CommScope Holding Company, Inc., Corning Incorporated, Cobham Wireless, SOLiD Inc., Comba Telecom Systems Holdings Ltd., American Tower Corporation, Dali Wireless, Inc. and Advanced RF Technologies, Inc. are some of the major companies operating in global Distributed Antenna System (DAS) market. North America accounted for the largest revenue share in the market in 2018, and the region is likely to maintain its market dominance during the forecast period as well, backed by high adoption of OTT media streaming services, DevOps collaboration, enterprise mobility and 4G cellular network technology in the region.
"Increasing smartphone and internet penetration, coupled with growing popularity of BYOD, SMACT and DevOps is boosting mobile data traffic across the globe, which in turn is driving the global DAS market. Surging adoption of fog and edge computing and growing need for reducing call drop rate and improving data connectivity, coupled with increasing investment in 5G cellular network technology is boosting the global market potential of DAS. Development of high-rise buildings, business and technology parks and transit stations are further expected to boost global DAS market during forecast period.", said Mr. Karan Chechi, Research Director with TechSci Research, a research based global management consulting firm.
"Global Distributed Antenna System (DAS) Market By Coverage, By Ownership, By Technology, By End User, By Region, Competition Forecast & Opportunities, 2014 – 2024" has evaluated the future growth potential of Distributed Antenna System (DAS) market and provides statistics and information on market size, structure and future market growth. The report intends to provide cutting-edge market intelligence and help decision makers take sound investment decision. Besides, the report also identifies and analyzes the emerging trends along with essential drivers, challenges and opportunities in the global Distributed Antenna System (DAS) market.
Contact
Mr. Ken Mathews
708 Third Avenue,
Manhattan, NY,
New York – 10017
Tel: +1-646-360-1656
Email: sales@techsciresearch.com