April 6, 2023
Shampoo Bars Disrupting Personal Care Industry
Cosmetics industry, once proliferated by chemical-laden products are now being replaced by clean and eco-friendly ones. The shift can be attributed to rising consciousness among consumers about the choices they make and their effects on the environment and health. The now-growing popularity of shampoo bars over conventional liquid shampoos is evident of the changing consumer attitudes when it comes to increasing global adaptation of the zero-wastage movement.
Solid shampoo bars are made from naturally derived components and consists of nutrients, essential oils, proteins, and other hair-replenishing ingredients. On the contrary, liquid shampoos generally consists of Sodium Laureth Sulfate and its derivatives, which are harsher on the scalp and detrimental for hair and overall health. Besides, shampoo bars present themselves as a cost-effective option to liquid shampoos for price-sensitive consumers since they last longer and do not need to be replaced frequently. Additionally, solid shampoo bars produce less lather since they are free of chemicals, which saves water. Moreover, rising incidences of hair loss problems such as dandruff, dry hair, frizzy hair, dull hair, dry scalp, oily scalp, hair fall, hair thinning, hair loss, etc. are aiding to the increased usage of all-natural and organic hair care products, including shampoo bars.
The increasing pressure from eco-conscious consumers are pushing beauty brands to launch products in solid formats and adapt biodegradable packaging to reduce wastage. In 2022, Procter & Gamble (P&G) Beauty unveiled its first shampoo and conditioner bar range, targeting consumers across the European market. Head & Shoulders, Pantene, Herbal Essences, Aussies (subsidiaries of P&G) will feature solid format products, which would be packed in recyclable FSC paper. The launch is a part of the company's efforts to address the industry giant's plastic waste problem. Packing the soap bars in FSC-certified recyclable paper boxes could reduce the use of virgin plastics by 10,000 tonnes in a year.
Here are some of the trends expected to influence the growth of shampoo bar market in 2023.
Enhanced Focus on Reducing Plastic Waste
Americans purchase roughly 1 billion plastic shampoo bottles and throw away more than 550 million shampoo bottles in the garbage after use. Only 50% of plastic bottles are recycled while the rest are thrown on landfills or oceans. With rapid urbanization and increasing population, the waste generated by liquid shampoo consumption is expected to become much more. The trend of sustainable living, driven by rising eco-consciousness, is infiltrating the makeup and skincare counters, resulting into the greater adoption of beauty products that are good for the environment and gentle for the skin and hair. Hence, zero waste shampoos are marking their entry in style and bringing a revolution in the beauty community.
Shampoo soap bars are usually made up from recycled paper and can be sorted and decomposed easily, which does not cause much burden on the environment. A single shampoo bar can replace three plastic shampoo containers since the bar is more durable. Hence, the need to swap over to more eco-friendly products has never felt more. Wrap-around band, also known as belly bands, a minimalist type of bar soap packaging is rapidly gaining momentum as it allows the placement of a logo and some information on the band without covering the whole piece. This saves paper and other biodegradable material used for packaging in the shampoo bar. More such innovation in packaging and introduction of sustainable packaging materials could contribute significantly towards the zero-waste movement.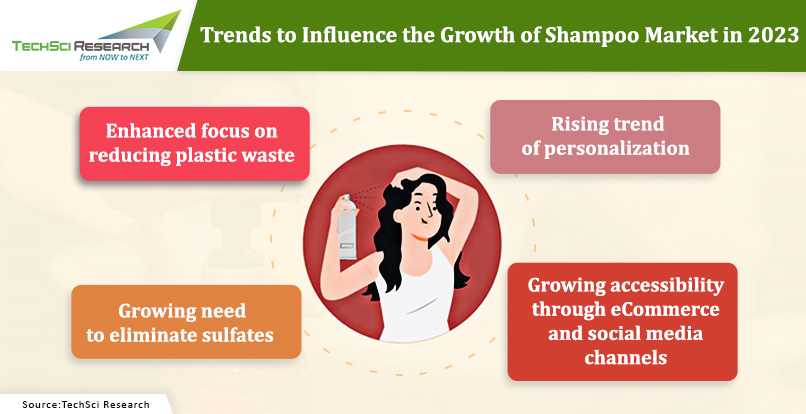 Growing Need to Eliminate Sulfates
Although shampoos are designed to clean your tresses and leave them shiny and beautiful, the ingredients present in the product are quite harmful for the environment and health of the consumer. Most of the shampoos present on shopping aisles strip hair of natural oils and damage the water bodies where the wastewater is discarded. Synthetic colour of shampoos is composed of petroleum or coal-tar sources and the parabens used in shampoos to extend their shelf life can kill corals found in surface waters. Also, these chemicals can harm both aquatic life and animals that depends for consumption from these bodies of water. Many research studies have shown that chemicals in shampoos impact the hormone levels in aquatic organisms and cause a variety of health problems.
Not only sulfates used in liquid shampoos to create lather irritate skin and disrupt the skin balance, the chemical also contributes to increasing cancer risks. Dermatologists recommend people with rosacea, eczema, contact dermatitis, or sensitive skin to avoid sulfate shampoos as they can irritate these types of skin conditions. Plant-based hair cleansing agents are much kinder and gentler than sulfates and does not cause damage to skin and overall health. Since shampoo bars contains organic ingredients, they nourish scalp and improve hair health, without causing any side-effects to health. Hence, growing health consciousness among consumers and rising awareness regarding the harmful effects of chemicals used in shampoos for health are encouraging the adoption of shampoo bars and aiding market growth.
Rising Trend of Personalization Accelerates Adoption of Shampoo Bars
Personalization in all forms has now become a trend as consumers expect brands to cater their stated needs. Increasing youth population is vocal about their values and are not ready to compromise and follow one-size-fits-all approach. When it comes to beauty industry, personalization has taken the industry by storm. Brands are becoming more responsive and inclusive to fulfil needs and expectations of different consumers. Hair related problems can vary from person to person. Hence, many brands are coming up with wide range of products, designed for various hair types, texture, and issues. Moreover, some brands allow consumers to select their key problematic areas and customize ingredients based on their concerns.
Sometimes skincare companies test their ingredients on animals. However, products touted as "vegan-friendly", "100% vegan" or just "vegan" do not contain any animal-based ingredient and are not tested on animals. Increasing vegan population across the world are also attributing to the rapid adoption of handcrafted shampoo bars made with plant-based ingredients. Some of the vegan shampoo bar brands include Upfront Cosmetics, Buck Naked, BKIND, Jack59, EcoRoots, Odacite, etc.
Growing Accessibility through eCommerce and Social Media
Exponential rise of eCommerce channels, especially in beauty and personal care space has provided a medium for large brands and small-scale companies to sell their products online. Now, the customers have the flexibility to compare prices on different platforms and choose one based on their preferences. Advertising on social media is affordable compared to conventional media platforms such as television, OOH, etc. Hence, small industry players are promoting their products on social media handles through influencer marketing, advertising, and creating traffic on their handles with interactive videos. Brands are helping customers develop a better understanding about their products by expanding their knowledge about the key organic ingredients that sets them apart from conventional shampoos. Besides, reviews and testimonials are helping customers to make an informed choice and not waste their money on products that might suit them. For instance, UK-based Lush Cosmetic launched 24/7 TV video channel to increase visibility of their products. The online channels are helping the local brands to reach the global customers and scale their products on an international scale.
Way Ahead
As large and established brands are witnessing the shifting attitudes of consumers towards clean beauty and products in solid formats, more such kind of innovation could be expected in the coming years. Consumers will have wider range of choices in shampoo bars as brands are investing in R&D to develop more natural and sustainable products. Large brands are investing in startups offering shampoo bars to tap the potential of shampoo bar market and maximize revenue share. In June 2022, all natural hair cosmetic brands has secured a retail partnership with global beauty retailer Sephora to increase brand awareness and retail expansion. More such partnerships and acquisitions could be expected in the future, owing to the rising popularity of shampoo bars.