October 18, 2022
Rise in Demand for Vegan Snacks
According to recent analysis by the Plant Based Foods Association and The Good Food Associations, the retail sales of plant-based foods in the United States reached a market value to an all-time high of USD7.4 billion in 2021, witnessing a 6.2% increase in sales from the year 2020. The growth of plant-based category amidst the ongoing challenges presented by the pandemic and disruptions in the supply chain demonstrates strong consumer commitment to purchasing foods that aligns with the idea of sustainability and are better for personal health, and planet in general. Food manufacturers ranging from startups to leading CPG companies are innovating rapidly in the plant-based food market, introducing next-generation plant-based meat, egg, and dairy products. These vegan alternatives are increasingly becoming competitive with animal products in terms of taste, price, and accessibility. New technologies and growing focus of industry players on improving their offerings for enhanced taste and textures are contributing to the growth of plant-based foods market.


Vegan snacks, in particular, are capturing a significant share in the plant-based food market as consumers are taking a more proactive approach to their holistic well-being. Many people are replacing one meal with snack to find a balance between indulgence and nutritious and satisfying foods. Some people prefer snack bars for a balanced and long-lasting energy rather than preparing a healthy meal from scratch. Besides, snacks act as mood enhancers for consumers as they help body to produce things like serotonin, dopamine, and melatonin. Snacks, either as meal replacements or as mood enhancers-are helping snack manufacturers strengthen sales. The importance of food as medicine, owing to an enhanced awareness towards preventive health has led to an increased adoption of functional snacks. Many international brands are seizing the opportunity of increased snack consumption and introducing new product varieties, ranging from chips to cake, ice-cream to sandwiches and burritos, etc.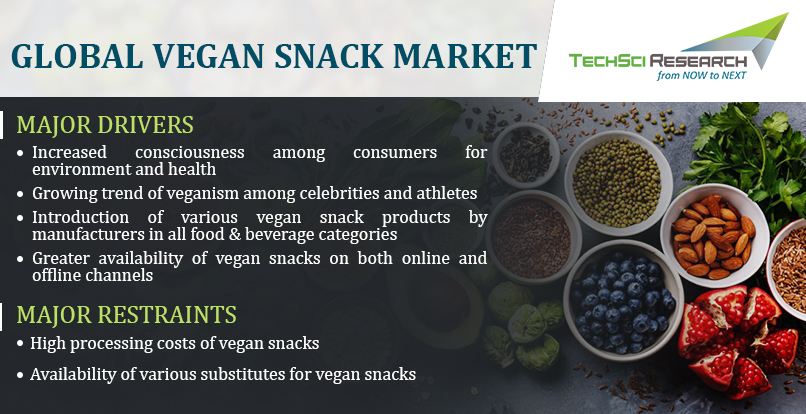 Here are some of the trends to watch out for in the global vegan snacks market in the coming years.

Growing Acceptance of Veganism
The number of vegan consumers is rising across the world, which is positively influencing the consumption of vegan diet. In recent decade, veganism has exploded and its rise in popularity shows no signs of stopping. The reason for adopting a vegan diet is a very personal one for every individual. Some people become vegan due to moral reasons because they think that they are taking a step against the unethical killing and usage of animals for human consumption. Some people are adopting veganism for environmental reasons as meat production, processing, and distribution contribute to significantly global greenhouse gas emissions. Meat production accounts for nearly 60% of all greenhouse gases from food production. Moreover, some people are some following vegan diet for boosting their health. According to the British Diabetic Association and American Academy of Nutrition and Diabetics, vegan diet can lower blood pressure and cholesterol levels, thus can reduce the risk of diabetes and some types of cancer. Hence, growing trend of veganism is supporting the proliferating demand for vegan snacks worldwide.

Rise of Vegan Ecommerce
The food and beverage industry is shifting to online marketplaces at a record pace. Compared to the staple products found in physical aisles, vegan and plant-based foods snacks are newcomers, but are still gaining a lot of traction. As veganism becomes more of an appealing and accessible option for consumers, marketers are stocking plant-based alternatives and offering them online to appease new health-conscious consumers. Vegan movement is primarily being led by millennials and Gen-Z, who prefer online shopping over traditional marketplaces. Thus, brands are taking advantage of the changing shopping patterns of consumers and capitalizing on it. Any movement popular among young people is likely to be featured on social media and what matters on social media can be used by brands for marketing campaigns. In a culture where visual content is everything, vegan influencers on social media are posting aesthetically pleasing vegan recipes and snacks that seem like a perfect plant-based food option for consumers, which they can easily avail from online platforms.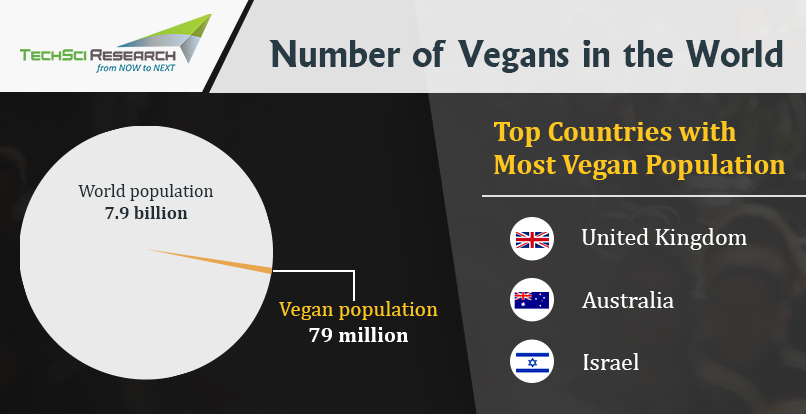 Celebrity Influence Drives Vegan Snack Market Growth
Many celebrities like Lewis Hamilton, Ellen De Genres, Natalie Portman, Billie Eilish, Ariana Grande, James Cameron, Miley Cyrus, etc. are speaking out on social media about animal welfare and vegan nutrition, which is positively influencing the vegan diet culture across the world. All these celebrities have powerful social media presence that span across geographies and language barriers and since they are standing up for the vegan cause out of their own free will and conviction, which makes them credible and authentic. At the 92nd Academy award winning speech, renowned Hollywood actor, Joaquin Phoenix asked viewers to ditch meat and encouraged them to shift towards a plant-based diet for sake of animal welfare. Pop-sensation Billie Eilish gave away free tickets to her concert to fans who educated themselves about climate change and she talks about how going vegan is one of the most efficient ways to cut down carbon emissions. Many celebrities are investing in vegan food brands, putting their faith and funds in the capable hands of innovative vegan entrepreneurs. From Leonardo DiCaprio to Snoop Dogg, Chris Paul to Rihanna, Serena Williams to Katy Perry, and many other celebrities have stake in vegan brands like Beyond Meat, Impossible Foods, Quorn, MyKind Organics, Once Upon a Farm, etc. American Basketball player and 12-time NBA All-Star, Chris Paul launched his own line of plant-based snacks.

Innovation in Vegan Snacks
As the plant-based industry is skyrocketing, the plant-based snacking and ready-to-consumer sectors are witnessing tremendous growth. Influx of investments and enhanced focus of manufacturers on incorporating new ingredients in vegan snack offerings have led to emergence of a wide range of tasty products. There have been a wide variety of product launches in the plant-based confectionary category. For instance, Kelloggs has debuted its functional plant-based protein snack bar, Rxbar in the United States. Another brand, LoveRaw launched its new salter caramel Cre&m wafer bars made with vegan hazelnut cream and chocolate. The dairy-alternative ice cream market has also witnessed tremendous growth in recent years. Ben and Jerry's plant have debuted their dairy-alternative ice cream in three new flavors to their pre-existing plant-based line up. Savory snacks are becoming a huge hit. Squeaky Bean has recently launched the new on-the-go bites in United Kingdom, Munchy Seeds launched a new vegan sprinkles range. Alpha Foods has launched five new breakfast products including burritos, sandwiches, etc.

Emergence of new ingredients could further boost the product expansion in the vegan food category. Potato milk might be a good substitute for cow milk or heavily criticized almond and soya milk (for their environmental impacts). Many major chocolate brands such as Cadbury, Nestle, Lindt, Hershey's are responding to the vegan consumers' demand for snacks with authentic chocolate taste. Recently, Cadbury launched its almond-milk based chocolate while Nestle is planning to launch new vegan Milky Way product. Vegan eggs might just become the new hot thing. Consumers in UK have a wide variety of options to choose from. In the coming years, more such vegan snack options are likely to emerge, which is expected to support their market growth. However, the less availability of ingredients and high processing costs might restrict the growth of the Vegan snacks market in the coming years.