January 3, 2023
Trends to Dominate Global Yogurt Market in 2023
Rising incidences of lifestyle disorders and growing awareness about a healthy diet have led to increased adoption of functional foods, especially probiotic-fortified foods. Amongst probiotic functional foods and beverage categories, yogurt holds a significant market share due to its greater consumption and rising popularity among the health-conscious population. Besides being an essential part of various cuisines worldwide, yogurt serves as a healthy option for consumers for daily consumption due to its greater accessibility and affordability. Several research studies suggest that consuming yogurt offers consumers a host of benefits such as reducing the risk of type-2 diabetes, boosting immunity, enhancing bone health, helping with cognitive function and mood, safeguarding against colorectal cancer, and reducing high blood pressure & bad cholesterol.
In 2021, yogurt sales in the United States amounted to USD7.24 billion, up from USD5.6 billion in 2011. The presence of many yogurt brands and huge spending on yogurt marketing has led to its ubiquitous availability across various distribution channels and rapid consumer adoption. Rising demand for healthier low-sugar varieties with fewer additives is providing significant opportunities for the producers to amplify their yogurt sales and raise margins. Fermentation remains central to yogurt's appeal among young audiences due to its sour taste and range of flavors. However, the target market for yogurt is rapidly expanding with increased awareness among people for weight loss, rising personal disposable income of the population, growing incidences of chronic diseases, and improved standard of living. The rising popularity of fruit-flavored yogurts such as mango, strawberry, chocolate, banana, and others and their increasing consumption in desserts contribute to market growth.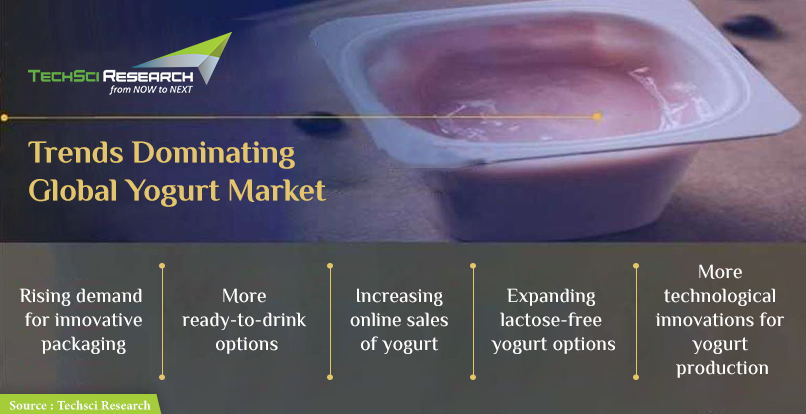 According to TechSci Research report on, "Global Yogurt Market By Fat Content (Regular, Low Fat, Fat Free), By Type (Flavored, Non Flavored), By Form (Conventional Yogurt, Greek Yogurt, Set Yogurt, Frozen Yogurt, Yogurt Drinks, Others), By Packaging (Plastic Bottles, Tetra Packs, Others), By Distribution Channel (Direct Selling/Wholesale and Retail Sales), By Region, Competition, Forecast & Opportunities, 2025", the global yogurt market is expected to reach USD123 billion by 2025. The market growth can be attributed to the rising awareness towards healthy food and increasing young population. Besides, high availability of yogurt with nutritional value and protein content are expected to boost the growth of the global yogurt market in the coming years.
Some trends expected to dominate the global yogurt market in 2023 are as follows.
Rising Demand for Innovative Packaging
With continued demand for delicious and high-quality foods, yogurt producers are experimenting with new ways of enterprise marketing for fast-moving consumer goods to attract consumers. Packaging design is one attribute that gives rise to positive purchasing attitudes and matches consumers' preferences. Innovation in food packaging has also led to incorporating active components whose function is to extend product quality and longevity. Many brands are ditching plastic packaging and adopting bottled glass or ceramics to reduce environmental impact and classify their product as premium. Smart packaging has enabled smartphone users to scan a product's unique digital code, which can help them access all the details. To appeal to the Gen Z population, yogurt brands are introducing sustainable packaging products that represent nutritional information and ingredients so that they can make an informed choice. In 2021, one of the leading yogurt brands, Chobani, announced that it is transitioning from plastic to paper-based cups for its single-serve oat blend yogurt. Chobani's paper cup is 80% paperboard, which can handle the temperature changes and moisture and keep the products fresh. Some other brands are also working to develop smart and sustainable packaging, which reduces harm to the environment while also maintaining the quality of the product.
More Ready-to-Drink Options
Consumers prefer ready-to-drink protein options such as drinkable yogurt, yogurt smoothies, lassi, etc., due to their functional probiotics and enhanced convenience of drinking it on the go. Many brands are introducing drinkable yogurt rather than spoonable to attract young and busy customers. Chobani launched Low-Fat Greek Yogurt Shake, Califia introduced Dairy-Free Yogurt Cultured Nutmilk Drink, and Morinaga launched Aloe Yogurt Drink for skin in recent years, witnessing consumer shift towards drinkable yogurts. New savory drinkable yogurt flavors such as carrots, beetroots, and tomatoes are becoming a huge hit among consumers. Although drinkable yogurts started in Japan with the introduction of Yakult probiotics, now the market has expanded to China and India, the fastest-growing markets. Rising personal disposable income of the population, rising incidences of chronic disorders, and increased awareness regarding health and well-being are contributing to the rapid adoption of drinkable yogurt.
Increasing Online Sales of Yogurt
The rapid expansion of e-commerce grocery stores presents huge opportunities for the yogurt brands to tap potential customers. Many consumers are opting for online ordering for the extra safety and convenience of home delivery. Being a convenient and ready-to-eat snackable product, yogurt fulfils all the requirement for busy consumers who want to keep themselves and their families healthy in busy lifestyle. Many yogurt manufacturers are incorporating shelf-stable yogurt, which requires no cooling and can be stored in pickup lockers.
Expanding Lactose-free Yogurt Options
Dairy-free options in the beverage category are gaining much traction due to expanding population of vegans and lactose-intolerants. Major US yogurt brands like Yoplait and Activia are incorporating lactase to create 100% lactose-free dairy yogurt to meet the growing demands. Vegan yogurts such as flax milk yogurt and hemp yogurt offer the same digestive benefits as dairy-based yogurts. As the market for vegan yogurt is increasing, market players are introducing many other varieties fortified with vitamins and minerals to make them healthier and tastier, just like conventional yogurt. Several animal welfare associations and non-government organizations are spreading awareness regarding their health benefits, which is also expected to grow the adoption of lactose-free yogurt and the rising prevalence of clean label products. Amongst plant-based yogurt, the soy segment accounts for the highest share since soy is an excellent protein and helps reduce cholesterol and blood sugar levels. Besides, coconut and rice yogurt are gaining immense popularity as they are considered the least allergenic milk amongst all dairy milk alternatives. Moreover, market players are introducing new sugar-free drinkable yogurt products without compromising the taste while providing more nutritional benefits.
Expanding Lactose-free Yogurt Options
Emerging dairy technologies are enabling yogurt manufacturers to increase the concentration of proteins in both spoonable and drinking yogurt products for their increased demand and sales. The new dairy technology, Glanbia Nutritionals' UltraHi Protein Yogurt Technology, helps the manufacturers to achieve 20-50 grams of protein per serving. Other novel processing technologies such as high-pressure processing, high-pressure homogenization, enzymatic crosslinking by transglutaminase, ultrasonic processing are improving the quality of existing products and producing new food structures and textures, which is ultimately adding to the market growth.
With growing health-consciousness among customers and clean product demand, the yogurt market will expand significantly in the coming years. However, the trends will keep on changing as per consumer preferences for eating and drinking dairy foods and beverages.
According to research report, "United States Yogurt Market By Type (Non-Flavored, Flavored), By Fat Content, (Regular, Low Fat, Fat-Free), By Form (Conventional Yogurt, Set Yogurt, Greek Yogurt, Frozen Yogurt, Yogurt Drinks and Others), By Packaging (Pouches, Plastic Bottles, Tetra Packs and Others), By Distribution Channel (Convenience Stores, Independent Small Grocers, Supermarket/Hypermarket, Online Channel), By Region, Competition, Forecast & Opportunities, 2026", the United States yogurt market is anticipated to reach a market size of USD7.6 billion by 2026. The market's growth can be attributed to the Americans' inclination towards health consciousness and rising preference for flavored yogurt.