June 10, 2022
Non-Alcoholic Drinks Revolutionizing the Beverage Industry
The beverage industry is undergoing a non-alcoholic revolution as more and more Americans are cutting down their alcohol consumption. According to the International Wines and Spirits Record (IWSR) analysis, global alcohol consumption drastically declined in 2020 while the low- and the non-alcohol market continues to grow, with consumption anticipated to increase 31% in volume 2024. A shift to a healthy lifestyle has led to an enhanced desire for clean drinking or mindful drinking among adults, which has created a high demand for reduced alcohol or alcohol-free drinks, nutritious drinks, energy drinks, functional beverages, fruit beverages, carbonated drinks, etc. Witnessing the rise in the health-conscious population, beverage companies are expanding their product offerings for consumers, which is supporting the category growth and broadening their appeal.
Alcohol has remained an essential part of social events like weddings, birthdays, and parties, especially in western cultures. The non-alcohol drinks enhance inclusivity, providing designated drivers, pregnant women, recovering alcoholics, younger consumers, teetotalers, etc., a viable alternative to alcohol. In 2021, a record high of 12 new non-alcoholic spirit brands were launched in the United States. These beverages are easily accessible in bars, restaurants, grocery stores to support consumers that want to socialize without resorting to alcoholic drinks. The technological advancements have enabled brands to maintain the taste and flavor of alcohol in spirits and non-alcoholic wines to not compromise on adult taste palates. Now, the non-alcoholic drinks accompany lagers and ales, sparkling wines, pre-blended cocktails, spirits, tonics, mixers, and more.
Here is a list of the top five non-alcohol beverage trends that are expected to dominate the non-alcoholic beverages market in 2022.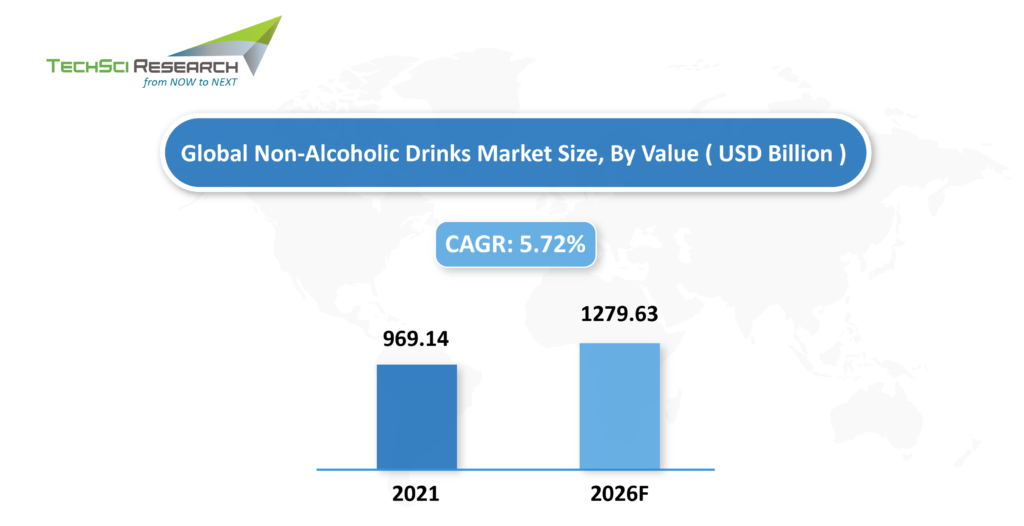 Functional Drinks
With increased health awareness, consumers are reaching for drinks that are infused with vitamins, minerals, probiotics, and other immune-strengthening ingredients. Functional beverages taste not only good but also improve digestive health, mood, cognitive abilities, hydration levels, and immune functioning. The pandemic accelerated the adoption of functional beverages since they boost immunity, which reduces the chance of infections and helps curb the effects of the coronavirus. In addition, stress and sleep functional drinks have gained huge popularity among middle-aged populations.
With expanding range of functional applications, brands are innovating with new ingredients to meet more functional goals of the customers. Sport drinks are not confined to just carbonated drinks or electrolytes anymore. Drinks with creatines, branched-chain amino acids, vitamins, antioxidants, and other minerals are being increasingly adopted by athletes to boost their energy levels. Besides, increased focus on holistic skincare has led to the rise of collagen-based beverages, which are known to provide anti-aging benefits. Young consumers are resorting to healthy hydration products as they are a convenient and viable alternative to traditional soft drinks and caffeine products. Enhanced water or alkaline water is also gaining momentum since it provides additional health benefits.
Fermented Beverages
A growing adoption of fermented beverages has been observed in recent years. Fermented beverages such as kombucha, kefir, and ginger beer provide health benefits like improved gut health, better digestion, a boost in energy levels, etc. Kombucha, an Asian delicacy, is the top-favorite of vegans and people with gluten intolerance since it is plant-based and gluten-free. Besides, athletes also prefer fermented drinks over carbonated beverages since it consists of natural ingredients, probiotics, vitamins, minerals, amino acids, and enzymes. While brewers ferment drinks like wine and beer, other brews ferment drinks like wild sodas and kvass for their probiotic content. Light fermented drinks like jun tea and water kefir are an excellent source of bacteria that contain negligible amounts of alcohol (approx. 0.5%), which is the same amount as orange juice. In 2021, PepsiCo, one of the leading players in the global beverage market, introduced an on-the-go fermented beverage KeVita Probiotic Shots, to support digestive health.
According to TechSci Research report on "United States Energy Drink Market By Product Type (Non-Organic & Organic), By Target Customers (Adults, Teenagers & Geriatric Population), By Distribution Channel (Store-Based & Non-Store Based), By Region, Competition, Forecast & Opportunities, 2026F", the United States energy drinks market is anticipated to reach USD21 billion by 2026 owing to factors increasing preference of people towards flavored and energy-boosting drinks. Besides, the rising number of sports activities in the region contributes to the growth of the United States energy drink market.
Zero-Alcohol Beer
Once considered a staple drink for every social gathering, beer sales are declining in the past few years. When compared to other boozy drinks or non-alcoholic beverages, beer has started to seem stale to consumers now. In the United States, beer volume sales reduced by 3%, while craft beer sales declined by 9% in 2020. Sales of non-alcoholic beer increased by 28% in 2021 as more retail stores, bars, and restaurants started making the beverage more accessible to consumers after the government eased the lockdown measures. According to NielsenIQ Total U.S. Convenience data, non-alcoholic beer sales reached USD31.4 million, up from 26.2% for the 52 weeks ending October 2021 in convenience stores.
Budweiser unveiled its first zero alcohol 50 calorie brew, Budweiser Zero that has the same taste profile as its conventional beer offerings. Budweiser Zero was crafted with athletes in mind who wanted a great taste of refreshing beer without the after-effects of alcohol, particularly during training or in season, which could impact their mental and physical game. Another popular beer brand, Heineken, entered the non-alcohol space with the launch of Heineken 0.0, picking up on the continuing trend of adults abstaining from alcohol consumption. Currently, Brooklyn, Connecticut's Athletic Brewing, and California Surreal Brewing are some of the brands that produce only no- and low-alcohol beer is taking the lead in the non-alcohol beer segment in the United States.
Non-Alcoholic Wines
Although the non-alcoholic wine segment is still in its infancy, the category is garnering a lot of interest among consumers. In 2020, no-alcohol wines registered a 39.4% growth in sales, according to an analysis by BevZero. Compared to conventional wines, no and low-alcoholic wine is rising in popularity and becoming one of the mainstream trends in shaping the global beverage industry. Enhanced flavor, depth, and sophistication of non-alcoholic wines cater to a large segment of the population. According to FoodBev Media, the non-alcoholic wine market is expected to grow at a CAGR of 7% between 2019 and 2027 as more consumers continue making a switch to low liquor content alternatives.
Alcoholic drink manufacturers are shifting to manufacturing low- and non-alcoholic beverages are boosting their profit margins due to zero tax policies. Out of all non-alcoholic drinks, wine is the hardest to remove alcohol from, but advances in technology and distillation techniques have made it possible for manufacturers to produce zero-alcohol wines, which taste like the traditional wine. Among the non-alcoholic wine category, grape wine is currently the most preferred product type. Treasury Wine Estate, E & J Gallo Winery, Castell Freres, and McGuigan, among others, are the major industry players in the non-alcoholic wine market.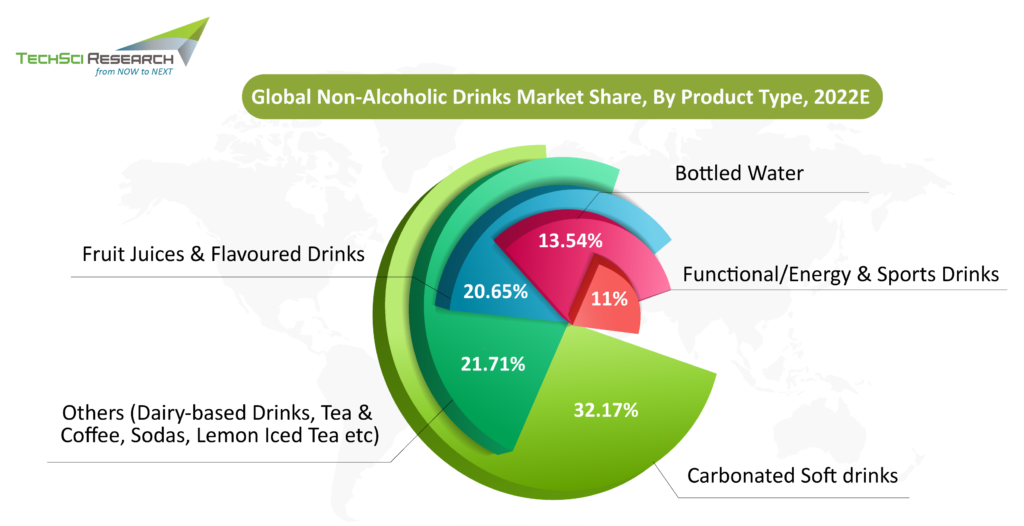 Digital Age Boosts Non-Alcoholic Beverages Sales
Non-alcoholic beverages are more popular than ever. Social media and other digital channels have led to the extensive sharing of brand content, which has created a huge scope for industry players in the non-alcoholic market to tap new potential customers. Consumers between the age of 18 to 34 are more likely to discover new foods and beverages on social media channels and be easily influenced to purchase them. The excitement among consumers for trying something new and sharing the experience on social media has led to the rising adoption of innovative drinks that do not necessarily contain alcohol. Besides, celebrities and bloggers endorsing functional beverages for their health benefits has largely influenced their adoption among general audiences. Purchasers are prioritizing the purchase of sustainable and vegan products to reduce their impact on the environment. Moreover, the e-commerce platforms have reinforced brands to be more transparent about the kind of ingredients used in non-alcoholic beverages, which is helping the health-conscious population to find a drink of their choice, which is chemical-free, healthy, and without artificial flavors. As consumers would continue to delight in creative and trendy drinks with alluring aesthetics and flavors, the non-alcoholic beverage market will continue to register steady growth in the coming years.
Sober Generation Leading the Non-Alcoholic Beverages
The customers of non-alcoholic beverages are the young, trendy, educated, high-earners, and eco-conscious youth that have the power to make or break any brand. Although millennials are credited with initiating the mindful drinking and sober-curious revolution, Gen Z has actually pushed the movement over the edge. Well-educated on the matter of physical wellness and mental health, Gen Z knows the downsides of alcohol, and hence they are less likely to drink alcohol than millennials or baby boomers.
According to TechSci Research report, United States Non-Alcoholic Drinks Market By Product Type (Carbonated Drinks and Non-Carbonated Drinks), By Packaging Type (Bottle, Can, Others (Tetra pack & Pouches)) By Distribution Channel (Supermarkets/Hypermarkets, Convenience Stores/Forecourt Retailers, Departmental Store, Online, Others (Grocery Stores, Independent store, etc.), By Region, By Company, Forecast & Opportunities, 2026, the United States non-alcoholic drinks market is anticipated to grow at a formidable rate. The growth can be attributed to the increasing shift towards a healthy lifestyle and high disposable income. Besides, companies are launching new varieties of drinks with different flavors and tastes, which is propelling the demand for non-alcoholic drinks in the United States.
News Source:
https://www.techsciresearch.com/blog/non-alcoholic-drinks-revolutionizing-the-beverage-industry/1306.html