September 22, 2017
Get Rid of Unpleasant Ammonia Smell With Biofilters
What is a Biofilter?
A Biofilter is a microbial system which is tailored to obliterate volatile organic compounds (VOCs) and odor causing compounds (including NH3, CS2, H2S), by means of regulated temperature, humidity and pH. Biofilter offers an economic and energy-efficient method to treat odorous air from wastewater treatment plants by degrading organic pollutants present in the industrial as well as residential wastewater streams. Socially acceptable technology combined with environmental sustainability and economic viability are the key offerings of biofilters, which are fueling the global biofilters market.
Key factors driving the sales of biofilters: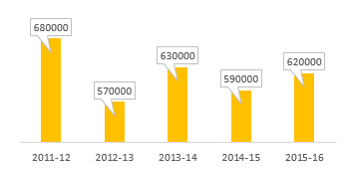 Source: National Pollutant Inventory
Over the past years, the world population has witnessed escalation from 3 billion in 1960 to nearly 7.4 billion in 2016. The global population outburst is fueling the expansion of agriculture sector worldwide. The progressing agricultural operations including farming, dairy operations and compositing plants are resulting in emission of odorous compounds such as Ammonia (NH3) and Hydrogen Sulfide (H2S) along with other harmful greenhouse gases. The increasing concerns among the rural population regarding the foul smell generating from barns, feedlot surfaces, manure storage facilities, silage piles, composting structures and other smaller sources is resulting in rising number of complaints against dairy & livestock operations across the world.
Estimates of ammonia emission from UK agriculture, By Volume (Kilotons)

Source: Department for Environment, Food & Rural Affairs
In addition to agricultural activities, the ongoing industrialization is further contributing to the increasing Hydrogen Sulfide emissions. The various industrial sources such as electric power plants, oil refineries, pulp & paper mills, sewage treatment plants apart from large pig farms and other animal feeding operations are generating strong & pungent odor comparable with that of rotten eggs.
Apart from Hazardous Air Pollutants (HAPs), the increasing Volatile Organic Compound (VOC) emissions further account for the elevated air toxicity levels and poor air quality standards. Animal production results in emissions of numerous VOCs responsible for unpleasant odors, thereby causing negative impacts on the comfort, health, and production efficiency of animals and humans. Moreover, with the advancing automotive & transportation sector, the VOC emissions is leading to the deteriorating air quality in urban settings. As per US EPA, the transportation sector accounts for more than 30% VOC emissions in the United States.
Government initiatives in support of Biofilters:
The degrading air quality is coercing the need to adopt VOC abatement and odor removing solutions at a global level. The increasing number of reported health disorders is pushing the government agencies to promote the adoption of advanced technologies and curb emission levels, in order to maintain ambient and healthy air quality standards. For instance,
United States: The Agency for Toxic Substances and Disease Registry (ATSDR) of the US Department of Health and Human Services, lists 24 states with regulations or guidelines for hydrogen sulfide, wherein the Minnesota Pollution Control Agency (MPCA) is monitoring limits on hydrogen sulfide emissions at Concentrated Animal Feeding Operations (CAFOs). Furthermore, USDA and US EPA are implementing Best Management Practices (BMPs) for ammonia.
Europe: The health and environmental concerns about agriculturally emitted air pollutants have led regulators and policy makers to implement mitigation strategies for ammonia across European nations. Additionally, the European Union has accepted Gothenburg Protocol to reduce emissions of ammonia and volatile organic compounds by 6% and 28% respectively, by 2020.
Global Biofilter Market Overview:
The growing preference for sustainable Air Pollution Control (APC) equipment is propelling the demand for Biofilters globally. Other odor treatment solutions, such as odor masking, activated carbon and ultraviolet ionization treatment involves usage of chemicals, thereby causing significant environmental impacts in the form of hazardous by-products. The high energy and maintenance costs associated with traditional odor treatment technologies is further facilitating the shift towards biofiltration systems. In addition to applications across industrial and residential settings, the biological filtration systems are tailored for utilization across aquaculture as well, wherein bacteria are used to remove ammonia and nitrite contained in fish urine from the tank or pond. Consequently, the global Biofilters market is projected to surpass USD600 million through 2026 on account of broad array of applications which are driving the installation of biofiltration systems worldwide.
Request for Sample Report Today!
Partial List of Commissioned Biofilter Plants Worldwide