February 25, 2020
Uflex Limited Launches India's First plant for Washing and Recycling of Post-Consumer Multi -Layer Plastic and PET bottles waste
Our ChemAnalyst team got an incredibly rewarding opportunity to visit India's First plant for Washing and Recycling of Post-Consumer Multi -Layer Plastic and PET bottles waste, recently launched by Uflex Limited in Noida, Uttar Pradesh. The plant's PET Bottle Line has the capacity to recycle up to 600 tonnes of PET Bottle waste a month while the MLP Film Line a capacity to wash and recycle up to 500 tonnes of MLP waste in a month.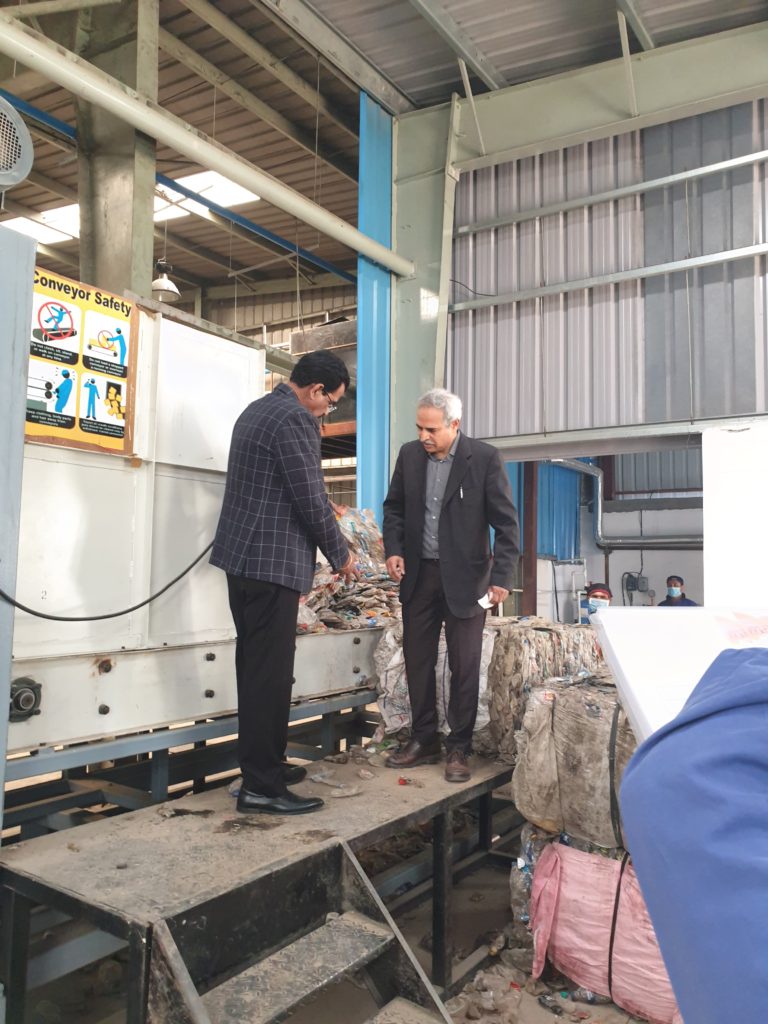 With the aim of strengthening its recycling capabilities and maintaining a truly circular plastic economy, UFlex has become the first and only company in the world to develop this innovative technique. In line with its global sustainability campaign 'Project Plastic Fix', Uflex recognizes its responsibility to the environment and is tenaciously striving to scale up its recycling strength. The plant showcased Multi-layer Plastic Wastes (bags, rigs, bottles, wrappers etc.) being recycled into chips and granules using a simple technique followed by their processing into useful Industrial & Household Products such as flower pots, outdoor furniture, bucket, dustbins, paver tiles, road dividers etc.
Our team had a wonderful experience at the plant visit which was followed by an interactive session with Mr. Jeevraja Pillai, Joint President, Packaging and Mr.Dinesh Jain, President, Legal and Corporate Affairs. The personnel gave us a detailed outlook of the technology used and its scope in providing India a sustainable solution towards converting waste into wealth.
It is estimated that by 2050, there will be around 12 billion metric tons of plastic on this planet if an effective strategy is not proposed to recycle the accumulating plastic waste. India alone is producing 26,000 tons of plastic waste every day of which single-use plastics pose a major problem. Hence, it is the need of the hour to mitigate the continuous piling of plastic waste by collecting and recycling it to produce products with economic value. With its newly commissioned recycling plants in several locations, UFlex will have a capacity to recycle more than 3000 MT of plastic waste a month.
https://www.chemanalyst.com/NewsAndDeals/NewsDetails/204-uflex-limited-launches-indias-first-plant-for-washing-and-recycling-of-post-consumer-multi–layer-plastic-and-pet-bottles-waste
About UFlex:
UFlex is India's largest multinational flexible packaging Company which provide superior technologically superior solutions to its customers across the globe. As a leading global player in Polymer Sciences, UFlex has evolved as a truly Indian Multinational with its state-of-the-art packaging facilities at different locations in India with installed capacity of around 135 KTPA. The company has its manufacturing units present in India, Mexico Egypt, UAE, Poland and USA. Integrated within its core business profile are associated businesses like Engineering, Aseptic Liquid Packaging, Cylinders and Chemicals which further gives UFlex stand-out from its competitors.
About ChemAnalyst:
ChemAnalyst.com is a subscription based Digital Platform covering in depth data & analysis on 175+ Chemicals. It offers granular level real-time data and business intelligence in chemicals and petrochemicals to give you a sustained competitive advantage across the industry value-chain.