February 23, 2022
EU Launches Chips Industrial Plan for Digital Sovereignty
Ever since the pandemic erupted in 2020 and put the world to a halt, almost every industry has started experiencing grave microchips shortage. An unprecedented spike in demand for consumer electronics owing to the shift to remote working and distance learning during the pandemic led to a huge demand for microchips. Once the global recovery took hold, the production of semiconductors was inadequate to meet the surge in demand for semiconductors with the rise of industry 4.0, growing adoption of electric and connected vehicles, and changing consumer habits influenced by digitization. Supply chain disruptions and temporary cessation on production units caused by lockdown restrictions or natural disasters aggravated the semiconductor shortage.
The acute microchip shortage drastically impacted the European auto sector and slowed down the clean energy transition. According to the latest European Automobile Manufacturers' Association (ACEA), the situation became worse in September 2021 when car registrations reduced by 23.1%, the lowest of September registrations since 1995, given the complexity of the automotive value chain. Hence, the European Union came up with a strategic plan to increase the domestic production of microchips and expedite the economic recovery.
The European Commission has recently launched the 'European Chips Act' aimed towards the large-scale investment plan to boost the microchip production sector, presenting new powers to secure chips during the crisis. The European Union (EU) plans to become a leader in the global microchip market, occupying 20% of the global microchip market share by 2030. Understanding the growing relevance of semiconductors in almost every industry, the EU has planned to turbocharge its microchip industry, enabling USD15 billion (€17.11 billion) in addition to the already planned €30 billion (USD34. 3 billion) for various EU programs like NextGenerationEU, Horizon Europe, and other national projects. Meeting the goal would require the EU to quadruple its activity in the sector, put an investment plan for research and development, set up new manufacturing sites, and form new policies to address the shortages in the semiconductor industry.
Many advanced economies are realizing the supply chain issues, leading to production shortages and delay, and thus outlining investment plans for the semiconductor industry's growth. Recently, the House of Representatives passed the US Chips Act to increase competitiveness with Asian countries, particularly China, by subsidizing domestic semiconductor production with an allocation of USD52 billion. In 2021, South Korea unveiled a decade long USD450 billion plan to strengthen the country's microchip sector. The money will come from 152 companies, while the government will provide a substantial tax credit for R&D and the establishment of new production units.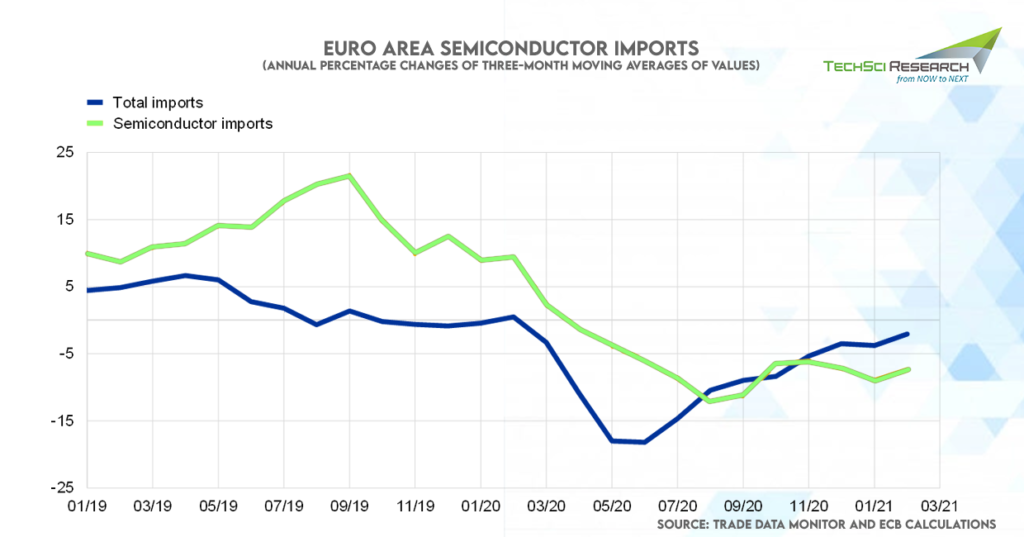 Why is Europe Keen on Achieving Self-sufficiency in Semiconductor Production?
European Union accounts for less than 10% of the global semiconductors production market and heavily depends on Asian countries for supplies. Taiwan Semiconductor Manufacturing Company (TSMC) accounts for 55% of the global semiconductor market share, followed by another northeast Asian giant, Samsung, that captures 17% of the world's market. The geographic concentration of semiconductor production increases the risk of bottlenecks for Europe due to rising tension across the Taiwan strait and the fragility of the supply chain. When the COVID-19 pandemic emerged in 2020, electronic producers hoarded chips to meet their growing demand for appliances, leading to their severe shortage when markets reopened.
Another major factor propelling the EU to become self-reliant is the looming US-China trade rivalry. In December 2020, the United States added Beijing's biggest semiconductor manufacturer, Semiconductor Manufacturing International Corporation (SMIC), to its 'entity list,' recognizing that semiconductors are China's Achilles heel. The current Biden administration is keen on doubling its microchip production, and China aims to become impermeable to sanctions. At the same time, Europe is highly dependent on foreign-made semiconductors, which makes European Union susceptible to external pressure.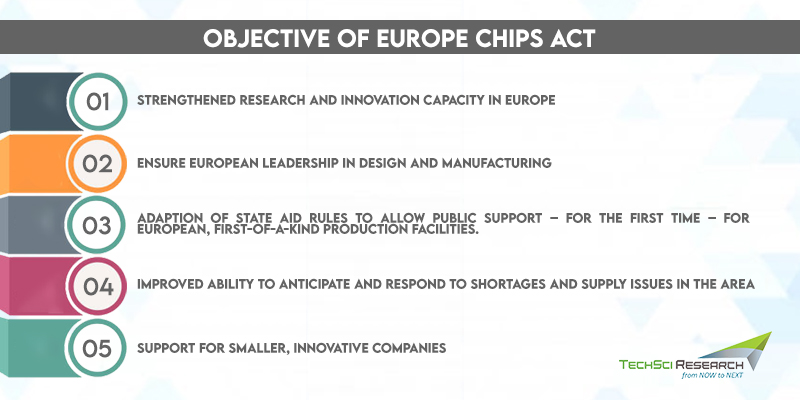 How will Europe Achieve its Microchip Goals?
Success at the forefront of semiconductor production relies on two factors, improving advanced engineering and revamping manufacturing capabilities. Two parallel efforts are required to make the EU's semiconductor vision a success in the next ten years.
· Expand Local Semiconductor Ecosystem
Europe needs to reinvigorate its local semiconductor ecosystem by incentivizing leading-edge chip design manufacturing capacity, including fabs, ATP sites, and fundamental research. These activities would lead to additional developments in mature technology and scaling the remaining parts of the ecosystem. Hence, the EU will pour public money and utilize private investments into expanding production units to manufacture EU-made chips in EU-based factories. European policymakers would focus more on improving conditions for start-ups and spin-offs from research institutions, providing better and faster access to funding.
With advancements in technology, microchip production is becoming more capital intensive. The European Commission estimates that the design and development of advanced chips would require €1 billion (USD 1.14 billion). The Commission will put special focus on building next-gen microchips, engraved at 3 and 2 nanometres, and even below so that they consume less electricity and deliver faster operations. However, Europe downstream industries need to manufacture chips of both kinds, high-performance chips of small size and large chips used in power electronics, sensors, or microelectromechanical systems to boost technological sovereignty. Intel, the world's largest manufacturer of microchips, is expected to open a foundry plant to diversify its global supply chain. The company is expected to play a vital role in the upcoming alliances on processors and semiconductor technologies, linking the global supply chain. In the last two years, Intel has invested USD7 billion in Europe to double its production space in Ireland and other EU countries, bringing its latest generation 7nm process technology.
Strategic Collaborations with Microchip Juggernaut
Self-sufficiency does not necessarily mean producing everything on its own in Europe. Hence, the EU is designing a strategy to make local production more resilient and diversify the supply chain to reduce dependence on one region or country. Moreover, the EU aims to remain at the top of global destination of foreign investments to enhance its high-end technology. In September 2021, EU Commissioner visited Japan and South Korea, two of the largest manufacturers of microchips, to secure cooperation on supplies of critical components for semiconductors. Besides, the Commissioner also held meetings to corral support for investment in onshore chip production and research and development. Timely investments, dialogue, and revitalizing strategic partnerships with like-minded chip powerhouses will enhance the EU's domestic capabilities and achieve a significant level of self-sufficiency. The EU plans to collaborate with Taiwan, the home to the world's largest semiconductor market, to boost its chip industry and cut its dependence on the United States and China. Even Taiwan is prepared to build friendly relations with the EU and deepen their partnership through bilateral trade and investments.
More Support to the Member States
The European Commission has signaled a relaxation on its strict anti-subsidy regime to encourage domestic semiconductor manufacturing. The member states will now have more power to support the semiconductor industry to create new manufacturing units in the bloc. Earlier, the member states were only allowed to support specific R&D projects, but now they can permit mass production and commercialization of microchips. Some member states are already offering support to the semiconductor industry from their national budget funding. France, Italy, Germany, and the United Kingdom collectively provide nearly €1.75 billion (USD2 billion) in state aid to over 30 companies in the EU or overseas for research and innovation under the Important Project of Common European Interest (IPCEI). The financial aid will help build energy-efficient microchips, power semiconductors, advanced optical equipment, and smart sensors. The project was initiated in 2018 after the European Commission's (EC) approval and is expected to be completed by 2024. Some European Union member states are proposing a second IPCEI project on microelectronics and initiating calls for expressions of interest for the European firms to participate.
Close Coordination with US on Semiconductor Policy and Strategy
Europe and US semiconductor industries collectively represented 21% of the global semiconductor manufacturing in 2020, with the total two-way trade totaling around USD4.8 billion. In addition, the two countries share similar concerns about potential vulnerabilities regarding semiconductors. Hence, the governments of both regions are jointly analyzing the combined strengths and weaknesses in the semiconductor industry and framing policies and incentive programs for globally innovative companies. Moreover, the EU is home to leading global semiconductor research institutions, including IMEC in Belgium, CAE-LETI in France, etc. Thus, US and EU are expected to deepen existing collaborations on transatlantic research and development. Given the shared commitment to common values, US and EU have a unique opportunity to advance broad-based growth and build resilient supply chains in both countries.
Limitations
Although the Chips Act seems promising, the EU could face some bottlenecks over its direct funding, relying on already allocated money and stretched EU budget. Europe needs advanced facilities to boost domestic production, which would require a huge upfront cost. Besides, the EU Chips Act is in line with the US Chips Act, which has proposed a competing sum of USD52 billion plan. Moreover, companies requesting subsidies are likely to face scrutiny from EC as they would first have to prove that their plans are unique as the state aid is targeted and proportionate.
According to TechSci Research report on "Semiconductor Market – Global Industry Size, Share, Trends, Opportunity and Forecast, 2017-2027, Segmented By Type (Integrated Circuits (Logic, Memory, Micro, Analog), Sensors, Optoelectronics, Discrete Semiconductors), By Process (Doping, Wafer Fabrication, Masking, Etching, Others), By Application (Networking & Communication, Healthcare, Automotive, Consumer electronics, Industrial, Smart Grid, Gaming and Others) and By Region", the global semiconductor market is anticipated to grow at steady rate during the forecast period. The growth can be attributed to the technological advancements around the globe and surge in consumption of consumer electronic items.
According to another TechSci Research report on "Microprocessor Market – Global Industry Size, Share, Trends, Competition, Opportunity, and Forecast, 2016-2026 Segmented By Type (Desktop Microprocessor, Mobile Microprocessor, Performance Microprocessor), By Architecture (ARM, X86, SPARC, Others), By Technology Outlook (RISC, DSP, ASIC, SUPERSCALAR, CISC), By End User (Consumer Electronics, Medical, Server & Data Center, Automotive, Manufacturing, Others), By Company (2020)", the global microprocessor market is expected to reach a market value of USD111 billion by 2026. The growth can be attributed to the growing popularity of 5G and advancements in artificial intelligence.