February 22, 2022
How Can Metaverse Technologies Impact Businesses?
The next big thing is here, and it is metaverse.
Ever since Facebook founder Mark Zuckerberg announced that he was branding the social media platform as Meta and refocusing on its future development, tech investors and enthusiasts started pondering over the prospect of fiction becoming a reality. According to Bloomberg Intelligence, the metaverse is anticipated to reach USD800 billion by the middle of this decade. Nvidia, Sony, Tencent Holdings, Decentraland, Amazon, SNAP, and Microsoft are some of the major technology companies joining game makers and startups to pursue an immersive digital world.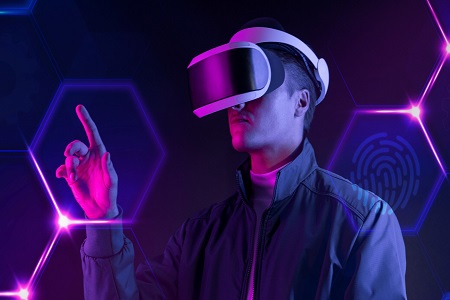 Even with a combined market cap of USD3 trillion, Meta and Microsoft are still behind the smaller players in terms of building a virtual world. Small companies building out the metaverse are hoping to control a big slice of the future economy as the new technology has the potential to replace real-world experiences, which would completely change the way users spend time online. Online gaming companies like Roblox and Epic Games are the farthest ahead building metaverse, where millions of people socialize, play games, and take part in the digital economy. While most Roblox participants are young, the company has developed features for older users to conduct businesses and access content made specifically for adults.
Businesses are leaping over the opportunities that the virtual world has to offer, where imagination is the only limit. They are preparing for a metaverse-dominated future, which could open new markets. According to PwC reports, virtual reality and augmented realities could bring a USD1.5 trillion boost to the global economy by 2030. The potential business impacts that could be expected in a few years with the development of metaverse technologies are as follows.
Virtual Product as a Commodity
Today's virtual world is mostly limited to laptops, PCs, smartphones, and tablet interfaces, but metaverse is going to change that. As VR and AR hardware would become more advanced, the digital experiences would blur the line between what is "real" and what is "alternate reality." Participants engaging in the metaverse would want to buy digital representation of everything they have in the real world, from outfits to homes, cars to things we cannot even imagine now. They would like to own and decorate their virtual spaces and compete for scarce virtual resources. While these products may only exist in virtual reality, many players are willing to spend real money on them. For instance, someone owning a high-end Ferrari in the virtual world earns the same kind of reputation as one would in real life. Thus, businesses selling products in the real world should focus on creating digital products for the virtual world. As we progress toward an immersive multiverse, the value of virtual products will only increase.
The fear of missing out on the next big technology has brands rushing into the metaverse, which is in its nascent stages right now. A New-York based company, Republic Realm, spent USD4.3 million to buy digital lands on one of the "virtual world" websites, The Sandbox. In December 2021, American sports fashion company Nike acquired the virtual sneakers and collectibles brand RTFKT to expand its digital footprint and launch next-gen collectibles in the metaverse. Elite fashion brand Gucci partnered with Roblox to sell limited-edition Gucci items launching a virtual exhibition in May 2021. The premium fashion house Balenciaga has been preparing to introduce premium clothing and apparel to the metaverse platform. Dating platform Tinder is on its way to creating a metaverse platform where people can meet through their digital avatars. South Korean electronics major Samsung has introduced 837X virtual stores on Decentraland that provide simulated versions of the brand's physical stores.
Monetization of Digital Assets through NFTs
Metaverse will become a wholly new territory of its own, which would allow businesses to participate in a singular market economy without any geographic constraints. Trading marketplaces and stock exchanges built in the metaverse could open a much larger pool of investors, even more than what we have in the real world. Blockchain technology can help track ownership, keep accurate records, and provide a way for companies to distribute their products. Users can trade assets through cryptocurrencies, non-fungible tokens (NFTs), and digital assets, ensuring that assets remain non-interchangeable and retain their value. NFTs can be used to purchase or sell digital assets, such as real estate, artworks, vehicles, etc. The total value of all NFTs that took place in 2021 was around USD23 billion, and the value is expected to grow significantly in the years to come as more brands are entering the metaverse space.
The young population largely dominates the virtual world, and brands are not leaving the opportunity to tap into this customer base. In January 2022, retail giant Gap sold a limited collection of NFTs to reach the young and tech-savvy audience. In July 2021, a popular beverage company, Coca-Cola, launched its first NFT collectible, which allows digital avatars of Decentraland to buy and re-sell items to other avatars on the metaverse platform. Adidas Originals made USD23.5 million-selling 30,000 of its "Into the Metaverse" NFTs in just a few hours as people are ready to bid thousands and even millions to buy these collectibles. Retail giant Walmart has planned to install 200 bitcoin ATMs in its stores across the United States.
Digital Advertising to Reach Next Level
By the end of 2030, metaverse is anticipated to sign on a billion users, which could bring over USD1 trillion in revenues, given the platform presents immense opportunities for brands, marketers, and advertisers. As today's social media features direct-to-customer stores that allow customers to pay for products online and get them shipped to their address, the metaverse would allow customers to try products and make purchase decisions. Metaverse will have unique ad formats that would allow advertisers to track traffic and invest more intelligently. Besides, metaverse can help brands form more immersive ad experiences with sophisticated 360-degree videos for participants. Virtual reality billboards, sponsored content in social spaces, product placement in VR games, AI-powered humanoid bots of influencers in 3D are some of the metaverse's features that advertisers can use to their advantage.
An example of real-life marketing in the virtual environment is the Deliveroo's marketing campaign on animal crossing, wherein players received surprised virtual delivery at their islands as well as promo codes, which could be activated in real-life. The marketing campaign proved to be highly successful, gaining 3 million engagements in the game. Hellmann's is another brand that nailed its branding on a metaverse platform, creating its own virtual island and inviting players to donate their virtual spoiled turnips for a cause towards reducing food wastage.
Live Events are New Buzz
The 2020 pandemic showed that there is no need to put a break on entertainment if you are staying at home. Virtual reality opened doors for artists to connect with their fans on a digital platform, providing them with an experience that feels real. Artists like Dua Lipa, Post Malone, Travis Scott, BTS, Gorillaz experimented with live-streamed concerts in 2020. True hybrid events enable audiences to feel connected to the artist beyond just watching the video, bringing the virtual world to life in a whole new way. With avatars, participants can reinvent themselves and be anyone they want to be, irrespective of gender, physical limitations, race, age, or sexual preferences. New technologies like NFTs, holograms, and cryptocurrencies are uprooting the event industry still recovering from the transition to virtual.
Tech companies are launching avatar-based platforms that offer a variety of fully customized 3D environments featuring meeting rooms, conference booths, training simulations, auditoriums, etc. Virtual reality is facilitating on-the-job training in a safe and contained environment for employees, including everyone from customer service agents to factory workers, to enhance their efficiency. Microsoft co-founder Bill Gates predicted that virtual meetings would shift from 2D camera image grids to metaverse within the next two to three years. As the technology that supports live events and concerts becomes more advanced and improves with time, a steadier progression to immersive virtual platforms can be witnessed.
Immersive Learning Experience for Students
Virtual reality is gradually replacing the traditional way of learning and teaching in classrooms. With AR and VR, students can now live through live historical events, view constellations and planets, become native speakers for language learning, and whatnot. Universities can utilize virtual reality technologies to teach key concepts and exhibit research findings, especially for people from different courses. VR could help students and audiences truly understand the concept with close-up visualizations and provide supplementary information in academic publications, thus revolutionizing how research and education are integrated.
Modern life is becoming full of distractions that are too tempting to resist, but VR technologies have the potential to fully engage learners and enhance their ability to learn and retain information. Unlike traditional classroom learning, immersive learning can be customized to meet the demands of each individual to create a unique experience for everyone. While immersive learning has impeccable benefits, it certainly cannot replace the traditional learning techniques but can definitely contribute to making learning engaging and impactful.
According to TechSci Research report on "Metaverse Market – Global Industry Size, Share, Trends, Opportunity and Forecast, 2017-2027 Segmented By Component (Hardware and Software), By Platform (Desktop, Mobile), By Technology (Blockchain, VR & AR, Mixed Reality), By Application (Gaming, Online Shopping, Content Creation, Social Media, Others), By End User (BFSI, Retail, Manufacturing, Media & Entertainment, Education, Aerospace & Defense, Others), and By Region", the global metaverse market is anticipated to reach at a formidable rate, owing to the growing demand for online education and rising popularity of mixed reality. Besides, the increasing focus on converging physical and digital worlds along with wider internet accessibility are driving the global metaverse market.
About Author
pramod.singh@techsciresearch.com