September 21, 2017
Cold Pressed Juices – Our Next Pepsis and Cokes?
Cold pressed juices are here to stay. Why? These beverages are high demand products due to their high nutritional content value and a decent shelf life. It is projected that cold pressed juices market is going to dominate the beverage industry and will soon replace Pepsis and Cokes.
Though every trend runs its own course but cold pressed juices, aka gut-healthy drinks are here to stay for long. This market seems to be growing for many more decades. Credit can be given to increasing health consciousness among the society, social media that highlights good as well as bad points of everything and growing efficiency of distribution network.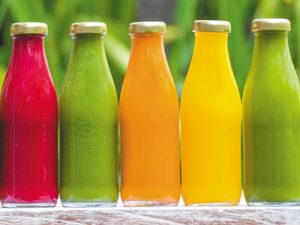 What does "cold pressed" mean?
Cold Pressing is extracting juice from fruits through hydraulic pressure. It simply means the process of separating fibre and juice while keeping nutrients intact. Heat is not transferred to the fruit or vegetable, that's why it is called as cold pressed. Care is taken that blades do not work up on the pulp and in the entire process juice is not exposed to air which eliminates the oxidation process thereby increasing the shelf life of the product.
To understand better about the opportunities and forecasts in Global Cold Pressed Juices Market download the sample report at: https://www.techsciresearch.com/sample-report.aspx?cid=864
Major brands under the head
Some well-known brands have been launching cold pressed juices since long ago. Morning Kiss Organic launched its cold pressed product line in 2012-13 in Boston. They brought Organic Grapefruit Juice, Organic Lemonade and Organic Orange juice to the health-conscious populace. Major brands like Naked Juice has a range of beverages in this product line that goes as Hearty Greens, Bright Greens, Cool Pineapple, Bold Beet, Citrus Lemongrass, Lively Carrot, Apples to Lavender and many more to mention. Similarly, another major brand Evolution Fresh, with Starbucks as its parent company, has numerous cold pressed organic super foods juices under its umbrella. Cocoa Spice, Tropic of Ginger, GoldenMilk and Thriving Green are just some of the names from the new range launched by the brand.
Other major companies serving the fresh juice to the millennials and dominating the cold pressed juices market in US are Suja Life LLC, Liquiteria, Hain BluePrint Inc., A. L. Hoogesteger Fresh Specialist, Pressed Juicery etc.
Growing demand for cold pressed juices in market can be attributed to increasing awareness amongst masses about good health and attaining it through nutrition. Credit is also given to media for highlighting the benefits of cold pressed juices against conventional juices. Concern for health and lifestyle diseases like diabetes, obesity, thyroid, blood pressure etc has been driving the shift of millennials from synthetic products to organic and fresh ones.
According to the TechSci report, "Global Cold Pressed Juices Market By Nature, By Type, By Point of Sale, Competition Forecast and Opportunities, 2012-2022", global cold pressed juices market is projected to grow over 10% of rate during the period between 2016 and 2022. North America Market dominated the cold pressed juices market initially, due to the growing awareness for the benefits of cold pressed juices in this region. The trend gradually spread to Europe and the rest of the world.