August 20, 2021
What is the "Fit for 55" European Emission Plan and its Impact on Europe?
All the 27 countries under European Union collectively account for around 3.5 billion tons of carbon dioxide, behind only China, the US, and India. However, Europe aims to become the world's first climate-neutral continent by 2050. For accomplishing the set target, the European Commission has committed to reducing its greenhouse gas emissions by at least 55% by 2030.
On July 2021, the European Commission introduced a major overhaul of EU legislation, revamping EU climate and energy laws. Europe is the first continent to take a drastic step towards climate change, framing a tangible and comprehensive legislative plan under the political and economic project, "Fit for 55". The huge undertaking is being considered as the "make it or break it" moment for the decarbonization of the European economy.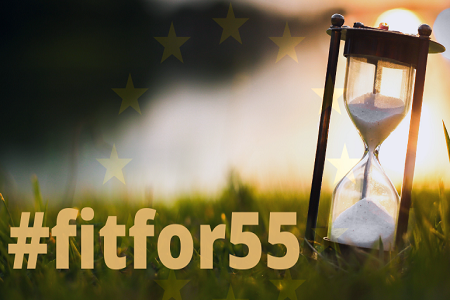 The European Commission has introduced a new 'Social Climate Fund' to aid citizens in making financial investments in energy efficiency, new heating and cooling systems, and cleaner transport systems. The USD145 billion social climate fund will not only be direct income support for those with lower incomes but also bring investments for innovation.
European Green Deal Beyond Climate Neutrality
The European Union landscape has transformed greatly after the launch of the European Green Deal in December 2019, with the COVID-19 pandemic leading to a contraction of the bloc's GDP by 6.1% in 2020. However, with vaccination measures in place and slow economic recovery, the region's economy could return to pre-pandemic levels by the year 2022. The "Fit for 55" package would not only address the long-term climate change issue, but also accelerate the economic recovery rate of the region. The Green Deal covers eight policy areas such as biodiversity, sustainable agriculture, sustainable food systems, clean energy, pollution control, climate action, building and renovation, and sustainable mobility.
Emissions Trading System (ETS)
The energy sector is responsible for around 75% of the total greenhouse gas emissions in Europe. The European Union Emissions Trading System has successfully cut down carbon emissions by 42.8% in the last 16 years, thereby lowering the cap on emissions from certain economic sectors. The commission is responsible for regulating airlines and industrial sites, contributing to nearly half of the bloc's emissions. EU has proposed to reduce the overall emissions in the coming years by lowering the cap even further and increasing the annual rate of reduction. Besides, a new emissions trading system has been set up to address the lack of emissions reduction in road transport and buildings.
Effort Sharing Regulation (ESR)
Member states need to take full accountability for achieving emission reductions, strengthening compliance, governance, and reporting. The Effort Sharing Regulation has assigned emissions reduction targets to each EU member state for buildings, agriculture, road and domestic maritime transport, waste, and small industries that collectively contribute to around 60% of EU emissions. The targets are based on the gross domestic product (GDP) per capita of the countries to take cost-efficiency into consideration. The Commission aims to reduce ESR emissions by at least 40%, with member state cuts ranging from cuts of 10-50%.
Renewable Energy Directive (RED)
The Renewable Energy Directive (RED) is intended to drive the expansion of renewables that enables economic recovery. Some estimates indicate the need for a 50% share of renewable energy in gross final energy consumption by 2030 to align with the climate goals. The value addition of the clean energy sector to the GDP of European Union was twice that of the fossil fuel sector between 2000 and 2017. Thus, prioritizing clean energy sectors offers EU competitiveness advantages as new economies are committing to climate neutrality by 2030-2060.
The transport sector needs to cut down emissions by 90% by 2050, which will give rise to the adoption of electric vehicles and the establishment of e-vehicle charging stations. Besides, the commission has also proposed to reduce 55% emissions from cars, and 50% reduction from vans by 2030 and end the sale of petrol and diesel cars by 2035. Buildings accounting for a third of the EU's energy-related greenhouse gas emissions could create an obligation for EU member states to renovate at least 3% of buildings owned by public enterprises.
Digitalization for Energy Savings
Digitalization can lead to large emissions reductions through energy savings in buildings, transport, households, agriculture, and more. Automation and connectivity solutions are making transportation sustainable, advancements in hardware, software, and equipment infrastructure are allowing more energy efficiency in buildings, and enhanced connectivity is enabling efficient management of water resources. Several studies show that the digitalization of Europe's traditional sectors such as energy, transport, construction, agriculture, and manufacturing can reduce carbon emissions by a fifth by 2030. Enabling green transition, the "Fit for 55" package will support digitalization and foster collaboration across sectors.
In the European Union, investments made by the ICT sector for research and development account for 0.2% of the region's GDP, out of which public investments contribution is around 0.005%. Many of the EU member states have signed a declaration to accelerate the deployment of technology for boosting climate neutrality and accelerate green and digital transactions, lead on energy-efficient AI solutions, help cities become greener, support smart mobility systems, and promote eco-designed products and accessible digital public services.
Carbon Border Adjustment Mechanism
The carbon border adjustment mechanism (CBAM) is a key part of the "Fit for 55" European Green Deal package, intended to prevent carbon leakage by creating a level playing field for EU producers subject to EU carbon pricing. The CBAM will impose a levy on EU imports of non-EU products such as iron, steel, electricity, aluminum, fertilizers, and other carbon-intensive products from countries with low-emission standards. With the implementation of CBAM in 2026, the free ETS allowances currently granted to EU producers will be phased out.
Those importers accredited by the designated authority in the EU member states will be able to import products ranging within the scope of CBAM.
If CBAM would be implemented with a price of USD44 per ton of embedded CO2 emission, the exports by the developing countries would be reduced by 1.4%. However, developed countries would not suffer export declines since they employ less carbon-intensive production methods in the targeted sectors. Although CBAM would decline the world's largest trading bloc's exports, increased carbon prices could significantly reduce carbon emissions in Europe.
The EU understands the instrumental role of forests, foresters, and the entire forest-based value chain for building a sustainable and climate-neutral economy. The EU Forest Strategy aims to strictly protect all remaining old-growth and primary forests in Europe while ensuring that all the degraded ecosystems are adequately restored. Encouraging the development of non-wood-related activities, protecting biodiversity, and meeting its climate commitments could play an important role in preserving jobs and the economy related to the forestry sector. During 2015 and 2020, around 3% of forests were damaged due to factors like strong winds, insect attacks, forest fires, or ungulate browsing. In line with the EU's Forest Strategy, the European Commission is committed to planting 3 billion additional trees in the Europe region by 2030 to ramp up efforts for diversified reforestation, planting as well as assisted natural regeneration projects.
According to the TechSci research report, "Global Smart Building Market By Building Automation Software (Intelligent Security System, Building Energy Management System, Infrastructure Management System, and Network Management System), By Services (Professional Services & Managed Services), By Building Type (Residential Buildings, Commercial Buildings, Educational Institutions, Government & Public Infrastructure Facilities & Others), By Region, Competition, Forecast & Opportunities, 2026", the global smart building market is expected to grow at a CAGR of more than 32% during the forecast period. The growing need for integrated security and safety systems as well as increasing government focus on smart cities are fuelling the growth of the global smart buildings market.
According to another TechSci research report on "Global Hydrogen Fuel Cell Vehicle Market By Vehicle Type (Passenger Cars and Commercial Vehicles), By Power Output (<150 kW, 150–250 kW, >250 kW), By Region, Competition, Forecast & Opportunities, 2026", the global hydrogen fuel cell vehicle market is anticipated to grow at a formidable CAGR during the forecast period. The growth can be attributed to the growing environmental concerns and supportive government policies.