December 7, 2021
US Electric Vehicle Penetration to Cross 9% by 2025
Fluctuating oil prices and growing environmental concerns are pushing consumers toward alternatives to internal combustion engine (ICE) vehicles, accelerating the adoption of electric vehicles. According to the International Energy Agency's Global EV Data Explorer, nearly 1.8 million EVs were registered in the US in 2020, representing 11.5% of the global EV sales. The annual electric vehicle sales in the US have grown from 1,191 vehicles in 2010 to 231,088 in 2020. The surge in EV sales prompted by Tesla's popularity is yet to reach the explosive growth stage with the increased demand for electrification across the country. California accounted for 41% of the net EV sales in 2020 due to high incentives rates on EV car purchases, which makes the vehicle cost-competitive with gas-powered vehicles.
Why are Americans Embracing Electric Vehicles?
Currently, electric vehicles account for less than 2% of the new vehicle sales in the US, as many buyers are gravitating towards electric vehicles. According to LMC Automotive forecasts, US sales of EVs are expected to reach 4 million by 2030. A recent survey by the American Automobile Association found that one in five Americans are likely to buy an electric car for their next vehicle purchase.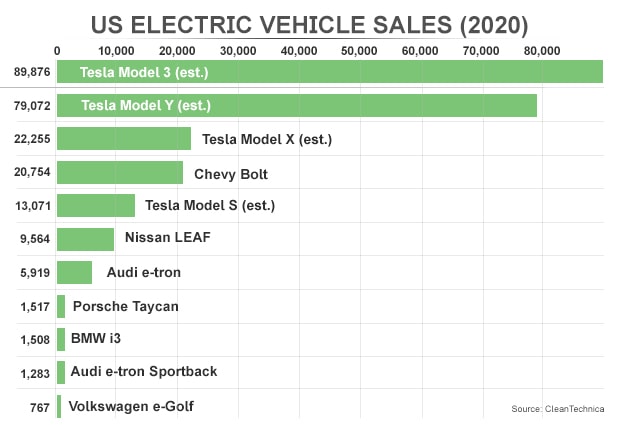 Rising Number of EV Models
There are more electric vehicles on sale than ever as the automakers are offering a lot of options to buyers when it comes to range, specifications, technology, and price. Tesla's revolutionary culture that brought automotive transformation has led to the introduction of many EV models over the years. While the traditional auto companies previously struggled to compete in the electric car segment, their major investment in electrified cars, trucks, and SUVs is certainly paying off now. All major auto manufacturers like BMW, Ford, Volkswagen, Bentley, Jaguar, Chevrolet, Hyundai, Mini Cooper, Porsche, Mercedes, Toyota, and others are expanding their offerings to accommodate the evolving demands of users and building innovations for future mobility. However, Tesla models are still hugely popular and dominate the electric vehicle segment. In 2020, Tesla Model 3 remained the best-selling plug-in hybrid with sales of over 96,000 units.
Federal Income Tax Credit
According to the US Department of Energy, all electric and plug-in hybrid vehicles purchases are eligible for a federal income tax credit of up to USD7500. However, the amount can vary depending on your income tax as well as the size of the electric battery in your vehicle. For instance, if you purchase a Nissan LEAF and owe USD10,000 in income taxes, you will be eligible for USD7500 credit. But, if you owe just USD3500 in tax credit, you would be exempted from that amount under this tax credit policy. The USD7500 federal tax credit is phased out after the automaker hits the 200,000 EV sales mark, so the owner does not get the benefit of purchasing the vehicle from that manufacturer. For example, Tesla topped 200,000 qualified plug-in electric vehicles in 2018, so Tesla buyers no longer qualify for the tax benefits. With the increasing consumer interest towards electric vehicles, US democrats are proposing tax credit for up to USD12,5000 per vehicle to purchase US-made zero emission models and phase out automakers' tax credits after they hit the 600,000 mark. This could make new Tesla and GM Motors vehicle owners eligible for the tax exemption again.
According to International Energy Agency prediction, rising oil prices are anticipated to encourage people to transition from traditional vehicles to electric vehicles. Gas prices are skyrocketing as the energy demand is rising sharply across the globe, and the supply remains constrained. In 2021, the gas prices in the US have hit a seven-year high. According to a recent survey conducted by CarGurus on March 2021, the percentage of car buyers considering EV as their next vehicle is rising due to rapidly increasing prices. The cost of electricity is relatively less than gas, accelerating EV adoption in the country.
Expanding Electric Vehicle Charging Infrastructure
Till February 2021, the USA had around 100,000 charging outlets for plug-in electric vehicles and around 32,000 power outlets. Having a sufficient network of charging stations and outlets is absolutely necessary for powering up electric vehicles. The electric vehicle charging infrastructure is rapidly expanding as the Biden administration, and auto manufacturers invest billions to facilitate powering up EVs. President Joe Biden has planned to roll out USD174 billion to spur the development and adoption of electric vehicles by allocating at least 500,000 charging devices throughout the country. Volkswagen plans to install 1800 fast-charging stations and 10,000 individual chargers by 2025 as a part of Electrify America plan, committing around USD2 billion over the next ten years. General Motors has plans to install up to 40,000 EV chargers in North America, prioritizing areas including workplaces, multi-unit dwellings, sports and entertainment venues, colleges, and universities. Besides, the introduction of wireless EV chargers is anticipated to further drive the adoption of electric vehicles in the country as they are more convenient and efficient.
The cost of owning a vehicle is much higher than its purchase price due to additional expenses such as fuel, maintenance, repairs, etc. Over the lifetime of a vehicle, long-term costs could add up to USD25,000 or even more. However, the cost of owning an electric car is typically less due to fewer parts that require servicing, such as oxygen sensors, spark plugs, motor oil, timing belts, etc. On average, the cost of maintaining an electric vehicle can be 40% less than for gasoline or gas-powered cars. Besides, EV drivers can save a lot of money on fuel as electricity costs much less per mile than petrol or diesel. As battery technology continues to improve, the cost per mile for driving electric vehicles will become even. The price of electricity is much more stable than the fluctuating fuel prices across the globe.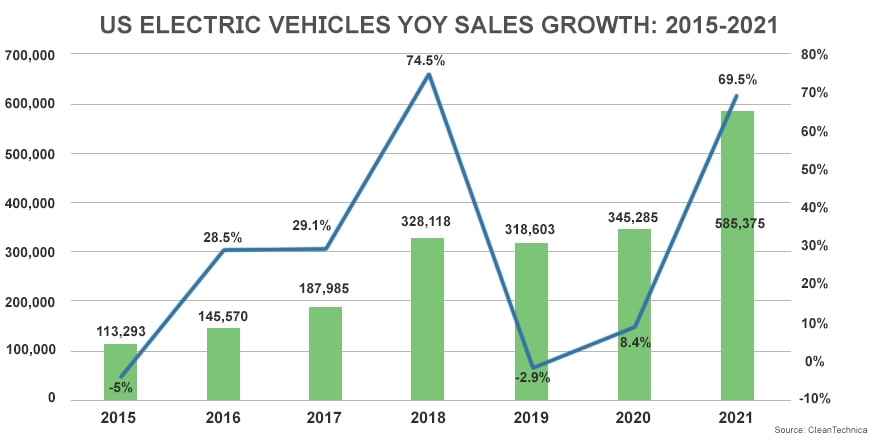 How are Auto Manufacturers Reacting to the Electric Transition?
With governments across the globe encouraging the adoption of electric vehicles, intensifying their efforts to reverse climate change, automakers are staking their future on the assumption that consumers will soon be ready to buy vehicles that do not require gasoline or gas, but electricity stored in a battery pack. Many industry experts believe that battery electric vehicles and plug-in hybrids are likely to constitute more than half of the car options by 2030 as the number of all-electric offerings would quadruple, from 13 today to around 50. Major automakers are announcing commitments to phase out gas-powered vehicles within the next five, ten, or fifteen years, seeing an increasing inclination of consumers towards electrified cars.
General Motors is on its way to an all-electric future as the company is planning to launch 30 new global electric vehicles by 2025, producing EVs for every style and price point. GM plans to end the production of gasoline and diesel fueled vehicles entirely by 2035 and become carbon neutral by 2040. BMW Group expects at least 50% of its global sales to consist of fully electric vehicles by 2030, which infers that a total of 10 million battery electric vehicles will be put on the road in the following years. The upcoming EV models are expected to be cleaner than models available today as BMW intends to use more recycled materials and leverage the next generation of battery technology in their production. Toyota's new investment of approx. USD3.4 billion in automotive batteries anticipates EVs to rise to nearly 70% of its US sales volume by 2030. The investment is intended to increase the development of local EV batteries for extending its local supply chain. Currently, Toyota has a current EV sales volume of about 25%, and the auto manufacturer expects to sell between 1.5 million-1.8 million EVs in the US by 2030.
Another leading automaker Stellantis has planned to form a joint venture with LG Energy Solution making an investment of USD35 billion to set up a new battery plant with an annual production capacity of 40 GW hours to promote aggressive electrification in North America. Ford is investing USD11.4 billion to build factories to produce 60 GW hours a year of battery cell capacity. Nissan plans to launch eight EVs by the end of 2023 and sell 1 million hybrid vehicles annually across the globe.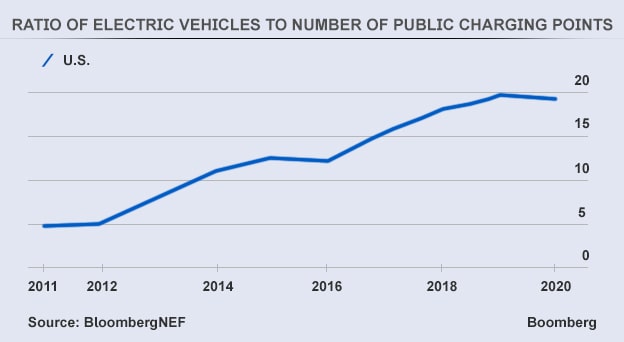 Challenges Ahead
Although electric car adoption has been rising at a significant rate in the US, there are certain challenges that could hinder the growth rate. Firstly, the global semiconductor shortage has been hobbling manufacturing worldwide, and the auto manufacturing industries have been the worst hit. As microchip forms an important part of modern electric vehicles, its severe shortage has slowed EV production by hundreds of thousands of units. As a result of the shortage, General Motors has removed 277,966 cars from its production plans, while Ford has taken 324,616 out of production. Honda, Toyota, Nissan, and Volkswagen have lost somewhere between 20,000 to 46,000 units to the shortage, while Stellantis lost around 252,193 units.
Secondly, the lack of charging infrastructure for electric vehicles remains a major constraint for EV adoption. While public and private enterprises are strengthening the EV charging system, it will take some more time to build adequate infrastructure for the growing number of users. Thirdly, not many auto manufacturers are focusing on expanding the commercial EV line as they require larger batteries, which require expensive processes, which adds to the cost of the vehicle. Besides, harsh weather and environmental conditions can also impact the efficiency of commercial EVs. Lastly, the high upfront cost of purchasing EVs makes them out of budget for many. EVs require expensive materials, sensors, batteries, and other components that make them relatively expensive than gasoline-powered vehicles.
According to TechSci Research report on "Electric Vehicle Charging Infrastructure Market – Global Industry Size, Share, Trends, Competition, Opportunity, and Forecast, 2016-2026, Segmented By Vehicle Type (Two-Wheeler, Passenger Car, and Commercial vehicle), By Type (AC and DC), By Charging Mode (Plug-in and Wireless), By Installed Location (Residential and Commercial), By Connector Type (UK 3-Pin, Industrial Commando, Type 1, Type 2, CHAdeMO, CCS and Tesla's Proprietary Supercharger Connectors), By Type of Charging (Slow and Fast), By Region 2026", the global electric vehicle charging infrastructure market valued around USD7.5 billion in 2020 and expected to reach USD37.85 billion by 2026. The growth can be attributed to the rising adoption of electric vehicle fleet as well as the development of road infrastructure across the world.