September 27, 2017
The Ups and Downs in Africa Diesel Gensets Market
The Africa diesel gensets market is forecasted to surpass USD 1.4 billion sales in the next five years, as per a report from global market intelligence and consulting company TechSci Research. The industry has gone through uncertainty due to volatile situation in the global crude oil prices and supply dynamics.
Thanks to the healthy growth in the population of the Africa region, the countries in this continent will be thriving grounds for diesel genset companies of the world. The African countries are also the centre of focus for the global business world, on account of their impetus to development of infrastructure sectors including roads and highways, power plants, railways, ports and airports.
However there is a sharp shortage of power supply in a very large part of these countries and therefore this gap in demand and supply paves way for the diesel genset market in the region. A magnanimous part of the African region is not covered by grid power supply and is heavily dependent on gensets to meet their need for energy. As evident from news reports, these are among the prime reasons nearly all the global diesel genset companies operating in this region are pretty upbeat about the growth prospects in the Africa region.
Research on African diesel gensets market
The TechSci Research report titled, "Africa Diesel Gensets Market By Type (Low Power (<75 KVA), Medium Power (75.1-350 KVA), High Power (350.1-750 KVA), Very High Power (>750 KVA)), By End User, By Country, Competition Forecast and Opportunities, 2012 – 2026" profiles all the mainline diesel genset companies doing business in the Africa region.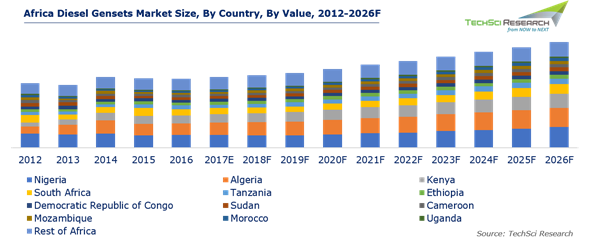 The report profiles Caterpillar, Cummins, Kohler SDMO, Jubaili Bros, MAN Diesel & Turbo SE, YorPower,  Aksa Energy, Scania Group, Dresser Rand Group, Briggs & Stratton, Atlas Copco, Kirloskar Oil Engines, Mikano International Limited, Himoinsa and Blackwood Hodge.
To request for a sample report, please visit: https://www.techsciresearch.com/sample-report.aspx?cid=1193 
Notably, Africa is among the most vibrant markets in the world, after Asian economies. The vibrant economies in this region are focusing on rapid development of key infrastructure in order to support and boost their growth rate. Without sufficient infrastructure, these countries won't be able to sustain the current momentum of growth and these governments of these countries know this very well.
On the flip side, the undeterred focus on development of infrastructure projects has boosted demand for alternative power sources that can keep the ball rolling, in absence of grid supplies.
Global diesel gensets market
Global diesel gensets market was estimated at USD 17.33 billion in 2016, in the TechSci Research report titled, "Global Diesel Gensets Market Competition Forecast & Opportunities, 2012-2022".
The market is forecasted to grow at a CAGR of over 7 per cent in the next five years, achieving the market size of over USD 27 billion.