July 17, 2023
Unveiling the Latest Trends in Luxury Fashion
Traditionally perceived as the most insulated of retail segments, luxury retail is thriving in the weathering global inflation far better than most industries, thanks to the pocket aces of exclusivity and affluent consumer spending. Top luxury brands like LVMH, Hermès, Christian Dior, Cartier reported a revenue of €79.2 billion (USD100.6 billion), €11.6 billion (USD14.7 billion), USD50.6 billion, and USD6.2 billion respectively in 2022. Over 95% of luxury brands enjoyed a positive compound annual growth rate in 2022 as wealthy shoppers continue to travel and spend. The luxury brands continue to reinvent themselves and bounce back, navigating their move towards digital transformation. As consumers are becoming more aware of the environment, social conscious luxury is becoming more mainstream, resulting in an enhanced use of eco-friendly fabrics.
Combining advances in technology such as AI and Metaverse, some luxury brands are not shying away to experiment with their marketing strategies and entice young and tech-savvy customers. Besides, rising personal disposable incomes of consumers are pushing brands to tap new markets in emerging countries. These brands are diversifying their product portfolio to meet the needs of consumers in different regions and cultures. With rising preference towards personalization, luxury brands are offering customers a unique chance to customize their clothing and reflect their personal style.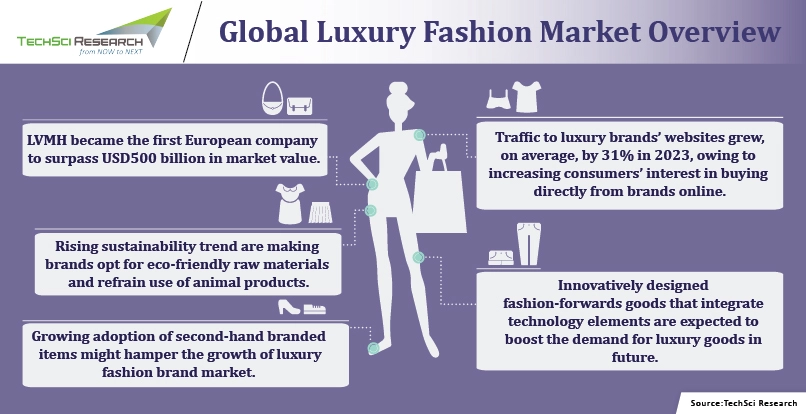 Here are some of the trends disrupting the luxury fashion industry.
Boom in Online Luxury Sales
After a slow start, luxury fashion brands joined competition with other e-tailers in the digital universe. The online luxury market has nearly doubled in recent years, with monobrand websites gaining significant momentum. 60% of luxury brands have an online presence. Heavy investments by luxury brands for enhancing online shopping experiences of consumers, be it for leather goods, sneakers, or makeup products added to the booming online sales of luxury goods. Most brands are now interacting with consumers either through their own branded online store or through multi-brand e-tailers. For instance, Gucci app allows clients to try on shoes virtually while Lancome allows shoppers to see how lipstick and other cosmetics look on them.
Growing population of Gen-Z and millennials with high purchase parity are preferring online modes of shopping as they are more tech-savvy than previous generations that prefer traditional brick-and-mortar stores. Moreover, brands are heavily investing in digital marketing strategies and big analytics to provide a personalized shopping experience to consumers, which is adding to the online luxury shopping sales. Recently, Chanel partnered with online luxury retail platform Farfetch for in-store tech innovation for providing a better experience to the consumers. Most logistics service providers and e-fulfilment services are driving value and customer satisfaction with high-quality packing, shipping, as well as superior track and trace technologies from ordering through to delivery.
Luxury brands are livestreaming fashion shows, which is adding positively to their sales growth. For instance, Burberry fashion show livestreamed on Tmall China led the sellout of many luxury fashion products within just an hour. In recent years, many luxury brands such as Tom Ford, Tommy Hilfiger, and Michael Kors have successfully cashed in on people's interests in livestream that provides audiences real, intimate exposure to products along with an engaging experience.
According to TechSci Research report on "Luxury Fashion Market – Global Industry Size, Share, Trends, Opportunity, and Forecast, 2018-2028F Segmented By Product Type (Apparel, Footwear, Accessories), By End User (Men, Women, Children), By Distribution Channel (Supermarket & Hypermarket, Exclusive Stores, Departmental Stores, Travel Retail, Others (Direct Sales, Multi Branded Stores), By Region", the global luxury fashion market is anticipated to grow at a significant rate. The market growth can be attributed to the rising number of luxury fashion brands and rising popularity of luxury apparel, accessories and footwear among the younger generation.
Rising Popularity of Cross-brand Collaborations
From fashion and beauty to travel and tech, cross-collaborations are on trend everywhere. In a heavily saturated world of media, brands require to reinvent themselves to stay relevant and trendy and one of the ways is to innovate by partnering with other brands. Brand collaborations not only result in the creation of something new and exciting for consumers but also bring the audiences of two brands together, which have a positive effect on sales of the parties involved. Besides, aligning businesses can help create credibility and widen exposure to new but relevant audiences.
Over the years, Moschino, Balmain, Alexandar Wang, Giambattista Valli, Versace, Lanvin, Karl Lagerfeld have collaborated with fast-fashion brand, H&M, which led to mass queues on the stores and collections selling out like hot cakes. Combining high fashion with low fashion helped create exposure and publicity for H&M and designer brands. Besides, launching hyped collabs allows luxury brands to use scarcity marketing to deliver exclusivity. For instance, Tiffany & Co. partnered with Fendi to drop their limited-edition collection. Recently, Adidas and Alexandar Wang collaborated and introduced an 84-piece collection ranging from $80-450 and are available in Alexandar boutiques and Adidas stores. To reach new Gen Z conscious audiences, Gucci collaborated with The North Face, a brand that has serious sustainable bonafides. The collaboration connected North Face to high fashion, which established its design prowess amongst style conscious yet active consumers. Luxury brands are actively collaborating with influencers who have highly engaged audiences. This is helping brands sell out collections even before they are launched, create more brand awareness, build credibility, and boost sales. Recently, Skims, an apparel brands owned by social-media influencer Kim Kardashian collaborated with Fendi that united comfort with luxury. More such collaborations can be expected in the future as brands continue strive to capitalize on the popularity of influencers.
Quiet Luxury Gains Traction
In 2023, "Quiet Luxury" trend has quickly caught on. Marked by expensive materials in muted tones with the complete lack of logos or anything too conspicuous, quiet luxury is taking over fast fashion. The quiet luxury trend promotes having fewer, more timeless pieces that work for the long term and not just for a season. The Row, Khaite, Brunello Cucinelli, and Max Mara are some of the luxury brands that offer timeless clothes and accessories and iconic boots that blend contemporary styles with classic motifs. One of the main reasons that quiet luxury is gaining more traction in 2023 is that it promotes sustainable style. Since the pieces are timeless and made up of fine materials, people are less likely to discard them like fast fashion clothes, which would lead to less wastage. Many celebrities like Gwyenth Paltrow, Sophie Richie, Kendall Jenner, among others are promoting quiet luxury, exhibiting unique style that whispers wealth. Due to growing social media influence, consumers are watching their favorite celebrities adapting "quiet luxury", which is contributing to the booming sales of minimalistic and timeless pieces. Additionally, luxury lounge and casual wear have been accelerated the trend of quiet luxury as more causal and leisurewear collections are available for consumers.
Millennials and Gen Zs Driving Luxury Sales
A new wave of millennials and Gen Z populations are doing most of the luxury fashion purchases, prompting brands to shift their marketing focus from older generations to younger generations. The younger consumers are emphasizing on the sustainability and circular economy as they are more conscious of the environment. To attract and keep young generations engages, luxury brands are incorporating new set of values: inclusivity, sustainability, transparency, technology, and circular innovation. Social media has an essential role to play in making luxury goods more accessible, with 78% of Gen Z and 70% of millennials already following high-end fashion brands on social channels. The growing trend of "YOLO", or You Only Live Once culture has been becoming predominant among consumers. Hence, consumers as less as 15 years of age are splurging on luxury items and some people are purchasing luxury items to invest or resell them. Digital credit companies have made it easier for young people to finance big-buck items where they could pay for the product over a period, which does not burn a hole in their pocket.
Luxury Fashion Brands Embracing Metaverse
Millions of people are spending their time in the immersive and interconnected digital environment known as Metaverse, and the brands are taking advantage of that. While metaverse is itself in its initial stages, luxury brands are discovering opportunities in the Metaverse to engage with audiences more and increase sales. A rising number of fashion brands are spending and marketing expertise to capitalize on the Metaverse market. Some of the opportunities that fashion brands are exploiting is more traceability and transparency through blockchain-based contracts, selling NFT merchandise that represent the brand, and creating virtual stores or platforms for shopping experiences. Back in 2021, luxury brand Balenciaga announced its collaboration with Epic Games to design four virtual outfits and various accessories for Fortnite avatars, which the users could purchase through the game. In the same year, Burberry also announced its partnership with Mythical Games and launched its Blankos Block Party game in which players can purchase Blankos, NFTs corresponding to characters. To celebrate its 200th anniversary, Louis Vuitton proposed in the Metaverse its own video game with collectable NFT where users could customize their characters with different Louis Vuitton monogram prints.
According to TechSci Research report on "Global Luxury Goods Market By Type (Jewelry & Watches, Clothing & Footwear, Bags & Accessories, Cosmetics & Fragrances), By Distribution Channel (By Distribution Channel (Exclusive Stores, Airports, E-Commerce, Specialty Store & Others (Departmental Stores, Hypermarket/Supermarket, Multi-Branded Stores etc.)), By Region, Competition, Forecast & Opportunities, 2026", the global luxury goods market is projected to grow at a formidable rate during the forecast period. The market growth can be attributed to the improving standards of living, rapid innovation in existing luxury product offerings, and rising personal disposable income of the middle-class population.