October 10, 2022
UK Collaborations in the Healthcare Sector
India's healthcare industry has been growing at a CAGR of 22% since 2016 and is expected to reach USD372 billion by 2022 from USD110 billion in 2016. Growing health awareness among the population regarding communicable and non-communicable diseases, increased focus of government on enhancing health coverage through policies such as Ayushman Bharat, and better accessibility to healthcare with the expansion of hospitals, diagnostic centers, etc. are some of the factors attributing to the three-fold rise of the Indian healthcare sector in the country. In the Economic survey of India 2022, healthcare stood at 2.1% of GDP in 2021-2022 against 1.8% in 2020-21.

A pool of well-trained medical professionals and scientists, dynamic pharmaceutical and biotechnological industry, and leading hospitals that attract foreign patients to avail affordable cost of surgery give Indian healthcare industry a global competitive advantage. However, being the world's most second populous country and one of the fastest-growing economies, India faces many challenges in the sphere of public healthcare systems. Hence, the Indian government is working towards providing comprehensive health coverage with the rapid development of healthcare infrastructure and reducing disparities in health and healthcare systems between rich and poor states.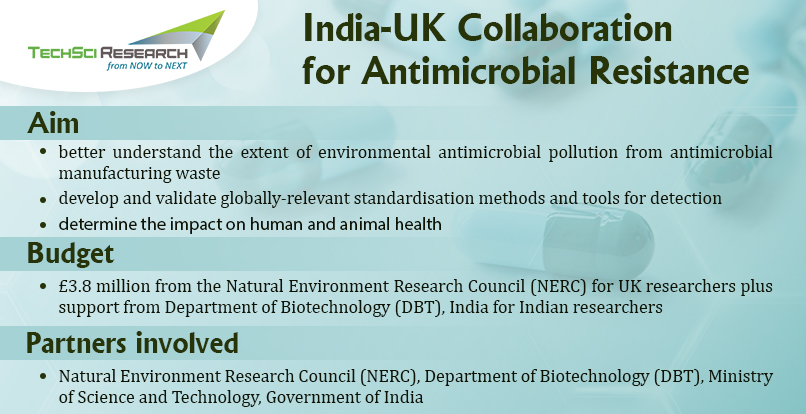 One of the best organized healthcare systems in the world, National Health Services (NHS-UK) is a government-run organization that provides free healthcare, including healthcare services, diagnostics, and lab tests. Every household in the UK holds an NHS card that provide insurance to patients with specific health conditions, thus preventing diseases, improving quality of life, and enhancing life expectancy. On the same line, the Indian government launched healthcare program, Ayushman Bharat in September 2018 to cover 10 crore poor and vulnerable families (approx. 50 crore beneficiaries) coverage of up to 5 lakh rupees for secondary and tertiary hospitalization.

Ayushman Bharat (popularly known as "Modicare") follows the NHS model, providing essential healthcare service to those facing financial hardships. The world's largest government-funded healthcare insurance scheme is being considered a game-changer since it is providing several opportunities for international healthcare organizations in both public and private sectors to come together and improve healthcare accessibility, affordability, and quality of care.

United Kingdom is the most notable alliance nation with India due to a population of diverse mix of cultures. Hence, the Prime Minister of India and the UK have come to an agreement on a Government-to-Government Implementation Taskforce to build new institutes and collaborate in other spheres of healthcare. An MoU between the two countries has been signed for Indo-UK Healthcare to construct eleven healthcare institutes in India whose funds will be raised from a collection of banks such as the UK export credit agency, UK Export Finance as well as leading investment banks such as Elara Capital. India with a highly skilled resources and UK with its world-class medical education research and training are well placed to jointly produce the healthcare professional that cater to the global demands of the 21st century.

As the world grappled with the unprecedented crisis due to the COVID-19 pandemic, the need for strategic partnership and global cooperation for healthcare and emergency crisis management became more significant. During the pandemic, the strength of India-UK relationship was shown to the world as both the countries supported each other's medical needs and collaborated large-scale vaccine manufacturing, which saved millions of lives. The Serum Institute of India produce the COVID-19 vaccine developed by scientist at Oxford/AstraZeneca, while the UK's COVID vaccines were developed by India-headquartered Wockhardt. Such initiatives enabled the two countries to strengthen their platform for research and innovation in the healthcare field in areas of pharmaceuticals and emerging areas of digital health, genomics, and artificial intelligence in healthcare.

Even post-pandemic, British and Indian institutions are collaborating to jointly train professionals, a fraction of those would be able to serve in the NHS for a limited period before returning to India and making the "circular economy" work to advantage in both countries. As the use of technology in the healthcare sector is burgeoning at a rapid pace, the Indian innovators and disruptors can take advantage of the British ecosystem to address healthcare delivery. India invests more in the United Kingdom than any other nation in Europe. The United Kingdom has some of the most innovative healthcare startups that are keen to collaborate with partners and customers in India. Startup initiatives launched in India like Make in India, Start-Up India, Stand-Up India, among others are enabling entrepreneurs to tap into the global markets and develop strategic relationships, which could lead to more collaborations, especially in the tech and healthcare domain.

India-UK collab in Antimicrobial Resistance
Antimicrobial resistance is rapidly becoming a global public health threat. As per estimation, more than 700,000 people lose their lives to drug-resistant infections annually, and the number could increase to 10 million by 2050. Over-consumption of antibiotics among population is increasing antimicrobial resistance, which make the treatment of common infections difficult. India consumes a large volume of broad-spectrum antibiotics that are meant to be used during confirmed multiple bacterial infections, especially in certain patients who are at high risk, but these antibiotics are being used sparingly. Largely unrestricted over-the-counter sales of most antibiotics is the major driver of antibiotic resistance in India, leading to human losses and high burden of infectious diseases co-exists with high rates of antimicrobial resistance. Hence, India and UK have collaborated for addressing the challenges related to antimicrobial resistance.

As a part of antibiotic research tie-up with India, UK has planned to provide support and fund to Indian scientists through the Fleming Fund for developing new treatments for drug-resistant infections identified by the World Health Organization. SELECTAR is a research project that involves the representatives of Indian and UK universities to investigate the impact of waste releases on the microbial ecosystems, determination of all chemical components that can select for resistance and at which concentration. Another research project, AMSPARE (Advanced Metagenomics, Sensors and Photocatalysis for Antimicrobial Resistance Elimination) brings together experts on sensor technologies, water treatment and remediation from India to research the issue of AMR proliferation in the environment. Another big project involves collaboration of experts from Puducherry and Chennai and the Imperial College London for the advancement of knowledge to address AMR in the environment.

UK-India Tie-up to Promote Digital HealthThe United Kingdom is home to the largest number of digital health platforms. The digital health ecosystem is a mature market with an average of USD20 million invested per company. In recent years, the startup activity has increased at a rapid pace, owing to the leading role of UK in research and unique role that NHS plays. With rapid digitalization, smartphone penetration, high incidences of lifestyle disorders, and rising income levels, the adoption of digital health platforms in India is growing. The UK government has planned to invest USD1.1 million in Artificial Intelligence (AI) projects that will assist India's national health programmes like Ayushman Bharat. Besides, UK-based companies with innovative healthcare technologies will be participating in India-UK tie-ups, which is projected to generate £50 million of business for the UK's digital health industry. The digital health tie-ups would facilitate greater collaboration on digital health initiatives including on sharing of best practices. Besides, joint research and policy engagement on health data for predictive and precision health care with enhanced focus on machine learning and artificial intelligence will help both the countries to improve healthcare accessibility and care for billions of people in both the regions.