April 19, 2022
Trends to Dominate the LED Lighting Industry in 2022
The LED industry certainly takes the lead when it comes to driving innovation, developing new technologies, and making frequent breakthroughs. Over the past decade, the LED industry has witnessed a major transformation, and the market is still growing at an exceptional rate, attributed to the factors such as new product developments, rising demand for energy-efficient lighting, and government programs for smart city development. The growing penetration of the Internet of Things (IoT), smart sensor technology, advancements in material and production processes are opening the way for new advancements in LED technology. In 2020, LEDs dominated the lighting industry, accounting for 61% of the global lighting market, and the market is projected to grow at a significant rate in the coming years as market leaders are expanding their innovative product portfolios.
Here are some of the trends expected to dominate the LED lighting market.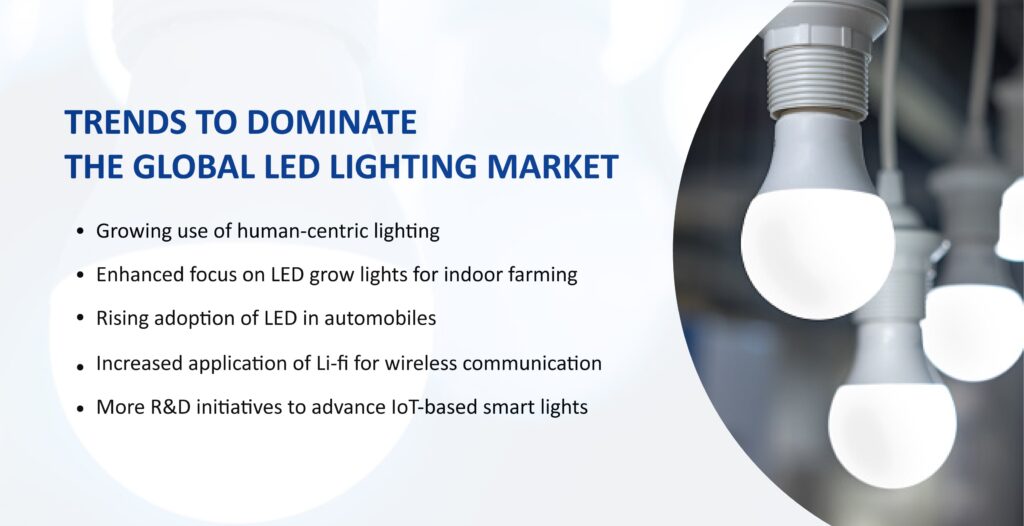 Human-Centric LED Lighting for Enhanced Efficiency
The kind of lighting in our environment influences our physical and emotional state, refines the space, and alters how architecture is perceived. Dim and slight flickering of old fluorescent lamps can lead to corrosive concentration and unrest, whereas spaces with the best lighting evoke positive emotions of happiness and enthusiasm. As architectures, designers, and builders are understanding the effects of light on humans, they are increasingly adopting human-centric lighting to help workers become more efficient and productive. LED-based human-centric lighting (HCL) offers many potential advantages in offices and workspaces, increasing the value for occupants in the environments where luminaires are installed. Healthcare facilities are also utilizing HCL to add cooler corrector color temperatures (CCTs) to keep employees alert and warmer CCTs in patient's rooms to keep individuals in comfort. Educational institutes are adopting LED-based HCL lighting to keep the students alert and at ease. Even aircrafts install LED-based HCL systems to provide an enhanced flight experience to the passengers by customizing light during flight activities such as boarding, meal times, sleep, and alert passengers as they prepare for landing.
Due to its broad and smooth color spectrum, LED light typically provides significant improvements in the quality of light, enabling it to work with the natural circadian rhythms of human beings. Introducing HCL into a building requires the installation of tunable fixtures and smart lighting controls that can drive intensity and CCT. However, LED color tuning technology can help to automatically synchronize a building's lighting cycle through astronomically based event times to match the lighting conditions of buildings with the exact lighting conditions outside the building. The settings can be overridden or customized as per requirements.
LED Grow Lights for Indoor Farming
The global food system accounts for a quarter of the world's greenhouse gas emissions. Besides, the expansion of metropolitan hubs is gradually reducing arable lands, creating the need for more alternative farming practices such as vertical and indoor farming. Increased efforts towards sustainable agriculture have led to increased indoor farming adoption that utilizes less energy, water, and land than traditional farming methods. Using artificial LED lights in horticulture, farmers can either supplement natural daylight or replace it entirely to produce a wealth of benefits, such as the ability to fine-tune quality and increase yield. LED lights provide just the right amount of light to the plant where it needs it the most and radiate less heat than conventional lighting, which increases yields in dark months of the year. Besides, LEDs provide the right heat-light balance to improve the propagation of vegetables, fruits, leafy greens, herbs, and floriculture crops in a climate-controlled environment. The LED grow lights can help retain the unique properties of crops, enhance flavor, and maintain the nutritional value of the crops. From the business perspective, LED grow lights save much money for the operator since they consume less power, generate less heat, and require less maintenance than HPS lights. Additionally, LED lights are superior to HPS because they are cooler-temperature wise, so one does not require electricity to maintain the temperature via fans, coolers, air conditioners, or ventilators. High yield from LED grow lights adds to more crop productivity, which contributes to the profitability of the business.
Rising Application of LED in Automobiles
LED lights continue to mark their entry into the automotive industry due to their benefits, such as enhanced brightness, which facilitates safer driving. Automobile manufacturers are incorporating intelligence into their lighting systems and leveraging advanced technology like Adaptive Driving Beam for improved safety of drivers. Digitalization of cars is driving the megatrend of Advanced Front Lighting Systems that introduce new approaches in safety, comfort, and communication capabilities and put great emphasis on exterior lighting. LEDs are rapidly gaining popularity in automobiles due to reduced cost, high efficiency, and package size. As automakers are increasingly focusing on enhancing the riding experience of drivers and passengers, they are adopting LED lights to the interior of the vehicles in dashboards, telematics, door lights, reading lights, audio/video systems, and climate control systems.
Additionally, with the increasing adoption of LEDs in headlights, LED manufacturers are constantly working to improve brightness, energy efficiency, and thermal performance for greater safety. Samsung's electronic second-generation automotive LEDs, C-series, and FX-series offer a light efficacy of 133 Im/W, highest in high-power automotive LED packages, which provides more brightness at a low voltage. In 2021, Seoul Semiconductor Co. initiated the mass production of its next generation of wafer-integrated-chip-on-PCB (WICOP) to reduce headlamp power consumption by up to 20% and improve heat dissipation by up to 40% in electric vehicles.
Li-Fi Optical Wireless Communication
LiFi is a novel lighting technology that ensures high-speed, bi-directional, and wireless data communication faster than conventional Wi-Fi internet connectivity. LED capabilities with IoT connectivity enable design engineers to simultaneously provide illumination and transmit data. Integrating LiFi into the LED lighting world creates an alternate path for internet connectivity in commercial spaces and offices. While Wi-Fi uses radio waves for data transmissions, LiFi uses infrared, ultraviolet, and visible light waves, providing high-quality transmission speeds up to >30Mbps. Besides, the data can be stored anywhere there is LED light, which also applies to streetlamps that can be used LiFi hotspots. LiFi solutions are expected to witness growth in the years owing to their greater efficacy and the advent of machine-type communication (MTC). As governments are increasingly taking initiatives in the ICT sector to improve the functioning of the electricity grid and optimize the efficiency of city operations, the market players are forced to invest and innovate in LiFi. World's prominent companies such as General Electric, Wipro, Panasonic Corporation, Signify Holding, Lucibel, Infinity Technology Services, etc., are investing in LiFi technologies to enable high-speed information transfer from an LED bulb.
IoT-based "Smart" Lighting
The manner in which light is produced and delivered has made incremental improvements. As business owners and facility managers are becoming more conscious of economical, convenient, and safe use of energy, they are implementing some type of lighting control system as a part of the building management system (BMS). The smart lighting system help managers create a set schedule for the lights to save energy and reduce costs. LED bulbs are at the center of intelligent lighting strategy as they use up to 75% less energy than incandescent bulbs, last 25 times longer, and produce better quality light. The smart LED bulbs consist of software that connects to an application or smart home assistant or other accessories, which gives one the flexibility to control the lights remotely, eliminating the use of traditional switches. With the rising penetration for connectivity such as cameras, audio equipment, thermostats, or home assistants, the use of smart lighting systems is set to increase in the coming years.
Researchers have been studying the impact of color on mood and hence developing healthy lighting and health-oriented light fixtures, and they are rapidly gaining traction in the market.
According to TechSci Research report on "LED Lighting Market– Global Industry Size, Share, Trends, Competition, Opportunity, and Forecast, 2016-2026 Segmented By Type (LED Bulbs and Lamps, Batten Lights, Downlights, Others), By Application (Outdoor Lighting and Indoor Lighting), By Installation Type (Retrofit Installation and New Installation), By End-Use (Commercial, Residential, Industrial), By Distribution Channel (Direct Sales, Retail), By Region", the global LED lighting market is expected to a grow at a formidable CAGR during the forecast period. The growth can be attributed to the rising demand for energy efficient lighting and rising government initiatives for smart city infrastructure. Besides, rising number of economic activities and decline in LED lighting products are expected to the boost the growth of global LED lighting market.
According to another TechSci Research report on "India LED Lighting Market By Type (LED Bulbs & Lamps, Batten Lights, Downlights, etc.), By End Use Sector (Commercial, Residential, etc.), By Application (Outdoor Lighting, Indoor Lighting, etc.), Competition Forecast & Opportunities, 2012–2022", India LED lighting market is anticipated to grow at a significant rate during the forecast period. The increasing government initiatives to boost LED adoption and easy availability of LED at affordable prices are anticipated to boost India LED lighting market