August 20, 2021
Top Five Electric Buses in the United States of America
With an aim to take the USA towards zero-emission transportation, the Joe Biden government has proposed a USD174 billion program for bolstering electric vehicle adoption. Innovation in the emerging heavy-duty electric bus sector by the major players operating in the market is boosting the efficiency and reducing maintenance costs of e-buses, which is boosting its market growth.
Increased focus on green and sustainable future has put a great emphasis on electrification. In the USA, vehicular pollution accounts for approx. 29% of the country's net greenhouse gas emissions, therefore President Joe Biden's plan has a broad intent in electrifying the automobile sector for reducing carbon footprint and reach environmental goals. Although passenger cars dominated the electric vehicles market, now electric bus adoption has been booming in the USA for reducing costs and carbon emissions from the public transport sector. According to Bloomberg's Electric Vehicle Outlook 2020, e-buses are expected to hold a majority of the global bus fleet by 2040.
Here are the top five electric buses dominating the USA market.
Proterra ZX5 Electric Bus
Proterra ZX5 is the latest fifth-generation battery-electric transit bus designed for full fleet electrification and a smooth-riding experience. The streamlined body design of the electric bus enhances the durability, performance, and safety of the vehicle. Proterra ZX5 is available in 40-foot and 35-foot lengths equipped with the highest battery capacity of up to 660kWh, which provides the bus with more energy storage and driving range than any other 40-foot electric bus. For a smooth riding experience, the bus offers new shocks and improved ergonomics. The electric bus has two drive unit options, standard ProDrive drivetrain (single motor) and Duopower (dual motor), which has increased its power multifold than the previous versions. Featuring two electric motors engineered to deliver an impressive 550 horsepower, the DuoPower drivetrain has the potential to propel a bus from 0 to 20 mph in under six seconds.
With a seating capacity of 29, the bus provides a maximum range of 240 miles and a top speed of 65mph. Besides, the electric bus accepts high-power DC fast-charging, thus shuttles can be fully charged within three hours using 150 kW. The additional front port provides great flexibility and optionality for transit customers. Proterra electric buses can save up to 230,000 pounds of emissions annually, replacing diesel-powered buses with zero tailpipe emissions. Besides, the riders do not have to care about noise pollution as the bus offers a quiet ride with great efficiency. Proterra batteries are manufactured with a safety mechanism to withstand even the toughest conditions.
BYD Motors K12A & Type D
The world's longest pure electric bus, BYD's new K12A is a bi-articulated bus with a capacity of around 250 passengers. Taking the lead in the field of electric buses, K12A allows quiet and pollution-free travel while cutting down maintenance costs for operators. Featuring a lightweight structure and all-aluminum body, BYD's K12A has the capacity to cover distances up to 300 km on a single charge with the potential to attain a maximum speed of 70kmph. The bus includes a distributed 4WD system that allows the operator to switch the bus between 2WD and 4WD smoothly across different terrains and reduce the energy consumption of the bus while meeting different demands. BYD's electric buses are known for their power-saving performance and environmental protection. The electric bus can save up to 360,000 liters of fuel throughout its lifecycle, preventing around 80 tons of carbon emissions annually.
BYD Motors's Type D school bus is the latest innovation in battery-electric buses, offering a range of 155 miles on a single charge. Providing top-priority safety features, sleek design, and high-performance capabilities, the electric bus makes the whole riding experience smooth and secure. The bus has a low energy demand, collision avoidance systems, and a 360-degree monitoring system, which allows the operator to ride the bus at slow speeds to prevent accidents with pedestrians and cyclists in the periphery. The bus provides an additional layer of protection to students with IMMI's safeguard 3-point lap-shoulder belts and integrated child seats.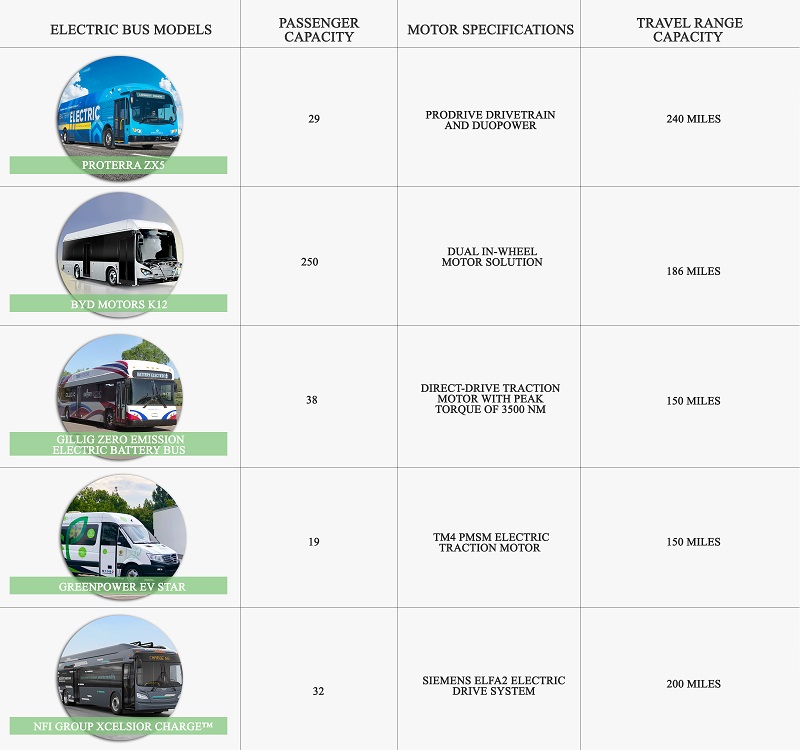 NFI Group Inc. Xcelsior CHARGE™
Available in 35-foot, 40 foot, and 60-foot models with a passenger capacity of up to 88, Xcelsior Charge NG is a long-range electric bus, harnessing the best technology on the market. Its streamlined design enhances energy recovery, reduces weight, and increases energy density. The electric bus is sustainable, easier to maintain, and delivers high performance due to fewer parts in the vehicles. The new generation of batteries in the electric bus utilizes an active liquid cooling system to optimize temperature, enhance power efficiency, and increase battery life. Besides, the batteries are lightweight, easier to maintain, dustproof, and waterproof. The new fleet of electric buses by NFI consists of fewer parts as the manufacturer has reduced the parts from 250 to 50 (90% reduction).
The Siemens ELFA 3 traction system embedded in the Xcelsior CHARGE™ electric bus offers up to 90% energy recovery and even weighs 69% less than ELFA 2. The efficient design, compact inverters, and drive controllers allow greater capacity for passengers and ensure a safe experience. The Xcelsior CHARGE H2 utilizes eco-friendly hydrogen and fuel-cell technology to generate electricity for extended-range zero-emission transit operations. The vehicle can save around 85-175 tons of carbon emissions annually compared to traditional diesel buses as the only tailpipe output is clean water vapor. Besides, the electric bus features regenerative braking while decelerating, which aids in reducing energy consumption.
GILLIG Zero Emission Electric Battery Bus
GILLIG's best-in-class electric bus incorporating Cummins electrified powertrain features remote diagnostics and over-the-air connectivity. The 12-meter and 40-foot vehicle is equipped with a battery capacity of 444 kWh, 16 plug-in charging systems, and four high-power on-route chargers. With a seating capacity of 38 customers, the bus offers all customer amenities like digital onboard monitors, contactless payment options, and complimentary Wi-fi to make the journey convenient. The bus is powered with 100% renewable energy with the support of six onboard batteries, each one providing an estimated real-world range of 150 miles. The bus has a direct-drive traction motor with a peak torque of 3500 Nm for a high-energy performance. Besides, the bus uses energy recovered from a regenerative braking system for operation. The new electric buses introduced by GILLIG are reliable, safe, comfortable, and quiet, which makes them the best heavy-duty transit buses in the market. With a paired ChargePoint Express 250 installation, the zero-emission buses can be fully charged in four hours.
GreenPower EV Star
The GreenPower EV Star is the first purpose-built heavy-duty class-4 minibus, designed and built to accommodate up to 19 passengers. Utilizing a unibody construction, the GreenPower EV Star can be used for paratransit, micro-transit, cargo delivery, and many more activities. The electric vehicle provides a range of up to 150 miles with 118kWh battery capacity. The electric bus can be charged with AC level-2 in 8 hours at 11kW or DC fast charge via CCS port in 2 hours at 61kW or through wireless charging at 55kW. Besides, the rear cabin provides ample space of 102 cubic feet for cargo with a payload capacity of up to 4300 pounds.
The traction motor receives power from the motor controller that receives high voltage DC power from the high voltage power distribution unit. The battery monitoring system protects the batteries from damage and controls the vehicle charging process. When compared to diesel or CNG engines, the EV Star can save up to USD20,000 of fuel costs. Besides, the EV Star does not require maintenance frequently due to the utilization of regenerative braking.
The penetration of electric buses in the public transport segment is expected to further broaden with the rising number of government initiatives. The USA Department of Transportation has recently announced to grant USD182 million to 49 transit agency projects across 46 states and territories to increase the adoption of electric buses and expand the charging infrastructure. Other types of funding examples include granting of USD1.5 million to the Port Authority of Allegheny County in Pittsburgh to strengthen its charging infrastructure and promote the adoption of electric buses. In May 2021, the USA government revealed its USD73 billion-dollar plan for the electrification of public transit buses, delivery trucks, etc., while replacing more than 155,000 commercial diesel vehicles. With more federal investments and innovation by the key market players, the adoption of e-buses is expected to grow further in the coming years. The road to electrification will certainly lead to a greener and better future.
According to TechSci research report on "United States Electric Bus Market By Seating Capacity (Up to 30-Seater; 31-40 Seater; & Above 40), By Battery Type (Lead Acid & Lithium Ion), By Application (Intercity; Intracity; & Airport Bus), By Bus Length (6-8m; 9-12m; & Above 12m), Competition, Forecast & Opportunities, 2024", the United States electric bus market is anticipated to grow at a CAGR of 20% owing to the rapid urbanization and increasing concern about the rising levels of vehicular pollution. Besides, government initiatives and introduction of advanced e-bus models are expected to propel the growth of United States e-bus market in the coming years.
According to another TechSci research report, "United States Electric Commercial Vehicle Market By Propulsion Type (BEV, HEV, PHEV and FCEV), By Range (0-150 Miles, 151-250 Miles, 251-500 Miles and 500 Miles & Above), By Component (Electric Motor, EV Battery and Hydrogen Fuel Cell), By Company and By Geography, Forecast & Opportunities, 2026", United States electric commercial vehicle market is expected to grow at a significant CAGR during the forecast period. The growing demand for electric automobiles and introduction of advanced electric models are propelling the growth of United States electric commercial vehicle market.