May 10, 2022
Top Companies in the Global Microprocessor Market
With the increasing demand for electronic devices, the world is witnessing a huge demand for semiconductors and microprocessors, adding to their market growth. However, a grave chip shortage has been witnessed over the past year that has caused delayed delivery and price hike of multiple products across the globe. This has led many market players in the global microprocessor market to open up more production facilities and huge investments in R&D initiatives.
In this article, we are going to discuss the top microprocessor manufacturing companies that are expected to make big waves in 2022.
Intel Corp.
Establishment: 1968
Headquarter: California, United States
Founders: Robert Noyce and Gordon Moore
Intel Corp. is the largest semiconductor company globally, with a valuation of USD193.21 billion. The semiconductor manufacturing giant has enjoyed dominance in the chip industry for 50 years. The expansion of new microprocessors to entice buyers to upgrade their PCs and the accompanying reliability of the products helped the company become successful. The mega chip maker earned revenue of USD77.9 billion and USD79 billion in 2020 and 2021, respectively. Intel fabricates almost half of its chipsets and microprocessors in-house at Intel-owned facilities based in the suburbs of Phoenix, Albuquerque, and Portland. In 2020, Intel lost a valued and lucrative customer, Apple, as the company decided to power its machines with Apple's new M1 chip. Intel's newest microprocessor factory, Fab 42, started its full operation in 2020 and uses the company's 10 nm manufacturing process to build semiconductor chips.

Taiwan Semiconductor Manufacturing Company Limited
Established: 1987
Headquarters: Hsinchu, Taiwan
Founder: Morris Chang
Taiwan Semiconductor Manufacturing Company Limited (TSMC), which is the world's largest contract manufacturer of semiconductor chips, controls more than half the global market for made-to-order chips, with more than 90% market share by some estimates. The scarcity of chips in the global market, prompted by the unprecedented demand for electronics, has put TSMC from a largely anonymous services company to the center of a global tussle over the future of technology. TSMC is investing USD100 billion in building new fab capacities over the next three years. The new fabrication plant being built by TSMC in southern Taiwan will spread across 22 football fields and the plant will be producing groundbreaking 3-nm chips, expected to be 15% faster and less power consuming. The company has a long list of clients including Apple, Intel, Qualcomm, AMD, and Nvidia.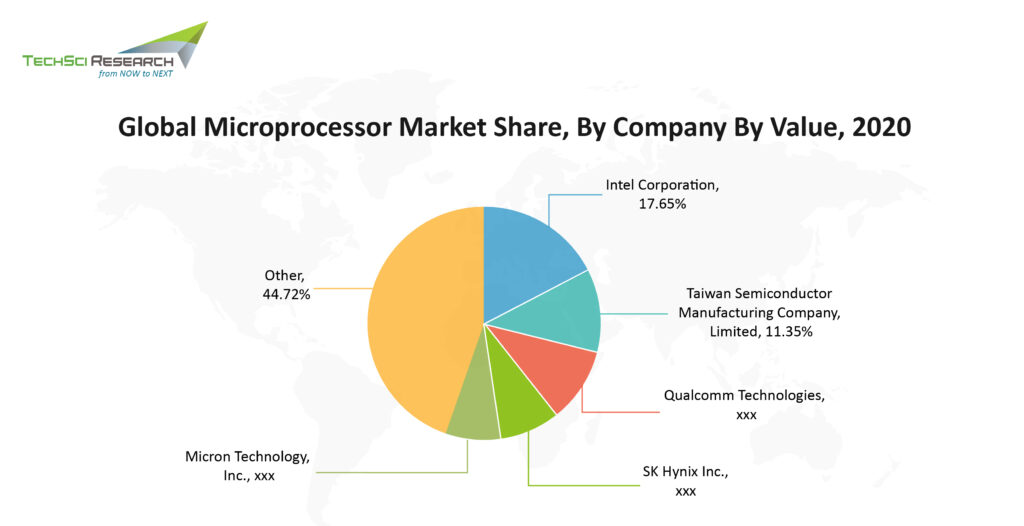 SK Hynix Inc.
Established: 1983
Headquarters: Incheon-si, South Korea
Founders: Chung Ju-Yung
SK Hynix is the third-largest semiconductor manufacturing company worldwide that produces semiconductors such as DRAM, NAND Flash, and CMOS Image Sensors. SK Hynix is constantly looking for opportunities to strengthen its North American business, establishing R&D institutes and US foundry fab that would positively impact related equipment and material market players. The company uses i-TAP (Innovative-Technology Advancement Program) to enhance employees' task performance. In 2021, the company commenced the mass-production of LPDDR5 Mobile DRAM with the industry's largest capacity.

Qualcomm Technologies Inc.
Established: 1985
Headquarters: California, United States
Founder: Irwin Jacobs
Qualcomm (QCOM) produces microchips for various devices, from vehicles to watches, laptops to smartphones, and Wi-Fi. In 2021, Qualcomm witnessed 60% annual growth for its Snapdragon chipsets and a 42% rise in handset chips, owing to the rising penetration of smartphones and the growing need for connectivity. The company has been pushing into the automotive sector, designing chips that can be used to power dashboards and infotainment systems simultaneously. In December 2021, Qualcomm announced a collaboration with Google Cloud to provide users with a powerful, smooth function chipset with improved AI capabilities. The chip manufacturer is also working with European foundry partners to boost chip production and tackle chip shortage in Europe.

Broadcom Inc.
Established: 1961
Headquarters: California, United States
Broadcom is an American public company specializing in manufacturing microchips ranging from computers to smartphones. Some of the esteemed clients of Broadcom are Lenovo, Asus, Logitech, Nokia, Motorola, Apple, IBM, Dell, Nintendo, among others. Chips produced by Broadcom has the ability to accelerate tasks such as encryption, which help companies aid e-commerce and secure communications. The company also produces 'BCM43' that supports Wi-Fi capabilities in smartphones.

Micron Technology Inc.
Established: 1978
Headquarters: Boise, Idaho, United States
Founder: Ward Parkinson, Joe Parkinson, Dennis Wilson, Doug Pitman
Micron Technology is a semiconductor company, which manufacturers DRAM and 3D NAND flash memory, and caters to cloud computing giants such as Amazon AWS, Google, and Microsoft. Micron's advanced memory chips account for about 30% share of the USD460 billion global semiconductor market as they are used in smartphones, PCs, and data centers in South Korea, Southeast Asia, and Taiwan. The company runs one of the world's most advanced semiconductor R&D centers and plans to invest USD150 billion in its global manufacturing operations to address the rise in demand for memory chips over the next decade.

Sony Corporation
Established: 1946
Headquarters: Minato, Tokyo
Founders: Akio Morita, Masaru Ibuka
Japanese multinational conglomerate Sony Corporation engages in the manufacturing, designing, and sales of semiconductors. The company is the world's leading manufacturer of image sensors used in smartphones and other applications. Sony Semiconductor strives in R&D activities to develop a variety of products. In 2021, Sony struck a deal with TSMC to build foundries in Kumamoto Prefecture, making an investment worth USD7.1 billion. Sony Corporation is likely to take a minority stake at the facility, and the Japanese government would provide subsidies to cover 50% of the manufacturing costs of the fab facility. Products to be built in the upcoming fab facility would include image sensor data signal processors, and ICs for automotive and other industrial applications.

Nvidia Corporation
Established: 1993
Headquarters: Santa Clara, Unites States
Founder: Jensen Huang, Curtis Priem, and Chris Malachowsky
Graphic processor veteran Nvidia has become the semiconductor industry's most valuable firm. The company is worth more than half a trillion dollars on the stock market and employs around 20,000 people. Nvidia offers a range of products from DRIVE AGX, Jetson, Quadro, DGX System, autonomous machines, etc., to cater to different sectors. Nvidia chips can be found in everything from AI supercomputers to robots to autonomous cars, and the company remains at the forefront of AI hardware technology.

Samsung Electronics Co. Ltd.
Established: 1969
Headquarters: Suwon-si, South Korea
Founder: Lee Byung-chul
Samsung is the industry leader in technology, ranked amongst the top 10 global brands. In 2021, South Korean tech giant Samsung surpassed Intel to become the world's leading chip manufacturer by revenue. The company took the lead with a strong DRAM and NAND flash market performance in 2021 as the momentum for logic chips grew significantly. Samsung Electronics has planned to invest in a new semiconductor manufacturing facility in Texas, United States, with an estimated investment of USD17 billion to boost the production of advanced logic semiconductor solutions.

Applied Materials Inc.
Established: 1967
Headquarters: California, United States
Founder: Michael A. McNeilly
Applied Materials, Inc. is the world's largest supplier of semiconductor manufacturing equipment. The company is well-positioned to supply customers with the most advanced 300mm wafer fabrication systems. The company is the global leader in nano manufacturing technology solutions with a broad portfolio in innovative equipment, service, and software products. Applied Materials has a global reach due to its intellectual capital, financial resources, and capabilities.
According to TechSci Research report on "Microprocessor Market – Global Industry Size, Share, Trends, Competition, Opportunity, and Forecast, 2016-2026 Segmented By Type (Desktop Microprocessor, Mobile Microprocessor, Performance Microprocessor), By Architecture (ARM, X86, SPARC, Others), By Technology Outlook (RISC, DSP, ASIC, SUPERSCALAR, CISC), By End User (Consumer Electronics, Medical, Server & Data Center, Automotive, Manufacturing, Others), By Company (2020)", the global microprocessor market is anticipated to grow at a formidable CAGR during the forecast period. The growth can be attributed to the increasing adoption of cloud-based applications, data centers, and advancements in artificial intelligence and machine learning technologies. Besides, the increasing demand for AR/VR devices and growing need for connectivity are propelling the demand for microprocessors, which is attributing to the market growth.
According to another TechSci Research report on "Semiconductor Market – Global Industry Size, Share, Trends, Opportunity and Forecast, 2017-2027, Segmented By Type (Integrated Circuits (Logic, Memory, Micro, Analog), Sensors, Optoelectronics, Discrete Semiconductors), By Process (Doping, Wafer Fabrication, Masking, Etching, Others), By Application (Networking & Communication, Healthcare, Automotive, Consumer electronics, Industrial, Smart Grid, Gaming and Others) and By Region", the global semiconductor market is expected to grow at a formidable CAGR during the forecast period. The growth can be attributed to the increasing affordability of consumers to buy high quality products and rising technological advancements in electronic products. Besides, growing need for connectivity and increasing penetration of internet of things devices are fueling the growth of the global semiconductor market.