September 4, 2021
Top 5 Best Portable Power Stations in the United States
Whether you want an emergency power source backup for unexpected power outages or camping in a remote area, portable power stations are the best option. Highly versatile power stations provide a reliable source of power with AC inputs, USB outlets, and more to facilitate electricity generation for charging appliances such as laptops, smartphones, Bluetooth speakers, etc. on the go. While most generators are gas-powered, power stations run on batteries, which makes them a safe and secure alternative for off-grid excursions. Making the right selection of power stations based on their size, performance, compatibility, and power output can be a tough decision, given the plenty number of options in the market.
Therefore, we have compiled a list of the top five portable power stations in the USA.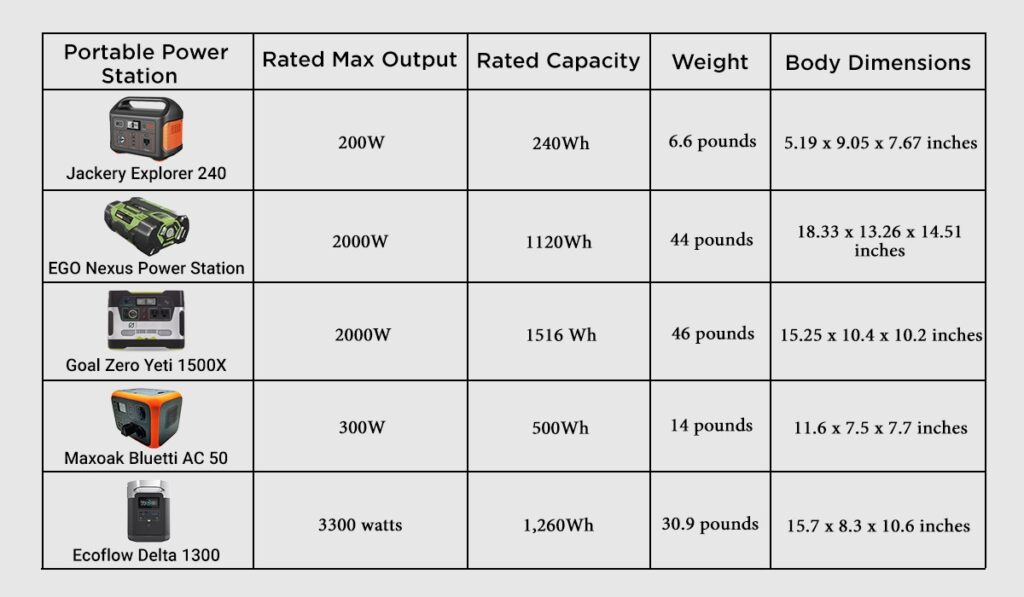 Jackery Explorer 240 Portable Power Station
Offering high functionality in optimal size, Jackery Explorer 240 is one of the most popular power stations in the market. The portable power station is best for personal use, especially for charging small electrical appliances or smart devices. If you are a solo explorer who does not want to carry the burden of a heavy power station, then compact Jackery Explorer 240 is the one for you as it weighs only 6.6 pounds but has the capacity to charge phone 24 times, standard laptop 3 to 4 times, and run TV or mini cooler for one to two hours. Equipped with an eco-friendly 240 watt-hour lithium-ion battery pack, the power station can be charged via an AC outlet or a solar panel even while the unit is operational. The stylish, lightweight, and carry-friendly design with eco-friendly batteries makes the power station a real crowd-pleaser.
The device offers a maximum continuous output of 200 W so the user cannot use anything with a heating element such as a toaster, hairdryer, or kettle as they require more power. The clear LCD displays the real-time combined output power of all the devices the user has attached to the unit. The built-in protection ensures that the device turns off immediately if you overload it. The power station has fan that turns on intermittently in general use and remains permanently on while attaching a device that consumes a lot of power. The power station has a sturdy body but is not waterproof. Besides, the user might have to purchase a solar panel separately as the device is not powerful enough to operate most appliances.
EGO Nexus Power Station
EGO Nexus Power Station with its 3,000W peak and 2,000W continuous power has the capacity to run several heavy-duty appliances with no problem at all. If one is planning to go off the grid, then EGO Nexus Power Station is the best bet due to its impressive battery size and advanced settings. The device is tough, water-resistant, and weighs just a little over 44 pounds. The user can connect the power station with phone via Bluetooth or Wi-Fi, which makes it stand out from other portable power stations in the market. The power station comes at a hefty price of USD999, but the cost is totally justifiable, given the capabilities of the unit. Unlike other power stations, EGO Nexus offers three AC plugs, four USB ports to connect multiple devices at a time. Besides, the power station delivers clean and quiet power without creating fumes so they can be safely used indoors.
Another feature that makes EGO Nexus stand out from its counterpart is the swappable battery system consisting of two lithium-ion batteries that deliver up to 420wH of continuous power. Besides, the EGO NEXUS power station has four detachable batteries that can be swapped whenever you need them. Although EGO Nexus is highly efficient, its large size and weight can become an issue, especially if you do not have extra hands to operate the equipment. Moreover, the power station needs products from the EGO ecosystem to make full use of the special features.
Goal Zero Yeti 1500X
One of the oldest players in power stations, Goal Zero launched Yeti 1500X that is lighter than the previously introduced power stations, weighing only 46 pounds, which seems manageable. The lithium batteries can be easily charged by solar panels or by plugging the device into one's car or at home. The user can easily contemplate when the device needs a recharge by looking at the LCD screen, which showcases the current charge levels and the rate at which the power station is being depleted. The Yeti is powerful enough to run a fridge and other heavy-duty electrical appliances and other devices such as lamps, tools, coolers, laptops, and smartphones. Besides, the power station has a capacity rating of 1516 Wh and an output rating of 2000W. However, the Goal Zero Yeti 1500X has only two AC outlets, which is relatively less than other contenders. With a 2000W pure sine wave inverter, the Yeti can handle up to 3500W of AC surge output power.
The Yeti Link module expands the capability of the Yeti power station by providing users the option to add additional lead-acid power banks to the Yeti device or attach the vehicle's electrical system for recharging. The Goal Zero app that comes with a Yeti power station is the most useful feature that allows users to monitor their battery capacity and input-output wattage. The high continuous power capability of Yeti allows users to connect high wattage devices such as refrigerators, microwaves, and even air conditioners. However, the biggest concern with Yeti is its weight (45lbs), which makes it difficult to move around. The weight issue can be fixed using a hand truck from a local hardware store. Another common complaint about the Yeti power station is the lack of AC outputs, which is limited to only two.
Maxoak Bluetti AC 50S
Providing amazing capacity relative to its compact size, the Maxoak Bluetti AC 50S boasts 500 wH of battery power with the support of lithium batteries. The power output of Maxoak Bluetti AC 50S is enough to operate a fan for more than 40 hours and run a TV for seven hours. Some of the special features of the Maxoak Bluetti AC50S include LED lighting with SOS function, wireless charging, and a cigar lighter, and efficient solar charging mode, a built-in battery management system, and an efficient solar charging mode. Shaped like a lunch box, the Bluetti AC50S comes in two different colors, classic black and orange, and a stark all-grey design. The lightweight and easy-to-use system is a very good option for some light camping, especially with two 5.5X2.1mm barrel ports. The power station is incapable to run a freezer, fridge, TV for long times but it works fairly well for charging laptops, CPAP machines, inflatable beds, and other smaller electronic devices. The battery lifecycle of AC50S is 2500+ cycles with a shelf-life of 3-6 months.
Offering an impressive 45,000mAh capacity, the Bluetti's AC50S can charge mobile up to 36 times, laptops up to 5 times, and a GoPro camera for an unbelievable 80 times. However, the 500-watt-hour capacity of the battery is not approved by the Transportation Security Administration (TSA) for air travel because it is five times the allowable limit. Using the standard AC outlet, the battery can be charged in about six to seven hours whereas a 120-watt solar panel can recharge the battery in about four hours.
Ecoflow Delta 1300
The 30-pound Ecoflow Delta 1300 consists of six AC outlets, two USB-C PD ports, four USB outlets, and a large LCD screen. Delta 1300 has the capability to recharge electronic devices from 0% to 80% in just an hour, which makes it the fastest power station among competitors. With the input capability of the Delta 1300 and continuous output of 1800W, the Ecoflow Delta can charge almost every household appliance like laptop, TV, or lights. Retailing at a price of USD1400, the EcoFlow Delta 1300 is one of the most convenient and high-quality power generators that comes with a 2-year warranty. The EcoFlow Delta provides the flexibility to power up 13 devices simultaneously while leaving the AC outlets free for food prep appliances and refrigerators.
EcoFlow Delta 1300 has a round trip efficiency of only 58% while more portable power systems in this range have an efficiency of 79%. Moreover, the noisy fan activates every time one charges an appliance, which can seem a little irritating. The EcoPower Delta is pretty much on the heavier side, which can become an issue during an emergency or while traveling light.
According to TechSci research report on "Global Portable Power Station Market By Operation Type (Direct Power v/s Solar Power), By Technology Type (Lithium-ion v/s Sealed Lead Acid), By Capacity Type (Less than 500 Wh, 500 Wh to 999 Wh, 1,000 Wh to 1,499 Wh, 1,500 Wh and above), By Application (Emergency Power, Off-grid Power, Automotive), By Company, By Region, Forecast & Opportunities, 2026", the globalportable power station market is anticipated to grow at significant rate during the forecast period. The growth can be attributed to the high penetration of internet services to diverse areas and rise in disposable income of middle class.