July 4, 2022
Surgical Robotics Market Trends in 2022
In the past few decades, medical robotics has undergone significant transformation and has been widely applied in the surgical field. The rising need for minimally invasive surgery and an increasing number of complex surgical procedures that require great precision are driving the growth of the global surgical robots market. Currently, around 8.5 surgical robots are available per 1 million people, while in Europe, there is only one surgical robot per 1 million people.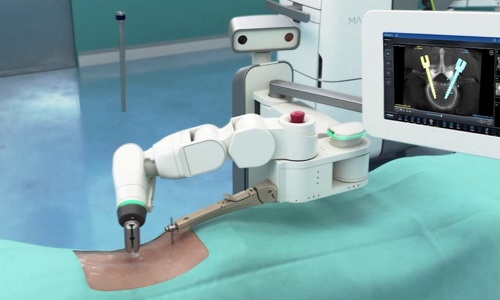 With the rise in the geriatric population, chronic case incidences, and increasing R&D initiatives, the demand for surgical robots is anticipated to expand even further. The global surgical market is expected to reach USD13 billion by 2025, registering a CAGR of approx. 15.46% during the forecast period. Based on end-user, the general surgery segment is anticipated to hold the largest share (25.19%) of the global surgical robots market by 2025, owing to the strong acceptance of da Vinci Surgical systems globally. However, rapid adoption of robotic-assisted total knee replacement procedures is expected to contribute towards orthopaedic robots.
Here are the key trends dominating the global surgical robots market.
Increasing Collaborations in the Global Robotic Industry
As the robotics industry is growing at a tremendous pace, many M&A activities are taking place in this sector, driven by necessity and opportunity. In 2021, Stryker Corporation, global musculoskeletal care, and sensor technology leader, purchased OrthoSensor to enhance Mako surgical robots and their data analytics capabilities. Vicarious Surgical also collaborated with D8 Holdings Corp. to create technology that increases surgical procedures' efficiency and improves patient outcomes.
In 2020, Medtronic acquired Digital Surgery, a London-based maker of data analytics to augment its work in robotic surgery. Market players are focused on improving technologies and introducing new product portfolio to accommodate the evolving demands of patients.
Rising Demand for Robotic Surgeries
According to WHO statistics, the geriatric population is expected to reach 1.5 billion by 2050. Aged people are more vulnerable to rheumatoid arthritis and bone injury, which is likely to create a greater need for knee and hip replacement surgeries. This, in turn, is expected to fuel the growth of the global surgical robots market in the coming years.
Besides, the rising number of road accidents and the increasing prevalence of chronic disorders are boosting the need for surgical robots across medical institutions. Surgeons are well-trained to operate surgical robots and perform less invasive procedures with a high precision level, enhancing the success rate of medical procedures.
New Product Developments
An increasing number of R&D initiatives and the strong presence of multinational competitors have led to ongoing robotic innovations. Top players are investing in research and development activities to reduce costs and accelerate the clinical adoption of new surgery techniques. Besides, the miniaturization of instruments and the launch of cost-effective and advanced surgical robots are driving the growth of the global surgical robots market. In 2021, SS Innovations launched its SSI multi-arm novel telerobotic assistance surgical system enabling surgeons to treat patients experiencing stroke or aneurysms remotely. In 2022, Medtronic launched the Hugo robotic-assisted surgery (RAS) system designed for a broad range of soft-tissue procedures.
According to TechSci Research report on "Global Surgical Robots Market By Component (Systems, Instruments and Accessories, Services), By Mechanism of Control (Computer Control, Direct Telemanipulator), By Application (Orthopedic Surgery, Endometriosis, General Surgery, Neurosurgery, Thoracic Surgery, Colorectal Surgery, Gynecology, Heart Surgery, Urologic Surgery and Others), By End User (Hospitals & Clinics and Ambulatory Surgical Centers), By Region, Competition, Forecast & Opportunities, 2027", the global surgical robots market is anticipated to reach approx. USD13 billion by 2027. The market growth can be attributed to the growing occurrences of degenerative and chronic disorders coupled with increasing geriatric population.
Contact
Mr. Ken Mathews
708 Third Avenue,
Manhattan, NY,
New York – 10017
Tel: +1-646-360-1656
Email: sales@techsciresearch.com
Website: https://www.techsciresearch.com