September 21, 2022
Sula Vineyards And Rising Popularity of Rose Wine in India
India is traditionally known to have male dominated drinking population who prefer hard liquor such as beer, rum, or scotch rather than wine, which is generally perceived to be more suited for feminine taste. However, normalization of drinking culture in India, especially in metropolitan cities, owing to dissipating social and cultural taboo around alcohol consumption are contributing towards the rapid adoption of different kinds of alcoholic beverages, including wine. Growing expat population and introduction of wine festivals are also contributing to the rising adoption of wine in India. Besides, rising personal disposable income, growth in foreign tourists, promotion of wine as beneficial to health are also driving the sales of wine in India. Although red wine had dominated the wine industry for many years, the Rosé renaissance is changing the consumption trend as young Indians and millennials are looking for light and refreshing wine options. Rosé wine had remained quite popular in western countries, but its adoption in India is gradually increasing and becoming a huge success. Ranging from dry to off dry, sparkling to semi-sweet sparkling, Rose seems to be a perfect fit for all types of wine drinkers, especially among young crowd. The remarkable adoption of rose offers retailers a significant opportunity for expansion and wine makers lucrative growth opportunities.
How did Sula Became a Major Hit?
Sula Vineyards has been identified as the market leader of rose wine in India, accounting for nearly 70% of the share of the Indian wine market which otherwise is import oriented or overseas brands. The wine brand sells more than one million cases a year and has been clocking a turnover of INR500 crore in the recent two years. Sula offers some of India's best wines in an array of flavors such as Sula Zinfandel Rosé, The Source Grenache Rosé, The Source Grenache Rosé, Sula Seco Rosé, among others. The company has successfully penetrated the wine industry in India due to its unique value addition approach to the company's grapes. From having sold its first wine bottle in 1999 to now producing over 10 million bottles of wine per annum, Sula has leaped to become a cult wine brand, which now enjoys better positioning as compared to more established players such as Grover Vineyards, United Spirits' wine division and Indage Vintners. India's largest wine brand registered an CAGR of 20% over the last five years, in terms of volume sales. In the first four months of 2022, Sula has witnessed 30% volume growth, with company's enhanced focus on premiumization, wine tourism, and strong brand and product category management.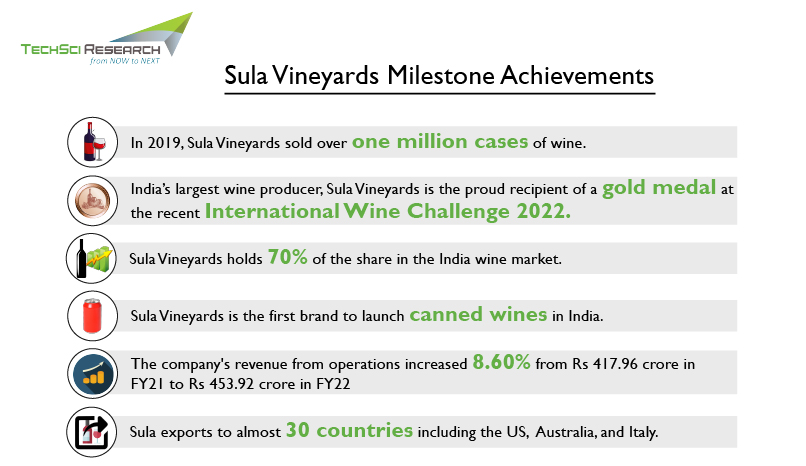 Currently, Sula has approximately 1800 acres in Vineyards and six production facilities spread across Maharashtra and Karnataka. The company has tie-ups with wine distributors in Maharashtra, Delhi, Goa, Punjab and 13,000 retail touchpoints across country. Sula's domestic portfolio accounts for around 80% of its revenue, however the company have also found success in export markets, particularly in United Kingdom. The export market of Sula expands to more than 25 countries in Asia and Europe, also in the US and Canada where it sells premium and elite wines.
Sula's Experiential Marketing Strategy
Conventional marketing routes are limited for alcoholic beverage segment in India hence the company has adopted experiential marketing strategy. They resorted to wine tasting events across the country, being a part of entertainment events in major cities, starting their own Sula Fest in Amphitheatre, etc. For breaking into a market dominated by cheap French wines, Sula introduced its own pricing strategy. The fine wine taste at a highly affordable rate among connoisseur made the wine standout among middle class. Then, the strong distribution network helped the brand to expand their consumer base. Currently, Sula has 80 distribution points across the country and 170 sales executives are working towards pushing the brand in domestic markets and abroad as well. Besides, collaborating with large hotel chains like Taj or popular restaurants like Indigo, which are frequently visited by affluents, have helped Sula to breakthrough upper middle class. Another regular feature of Sula is its tasting sessions, which brings new groups together and serves them its wines. The company has tied up with Groupon India to organize 1600 tasting events in various cities with 10 trained sommeliers to guide consumers about wines. Sula vineyards have become a popular destination, attracting 200,000 visitors every year.
How is Sula Addressing Challenges Related to Climate Change?
Majority of Sula's Vineyards are located in Nashik, which traditionally experiences heavy rains from June to October. In recent years, increased variability in weather, heavy rains, and hail made significant percentage of harvested grapes (nearly 50%) fell early from the vines, prior to full ripening and developing aromas, led to depleting yields, and altered grape composition. Hence, the changing weather pattern has put a severe challenge for the wine company to deliver the best quality and maintain consistency of wines. Besides, importing wine is either not an economical or environmentally viable option due to high import duties of agricultural crops, domestic cost advantages due to lower labour costs than traditional wine regions, transportation time reduces the freshness and aromas of the grapes. Moreover, the supply chain issues are creating problems for the winemaker to optimize planting and harvesting schedules, forecast supply, stock optimal inventory, etc. to meet customers' demand for popular varieties. However, Sula has managed to find solutions to limit the disruption caused by climate changes and address the challenges associated with supply chain.
The company is gradually expanding its grape harvest capacity outside Nashik. Sula purchased Heritage Wineries in Karnataka, India's second largest wine producing state, taken over three other custom crush facilities, and made an investment in local viticulture training to create long-term mitigation strategy. The wine brand also launched a new grape variety, Sula Riesling which are harvested early in winter, which help them develop a unique blend of acidity from the cool nights and sweetness from hot afternoons. Besides, the company is also investing in R&D initiatives to find new varieties of grapes suitable to Nashik winters. Moreover, Sula restrict quantity when grapes turn out to be sub-standard. The company has also created exclusively priced "Reserve Vintages" to appeal to the affluent buyers and enhance brand appeal.
Sula Keeping sustainability at its core
Sula Vineyards is an environmentally-conscious brand that works on the principal of sustainability. The wine brand is working towards creating positive changes across themes such as reducing carbon emissions, lowering water consumption, eliminating wastages and employing sustainable and eco-friendly packaging materials. To reduce dependency on energy from conventional fossil fuels, Sula has transitioned to leveraging solar energy, which has significantly contributed to decreasing carbon footprint as well as electricity consumption. The current setup allows Sula to generate around 50% of electricity via solar and the company has planned to increase that to 75%.
As the number of freshwater sources are becoming limited and drought incidences are increasing, Sula has been working to keep a check on their water consumption and practice sustainable water management. They have established an inhouse effluent treatment plants, and setup rainwater harvesting infrastructure. The company has invested in drip irrigation at vineyards that enable them to avoid using more than 50 million litres of freshwater.
Way Ahead
Wine industry in India is in a nascent phase, but it is expected to rise as consumers are developing a taste for it. However, the industry is poised to register a substantial growth in the range of 15-20% in the near term and winemakers see a lot of potential in India. There has been a quantum shift of females enjoying alcohol, which will be a huge demographic in the future. Besides, health-conscious population are shifting to wine over other liquors due to its antioxidant benefits for the body. Hence, the wine industry in India is expected to register a significant growth rate in the coming years, owing to rapid urbanization, rising personal disposable income of the population, and emergence of wine options.