December 2, 2022
Rising Demand for Teaching Toys in United States
When it comes to toys, children are spoilt for choice. Research studies demonstrate that playtime with toys is essential for the social, emotional, cognitive, and physical well-being of children. Toys act as natural tool for children to enhance their creativity, develop resiliency, overcome challenges, and negotiate with others. Through toys, children learn the basic principle of cause and effect. Children are curious little beings, interested in actively exploring nature and understand their surroundings. Parents can actually help their children learn about the world around them to satisfy their curiosity while increasing their IQ in a fun manner with educational toys. According to the National Association for the Education of Young Children, in United States, nearly 90% of preschool children play with toys designed to help kids think critically, teach social interaction, promote creativity, and engage in problem solving.
Educational toys are just like simple toys that are designed to stimulate certain senses in children and promote learning in some form or another. The global education toys market is expected to grow at a formidable rate and cross USD132 billion by 2028, owing to their greater adoption across various educational institutions. Growing population of newborn baby and kids and increasing learning and education toys space are some of the factors expected to fuel the market growth. Besides, emergence of new educational toys by the market players and increase in consumer awareness regarding new educational toys are propelling the growth of the United States teaching toys market.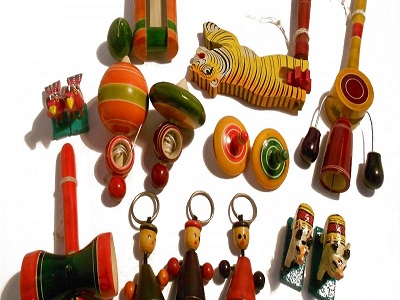 Here are some of the factors positively influencing the growth of the teaching toys in United States.
Innovative Artificial Intelligence Toys for S.T.E.M Education
Educational toys are designed to educate students about technology, engineering, and math in a fun and frivolous manner. Playing with these toys tend to boost the children's cognitive development, curiosity, creativity, and resourcefulness. Robotics technology enable STEM-interest teens to master a variety of courses as well. Leveraging AI technology-based educational toys, students can easily develop and construct projects or even make easy to build robots at home. Besides, STEM toys encourage interactive learning and discovery via experiential learning. Internet-connected toys are gaining huge popularity among tech-savvy consumers despite their high costs compared to the conventional toys due to their ease of use and personalized instructive approach.
For instance, Evo Coding Robot developed by Ozobot is an excellent coding robot that can be used for creative play and screen-free coding, which makes it ideal for educational projects. The 4M Green Science Salt Water Powered Robot Kit is designed to teach sustainable energy to teens so that they become more environment conscious. Coding Charms is another educational toy for crafty youngsters that love to learn how to code.
Globally, there is an emerging need to provide education to all with the use of artificial intelligence but some of the issues like data privacy, cyber security, bias, and accessibility could hinder the growth of artificial intelligence toys for STEM education.
Surging Green Educational and Eco-friendly Toys
The toy industry contributes to around 40 tons of plastic waste for every USD 1 million in revenues and much of it ends up on landfills or in oceans. Rising awareness regarding health effects of toxic chemicals and material used in the toys and advancements in the sustainable space, along with material processing technology are driving the adoption of green educational and eco-friendly toys. Disposability has remained a major concern in the educational toys industry as buyers are not tempted with the outdated and second-hand toys. Hence, toy manufacturers are designing products using green materials such as sugar cane, cardboard, bamboo, etc. Amazon, Walmart, and Target have expanded their sustainable toy assortments, which has enhanced accessibility to consumers and driving their adoption.
Quercetti, a toy company has taken initiative to reduce global environmental footprint as much as possible, introducing their eco-sustainable PlayBio toy line using bio-based material. These toys are composed by reinforcing wood fibers with biocomposites, which are green, safe, and versatile. Biocomposites do not deteriorate and are safe compared to plastic toys, composed from petrochemicals.
In May 2021, the US-based toy manufacturer Mattel introduced a new toy takeback program called PlayBack to encourage use of old Mattel toys that are discarded. The initiative was a part of the company's efforts towards reducing their carbon footprint and promote recyclability among consumers.
More and more toy companies are expected to introduce green educational toys, owing to the growing consciousness regarding environmental impact, climate change, and rise in adoption of sustainable products. Besides, stringent measures by the government to restrict the use of toxic chemicals, metals, glue, and conventional paints in toys are expected to drive the green educational toys market.
Increasing Adoption of Educational Toys in Teaching Institutions
As the educational institutions are realizing the importance of learning integrated with creativity and fun, teaching toys are rapidly gaining traction. Whether its teaching kids engineering skills or coding through gamified experiences delivered through tangible toys or using video games as medium for enhancing knowledge and social skills, there are plenty of ways toy manufacturers are accommodating to the rising demand for toys that add value to the playtime. Many toy manufacturers are introducing educational toys beyond STEM for teaching kids about personal finance management, civic engagement, climate change, and many other practical skills. Hence, many educational toys are being integrated into classrooms to enrich the learning experience of students as well as provide equal access to tools. For instance, Dash Robot is being widely used in classrooms to make students learn about coding and reinforcing STEM concepts in a fun manner.
Since the COVID-19 pandemic, remote and hybrid versions of learning have become more mainstream. Educational toys can help students thrive in the online educational settings or those who struggle in face-to-face environments. STEM teachers are finding greater success in leveraging digital learning tools rather than relying on physical books to boost children's knowledge and overall skills. Hence, now many schools have begun advocating a mixed programme, integrating creative and conventional learning that can help students to become more rounded and better problem-solvers.
According to TechSci Research report on "United States Toys Market By Product Type (Outdoor and Sports Toys, Dolls, Vehicles Toys, Plush Toys, Others (Action Figures, Construction Toys, Games & Puzzles, etc.)), By Distribution Channel (Supermarkets/Hypermarkets, Specialty Stores, Online, Others (Stationery Stores, Gift Shops, Kiosks, etc.) By Region, By Leading States, Competition, Forecast & Opportunities, 2027", the United States toys market is projected to grow at a formidable rate during the forecast period, 2023-2027. The market growth can be attributed to the increasing number of dual-income households and improving purchasing sentiments.