September 21, 2017
RAK Ceramics Profits Soar, and So Will Global Sanitary Ware Market
Profits soar for one of the leading players in global sanitary ware market on back of consolidation and divestment, but emerging market are the key for the next windfall
RAK Ceramics, one of the leading players in the global sanitary ware market has seen a stupendous 73% rise in profits for Q2, potentially ushering in a new era for the market. The global sanitary ware market is one top performing sector, given factors such as rising prosperity levels, business consolidation, increasing infrastructure investment on the back of global demand picking up etc. The experts here at TechSci Research examine in detail the factors driving RAK Ceramics and also discuss the issues which make the global sanitary ware market tick.
RAK Ceramics: What Makes For a Winning Strategy
According to TechSci Research report "Global Sanitary Ware Market, Competition Forecast & Opportunities, 2012 – 2022", RAK ceramics is a major player in the global sanitary ware market, along with other companies such as Roca Group, Geberit Group, Toto Inc. etc. and therefore has significant resources to carve out a winning strategy for itself. The primary strategy that led to the Q2 profits was disinvestment; RAK's divestment of its warehouse leasing business to focus on multiple acquisitions to reach larger markets was an immediate winner. RAK Ceramics sold 50% stake in RAK Warehouse Leasing for about $34 million, realising a profit of approximately $16 million, as well as adjusting production and lowering manufacturing and operating costs. While the shift from non-core to core assets wasn't easy, the move is paying dividends.
However, divestment isn't the only reason for the windfall gains made by RAK. A fundamental part of the strategy revolves around the pivot to the hotspots in the global sanitary ware market that are high growth but underdeveloped. Countries such as India and Bangladesh are good examples of the same. RAK is leveraging its position in the global sanitary ware market to establish dominance in such countries.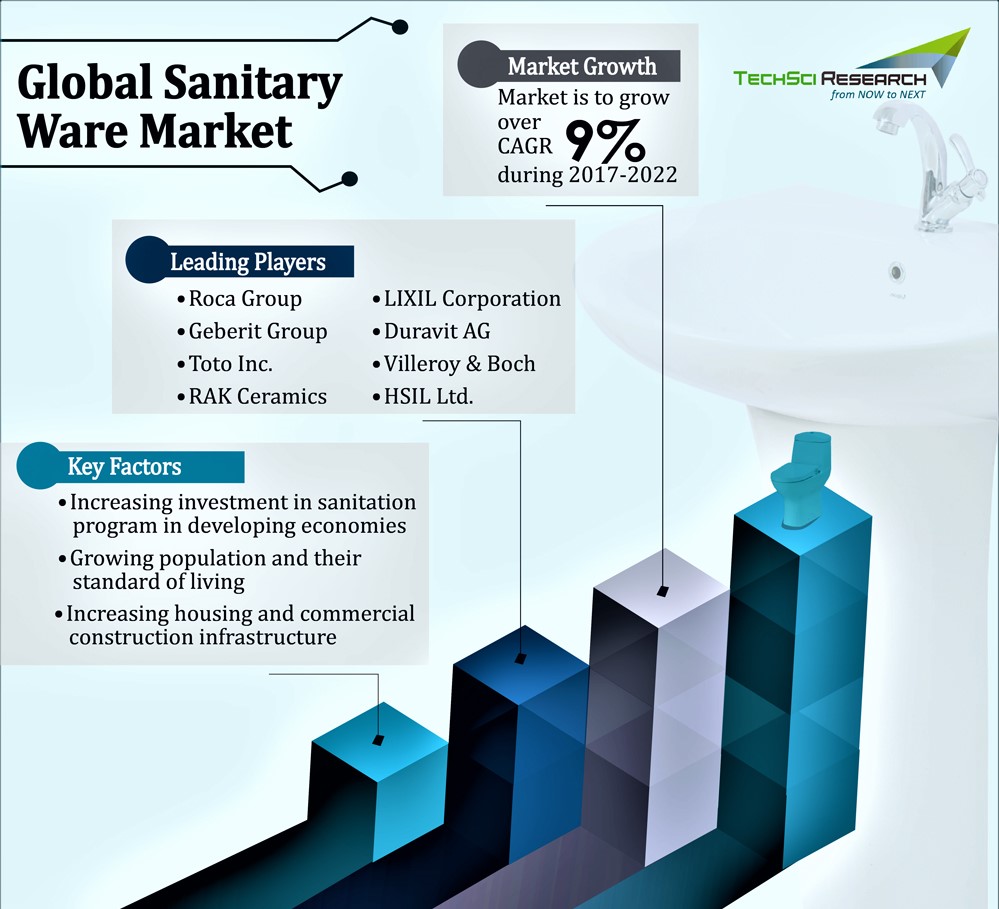 India: The Future Leading Demand Generator in Global Sanitary Ware Market
To take the case of India. Rising prosperity levels in the country are forcing governments to speed up on infrastructure investments, including sewage lines. With more and more people getting connected to the same, demand for sanitary ware is bound to rise, and so is the global sanitary ware market. Moreover, government policies such as "Swachh Bharat Mission" are beneficial as well, using a clever mix of social pressure and financial incentives to build urinals etc. at home. RAK Ceramics chief executive, Abdallah Massaad, had this to say about his India ambitions: "in India, we are growing, but we only have one factory covering the entire country and must outsource 50%. We are entering into different regions in India to optimise logistics costs and coverage." Massaad further added that the first Mr Massaad said that the first factory, located in Gujarat, had received board approval and was near close. It is said to have a production capacity of up to 1.2 million pieces a year.
As mentioned in the TechSci Research report, high growth emerging markets have a huge role to play in the global sanitary ware market but are usually passed over by the major market players given the intimidating nature of business regulations and highly fragmented markets. RAK Ceramics, however, believes that latching onto these high growth hotspots will surge its market share in the global sanitary ware market. The company's India adventure is quite possibly being looked at by other major players, who will align their own respective market strategies depending on the same.