March 23, 2022
Packaged Food is the New Mantra for Urban Population
In today's fast-paced world where no one ever stops, consumers strive for convenient solutions for every aspect of their lives. Drastic changes in consumer behavior have led to widespread retail disruption along the food industry value chain. Demand for pre-packaged ready-made meals, prepared meal kits, chilled and frozen dishes, and ready-made microwave meals has increased significantly in the past few years as consumers increasingly rely on convenience foods. Hence, food producers are facing the challenge of offering new services and products to stay relevant and accommodate the growing demands of customers. The packaged food trend is here to stay and gain further traction due to factors like busy lifestyles, high personal disposable incomes, decreasing household size, urbanization, and the rising geriatric population.
According to the Euromonitor report, the global retail value of packaged foods reached approx. USD2.5 trillion in 2020. Staple foods accounted for 37% of the packaged food sales in 2020 as more people had to eat at home and make their food during the pandemic. The rapid adjustments made at the start of the pandemic led to stockpiling and food shortages, which increased the sudden demand for packaged foods. During the pandemic, consumers shifted to purchasing fresh fruits, vegetables, meat, poultry, dairy, and gourmet foods online, which boosted packaged food sales online. Moving forward, consumers are projected to increase their reliance on e-commerce for their grocery purchases due to the rise in disposable income and digital lifestyle. However, supermarkets and convenience stores still account for the majority of packaged food sales, accounting for 31% and 21% of the global market share, as per TechSci report analysis.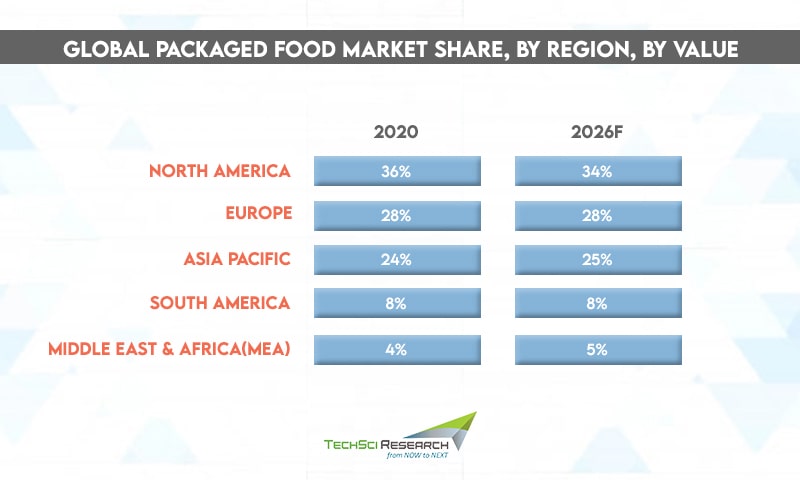 Developed Regions Dominate the Global Packaged Food Industry Market
Developed regions including most of western Europe and North America are major consumers of packaged foods. As working hours have increased and more women have entered the workplace, reliance on packaged foods has increased in the past decade. Moreover, increasing innovations in food packaging, plant-based products, new flavors, and healthy ingredients are contributing to the growth of packaged foods in developed countries. Consumers in the regions are willing to pay a premium price for high-quality convenience food to save time and effort for preparing meals. Moreover, developed markets like the United States and Europe have well-established players like Nestle, Coca-Cola, Pepsi, Tyson Foods, Mars, Cargill, Kellogg, Kraft Heinz, etc., that continuously innovate their products and expand retail platforms to enhance customer experience.
In developing economies, people spend on food suited to their local palate rather than relying on "global" cuisine. Thus, global food brands are offering varieties that serve the local taste to win over consumers. For instance, Nestlé offers Maggi in masala flavor in India, a huge hit among consumers. Besides, some food brands offer the same item at lesser prices in developing countries than in developed countries. As emerging economies are becoming more urbanized, more women are entering paid labor and thus are unable to prepare fresh food for themselves or their families, which is also increasing the share of packaged foods. Witnessing India's rising trend of westernization, General Mills introduced the Pillsbury range of flour and cake mixes, which rewarded an annual growth rate of 25% in recent years.
Work-From-Home Boosting Snacking Habits
The rising work from home culture prompted by the pandemic has increased the demand for snacks and beverages. Savory snacks, confectionery products, frozen snacks, meal replacement drinks, roasted nuts, and seeds are some of the most consumable snacks. The snacking culture trend is at an all-time high as people are increasingly reaching for something comforting to boost energy and overcome boredom. The 2020 Food & Healthy Survey found that 25% of Americans resort to snacking several times throughout the day while 40% confessed to occasionally replacing meals by snacking. With snacking taking on satiety and nutritional role, the meal replacement products market is anticipated to register a CAGR of 7.64% by 2026. Some food brands are coming up with snacks that induce sleep, boost mood, and relieve anxiety to tap new markets.
Millennials and Gen Z form a large part of the workforce, and they are highly oriented towards snacking to manage alertness, cope with stress, and enhance focus. Parents are choosing healthy snacks made with high-quality ingredients for their children to promote nutrition, which is boosting the sales of organic packaged snacks. Therefore, snacks like chocolate quinoa bars, collagen cookies, granola, probiotic cheese, ice creams blended with vegetables are gaining much traction since they taste great and are filled with nutrition. Manufacturers are focused on rolling out healthy and nutritious snacks that can meet customers' demands amidst emerging concepts like organic food and veganism.
Organic Food Demands Accelerates Packaged Food Adoption
The COVID-19 pandemic has made consumers realize that the only way to stay safe and improve immunity is to enhance their immunity. Hence, consumers have started looking for healthy foods and beverages, which has led to the growth of nutrition-focused brands. Claims like low-calorie, low-fat, gluten-free, sugar-free, and organic on the food packaging have become more common to attract the health-conscious populations. Despite greater inclination towards immunity-boosting foods, the food industry has observed that taste remains the No.1 priority for consumers. Hence, major players are adopting an innovative approach with flavors for world-class quality and taste without compromising on the health factor. Even some food brands are trying to raise awareness regarding the need for better nutrition with their marketing campaigns to enable the healthy food transition.
In the UK, potato milk offered by DUG has become the most suitable alternative to dairy milk since it is free from lactose, soy, gluten, and nuts. Companies offering plant-based substitutes to meat like Beyond Meat (US), Impossible Foods (US), Maple Leaf Foods (Canada), The Vegetarian Butcher (Netherlands), Morningstar Farms (US), and more are gaining much traction for their innovative food products. Giant retail channels like Trader Joe's, Sprouts, Whole Foods, Raley's, Aldi, Costco, Walmart, among others, have the majority of their section filled with healthy food options. Besides, online retailers like Amazon, Nature Basket, Conscious Food, Bigbasket, Grocers, etc., offer various natural and organic food options.
Quick Turnaround and Ease of Preparation
Convenience foods are in high demand as they can be quickly prepared in a single pan, in the microwave, or just eaten right out of the box. Manufacturers and meal kit providers are willing to play the role of sous-chef so that consumers enjoy their meal on-the-go. People who lack cooking skills look for "almost homemade" food options and pay extra money to save their precious time. In the past few years, foods of all kinds, from salad mixes to veggie side dishes, rotisserie chicken to poached salmon, have been available in supermarkets. Consumers' desire to eat wholesome and healthy food has led to the rise of meal kits with pre-portioned ingredients needed to make a meal with the step-by-step recipe. The meal-kit market is currently largely dominated by online retail channels, but supermarkets are catching up, offering more choices in the near future.
Established supermarket players are growing convenience store formats in urban areas to attract customers and respond to the trend of shopping at retail locations close to home. Supermarkets, discounters, drugstores, gas stations, bakeries, and food deliverers are competing for convenience lovers and thus are adapting business models, further fueling the competition.
Smart and Sustainable Packaging Drives Packaged Foods
Food packaging enhances the visual appeal of the product to consumers from the marketing perspective and ensures a safe and secure reach to end-user. Active, intelligent, and smart packaging interact internally and externally with the environment while also easing the process of bulk transportation. The food industry is the primary driver of smart packaging to control gas and moisture. Advanced packaging solutions include time-temperature monitors, antimicrobial packaging, smartphone-enabled interactive packaging products to reduce food safety concerns and maintain the freshness and nutritional value of the products at competitive prices. Currently, ambient food packaging is the modern trend in the food packaging industry since it increases product shelf-life, even without a refrigerator.
Alter Eco released the first ever packaging material made of plants for their quinoa products. The food brand uses non-toxic ink on its packaging. Boss Food's vegan superfood bars use compostable wrappers, which have all the normal plastic properties, ensuring the same shelf life as conventional packaging. Kellogg's has one of the smallest plastic footprints as the company uses recycled cardboard, which makes 76% of packaging compostable.
According to TechSci Research report on "Global Packaged Food Market By Product Type (Non-alcoholic Beverages, Dairy products, Confectionery, Ready Meals, Snacks, Breakfast Cereals, and Others (Nuts, Ice Cream, Baby Food, Sauce, Oil and Fats)), By Distribution Channel (Hypermarkets/Supermarket, Departmental Store, Convenience Store, Online Retail Store, and Others (Counter Shops, etc.)), By Region, Competition Forecast & Opportunities, 2026", the global packaged food market is anticipated to grow at a formidable CAGR during the forecast period. The growth can be attributed to the increasing consumption of convenience and on-the-go foods and rising personal disposable income.
According to another TechSci Research report on "Vietnam Frozen Food Market By Category, ((Ready-to-Eat, Ready-to-Cook & Others (Raw Meat, Raw Vegetables, Raw Fruit, etc.)), By Product Type (Frozen Meat, Poultry, & Seafood, Frozen Snacks, Frozen Fruits & Vegetables, Frozen Desserts, Frozen Cooked Ready Meals, & Others), By Distribution Channel (Departmental Stores, Specialty Stores, Supermarket/Hypermarket, Online & Others (Convenience Stores, Direct Sales, etc.)), By Region, Competition, Forecast Opportunities, 2026F", Vietnam Frozen food market is expected to grow at a CAGR of 7.26% during the forecast period. The growth can be attributed to the increasing per capita income and surge in sales through e-commerce.
Web: https://www.techsciresearch.com