October 10, 2019
North America to Witness Highest CAGR in Bioinformatics Market During Forecast Period
Increasing applications of bioinformatics and rise in nucleic acid and protein sequencing to drive global bioinformatics market through 2024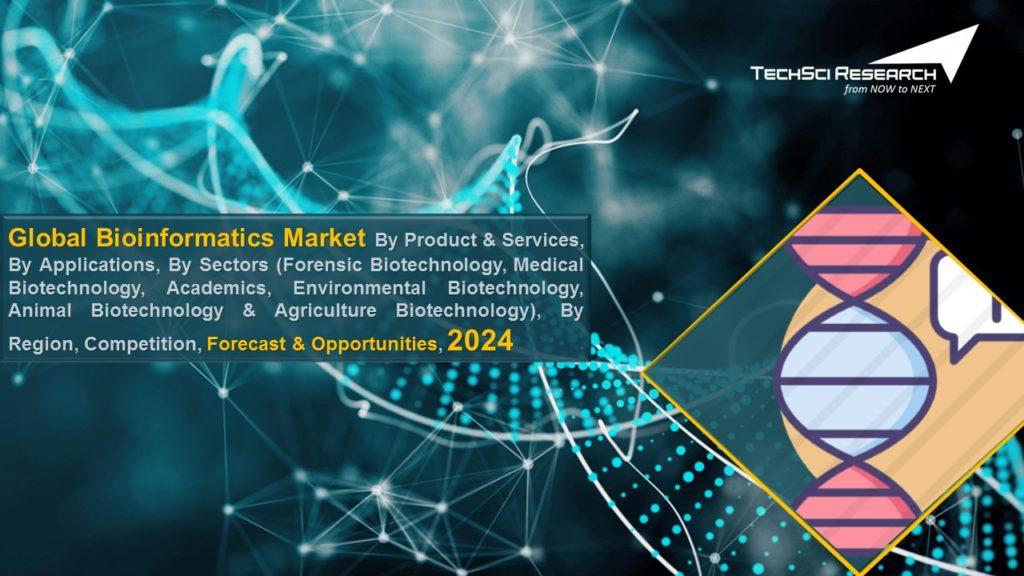 Industry Reports –> ICT Industry market research reports –> Bioinformatics market
According to TechSci Research report, "Global Bioinformatics Market By Product & Services, By Applications, By Sectors, By Region, Competition, Forecast & Opportunities, 2024", global bioinformatics market is projected to grow at a CAGR of around 18% during forecast period on account of expansion of blockchain technology and cloud technology and integration of machine learning and artificial intelligence in healthcare. Moreover, increasing investment in development of bioinformatics solution by IT giants would further spur growth in the market. Accelerating proteomics and genomics growth coupled with rising research on molecular biology and drug discovery is anticipated to boost the market in the forthcoming years. Additionally, rising demand for differentially expressed genes, computational epigenetics, meta-analysis of microarray data, gene network, systems biology requirements, and gene-associating studies, among others, is positively influencing the growth of global bioinformatics market. However, lack of common formats for data integration is expected to restrain the growth of the market during forecast period as most of the research institutes have their own data formats. Furthermore, due to the frequent change in data models, the data integration process becomes difficult, which might hamper the growth of global bioinformatics market.
Browse market data Tables and Figures spread through 110 Pages and an in-depth TOC on "Global Bioinformatics Market"
https://www.techsciresearch.com/report/bioinformatics-market/4279.html
Global bioinformatics market can be segmented based on product & services, applications, sectors, distribution channel and region. Considering the applications, the market can be segmented into Microbial Genome, Gene Engineering, Drug Development, Personalized Medicine, Omics and Other Applications. The Microbial Genome and Gene Engineering segments accounted for the majority share of the global market until 2018 and are expected to maintain their position through the forecast period as well due to the increasing applications of genomics in personalized and preventive medicine. Based on sector, the global market is divided into Forensic Biotechnology, Medical Biotechnology, Academics, Environmental Biotechnology, Animal Biotechnology and Agriculture Biotechnology. Until 2018, the medical biotechnology segment held the largest market share owing to the rising adoption of bioinformatics tools in pharma and clinical applications.
Illumina Inc. Life Technologies (Thermo Fischer Scientific), Qiagen NV, Agilent Technologies, PerkinElmer, Accelrys Inc., Geneva Bioinformatics SA, Ontoforce, Data4Cure and Life Map Sciences (Biotime), among others are the leading players operating in global bioinformatics market.
Download Sample Report @ http://www.techsciresearch.com/sample-report.aspx?cid=4279
Customers can also request for 10% free customization on this report.
"Global bioinformatics market is poised to grow at a brisk rate during the forecast period on account of its applicability in the study of genetics and genomes, growing demand for nucleic acid & protein sequencing due to reduction in sequencing cost and increasing need for integrated solutions & systems. Moreover, initiatives from government & private organizations is further anticipated to drive the growth of the market until 2024." said Mr. Karan Chechi, Research Director with TechSci Research, a research based global management consulting firm.
"Global Bioinformatics Market By Product & Services, By Applications, By Sectors, By Region, Competition, Forecast & Opportunities, 2024" has evaluated the future growth potential of global bioinformatics market and provides statistics & information on market size, structure and future market growth. The report intends to provide cutting-edge market intelligence and help decision makers take sound investment decisions. Besides, the report also identifies and analyzes the emerging trends along with essential drivers, challenges and opportunities in global bioinformatics market.
About TechSci Research
TechSci Research is a leading global market research firm publishing premium market research reports. Serving 700 global clients with more than 600 premium market research studies, TechSci Research is serving clients across 11 different industrial verticals. TechSci Research specializes in research-based consulting assignments in high growth and emerging markets, leading technologies and niche applications. Our workforce of more than 100 fulltime Analysts and Consultants employing innovative research solutions and tracking global and country specific high growth markets helps TechSci clients to lead rather than follow market trends.
Contact
Mr. Ken Mathews
708 Third Avenue,
Manhattan, NY,
New York – 10017
Tel: +1-646-360-1656
Email: sales@techsciresearch.com