March 22, 2022
Modern Technologies for Bus Operations in Autonomous World
Vehicular emissions have become a grave concern for political leaders around the globe to tackle climate change issues. Road transport accounts for 15% of the global carbon emissions, whereas aviation and shipping contribute only 11.6% and 10.6%, respectively. Cities worldwide are facing enormous problems of transport sustainability with increasing population. Consequently, shared mobility is considered one of the most environment-friendly alternatives to reduce damage to the environment as the global population continues to rise. Hence, governments worldwide are focusing on developing sustainable and smart buses that minimize damage to the environment and provide advanced mobility solutions for passengers.
Cities like Los Angeles, Seattle, Copenhagen, Amsterdam, and Nanjing are fully transitioning their fleets by 2030. Some Chinese cities like Shenzhen, Guangzhou, and Dalian have already completed their transition to fully electric. New York City Transit Authority has ordered 60 battery-electric, zero-emission heavy-duty buses from NFI Group Inc. to promote electrification in the city. The shift towards sustainable and eco-friendlier modes is visible in the mobility industry's critical components in both manufacturing and operations.
Manufacturing vehicles for the future would require cutting-edge technology and concepts to achieve decarbonization goals. New-age automobile companies are equipped with a connected app ecosystem to help run buses smoothly through real-time data and manage daily operations effectively. Smart buses equipped with the latest management tools are a new addition to the transport system that provides an enhanced travel experience to the passengers. Here are some of the key modern technologies paving the way for sustainable buses.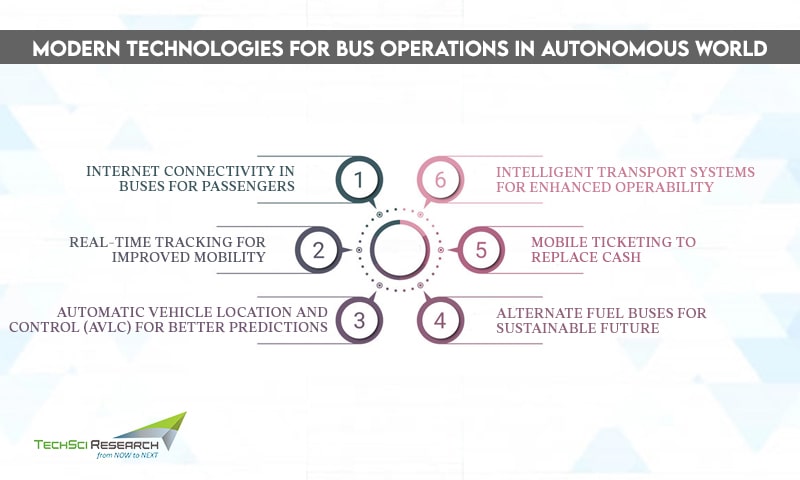 Internet Connectivity
Thanks to the advent of the Internet of Things, now people can have a stable internet connection at almost all times in smart buses. Modern buses are equipped with Wi-Fi or other sensors that enable Internet connectivity for passengers during travel. Major players in the smart bus sector understand the value of IoT connectivity; hence, they have started making Wi-Fi available in their vehicles to enhance passengers' travel experience. Moreover, the use of IoT in buses enables a highly efficient and convenient transport system as the data gathered by commuters can allow transportation authorities to provide enhanced services to citizens without hindering operational efficiency.
Real-time Tracking
The conventional bus transportation systems are highly unpredictable and susceptible to delays, which creates a challenge for commuters to plan their journey or reach their destination on time. However, modern buses are equipped with standard radio technologies, wireless sensor networks, and ad hoc networks that facilitate passengers to know the real-time status of buses at any given time. Commuters can access information about the bus arrival time, the number of empty seats, destination time, and location through special mobile applications on their smartphones. Making bus transportation more reliable can save many passengers' time and effort.
Automatic Vehicle Location and Control (AVLC)
Automatic Vehicle Location and Control systems are helping passengers reach their destination quickly, reducing the waiting time during heavy congestion on roads. The technology tracks the vehicles by merging on-board diagnostics with satellite-based GPS data to predict each vehicle's arrival at every stop. This provides operators the ability to control their fleet dynamically in real-time and deliver a high level of public transport service. Besides, AVLC technology also plays a crucial role in locating the crew and preventing on-road emergencies. The monitoring module provides the bus operator with a pictorial representation of the real-time status of services for any transport operator, automatic services, and driver communications.
Intelligent Transport Systems
Intelligent transport systems (ITS) consist of various technologies, including electronics, information processing, wireless communications, and control, that enable safe, efficient, and convenient public transit. The real-time traffic and passenger information fed through intelligent transport systems can help to adjust traffic signal timings automatically and significantly improve the capacity and speed of transport. Service predictions enabled by ITS can provide more accurate predictions, generating a statistically meaningful correlation from a combination of current and historical timing information. In Scotland, Glasgow, the ITS offers regular information for the daily commuters about timings, the current location of the bus, time taken to reach a destination, and determine the density of passengers inside the bus.
Mobile Ticketing
The increasing smartphone adoption and improved internet connectivity have led to the transition towards a smart mobile ticketing system. Citizens are rapidly embracing digital innovation to make payments for commuting from buses, saving them from many hassles. Mobile ticketing eliminates the need to wait in line to get a new ticket, refuel their passes, need to have exact change or have someone looking for a change. Hence, mobile ticketing allows unprecedented flexibility and enhances infrastructural changes to accommodate growth.
Alternate Fuel Buses
The increasing awareness about sustainability and rapid urbanization has led to an emphasis on environment-friendly alternate-fuel-based vehicles. Fuel cells largely eliminate the emission of harmful particles associated with internal combustible engines. Since hydrogen is availed from renewable energy sources, hydrogen fuel cells are seen as promising solutions for zero-emission automotive technologies. Fuel cells convert hydrogen and oxygen into electricity, making the internal combustion engine better and more efficient and significantly reducing emissions. Moreover, on-road efficiency of fuel cell vehicles is higher than internal combustible engine vehicles and increase operators' flexibility and productivity due to short refueling time. However, high implementation costs and inadequate charging infrastructure remain major barriers to expanding fuel cell buses.
In 2021, Sentient Labs, an R&D innovation lab based in Pune, India, developed a hydrogen fuel cell bus that runs on an electric powertrain and hydrogen fuel cells. Integrating the two technologies, Sentient fuel-cells buses are designed to provide a range of 450 km utilizing just 30 kg of hydrogen. The modular architecture of the bus allows customization in the design to suit individual requirements.
In Europe, the adoption of Fuel Cell Electric buses is growing rapidly with the expanding hydrogen infrastructure across the continent. Currently, 150 fuel cell buses are running in over ten cities across Europe. Recently, the Orange County Transportation Authority (OCTA) has debuted ten new hydrogen fuel cell electric buses to continue their sustainability efforts in the transportation sector. The new buses will have a range of 300 miles and help reduce California's carbon footprint and provide cleaner air.
Bus Manufacturers Merging Electrification with Autonomy
The technologies of electrification and autonomy in the transportation sector are merging as manufacturers focus on developing advanced vehicles for the future. Automated buses improve road safety and improve commute time, enhancing energy efficiency and reducing congestion. The technology used in autonomous electric vehicles employs a network of sensors, cameras, radar, LiDAR, and other technologies, which enable intelligent traffic control and management systems, safety assistance, etc.
In 2021, Michigan State University (MSU) introduced an autonomous electric bus to provide students, staff, and faculty transportation facilities. Considered to be one of the largest electric autonomous transit vehicles in the US, the autonomous electric bus has been manufactured by San-Francisco based company, Karsan and ADASTEC. With level 4 autonomy, the bus has been designed for large-scale public transport and integrated with cutting-edge sensor, safety, and mapping equipment. MSU plans to collect and analyze data about vehicle to infrastructure (V2I) technologies and experiential learning from persons with disabilities for further improvisations.
In 2019, Nanyang Technological University (NTU) and Volvo Buses had unveiled the world's first full-size, autonomous electric bus with a single-deck and capacity of 80 passengers. The bus is equipped with multiple sensors and navigation controls, which are operated by a comprehensive artificial intelligence system to ensure maximum safety and reliability. The electric bus has been protected with cybersecurity measures to prevent cyber intrusion. Moreover, the bus requires 80% less energy than an equivalent-sized diesel bus and has been protected with cybersecurity measures to prevent unwanted intrusion.
Small autonomous electric shuttles are finding many applications in various cities to phase out fossil-fuel-burning fuels. In 2022, GILLIG and RR.AI have announced a partnership to develop a next-generation electric bus with autonomous operations features to expand and develop a futuristic vehicle market. The aim is to make the operations of buses convenient and safer. The collaboration will help improve automated driving capabilities, particularly in bus depot charging locations.
According to TechSci Research report on "Global Electric Bus Market By Battery Type (Lithium Ion & Lead Acid), By Application (Intracity, Intercity & Airport Bus), By Bus Length (6-8m, 9-12m, & Above 12m), By Seating Capacity (Up to 30-Seater, 31-40 Seater, & Above 40), By Region, Competition Forecast & Opportunities, 2026", the global electric bus market is expected to grow at a formidable rate during the forecast period. The growth can be attributed to the various government initiatives to promote sustainability and rising need for efficient urban mobility.
According to another TechSci Research report on "Global Bus Market By Application (Motor Coaches, Transit Buses & School Buses), By Length (6-8 m, 8-10 m, 10-12 m & Above 12 m), By Seating Capacity, By Fuel Type, By Body Type, By Region, Competition Forecast & Opportunities, 2015 – 2025", the global bus market is anticipated to reach USD69 billion during the forecast period. The growth can be attributed to the rising demand for public transportation in urban areas and improvement in infrastructure.