September 10, 2021
Mental Health Awareness in Post-pandemic Era
It's been over a year since the COVID-19 pandemic struck the world with full force, and the battle is still ongoing with new fast-spreading variants and renewed lockdown measures. The devastation of the pandemic causing millions of deaths, economic strife, financial burden, and social constraints marked a significant effect on the mental health of people across the world. Lingering fear and uncertainty about the coronavirus itself, housing and food insecurity, job losses, social isolation, and post-traumatic stress are contributing to a rise in anxiety, insomnia, and depression amid the pandemic. As per a recent study, mental health issues account for 13% of the world's disease burden.
As per the latest report by the USA Centers for Disease Control & Prevention (CDC), the number of people with symptoms of anxiety or depressive disorder increased from 36.4-41.5% between August 2020 and February 2021, majorly due to the COVID-19 pandemic. As the weight of the crisis is gradually lifting, many health experts are expecting long-term implications of the pandemic on mental health in the coming years, which could put an even greater strain on the already stressed mental health system.
Alcohol abuse, anxiety, anger, depression, and post-traumatic stress symptoms became common problems during the quarantine period due to prolonged social distancing measures. The mental health issues further aggravated with an economic and social crisis during the pandemic. Besides, having inadequate basic supplies of food, mask, clothes, water, or accommodation for a large group of the population during quarantine led to frustration. The social distancing has been particularly challenging for children and teens who were confined within their houses, feeling a sense of void and restlessness. Besides, an increase in screen time, less physical activities, and poor dietary patterns led to worse behavioral and emotional responses.
Patients with mild to severe COVID-19 symptoms suffered from psychological effects post recovering from the infection. Many of those recovered from COVID-19 reported experiencing "Covid fog", post-traumatic stress, anxiety, sadness, exhaustion, and depression. The long-term physical health implications such as muscle aches, weakness, breathlessness, etc. impacted mental health more severely, adding a sense of fear and aggravating uncertainty.
Psychological Impact of Frontline Healthcare Professionals
The frontline workers had to face the wrath of COVID-19 not only on a physical and emotional level but also on a psychological level. Healthcare workers around the globe were exposed to an extreme and unprecedented spike in infection cases, which completely disrupted their work-life balance. While experiencing threats to their own safety, they were treating other people with high COVID-19 infection wearing the PPE kits for long exhaustive hours, which was physically and mentally draining. Some health authorities had to stay away from their families to avoid the risk of contamination, which added to their mental distress. The shocking death rates were traumatizing for the healthcare professionals operating in a crowded care setting. Besides, the limited resources at the healthcare facilities in highly demanding situations put a burden on the hospital staff.
The intense workload, sleep deprivation, high rates of cynicism among mentors and colleagues, fears over inadequate personal protection, lack of control, isolation from families, and potentially low social support traumatized many health care workers and exacerbated their existing anxiety. According to a survey conducted by Mental Health America (MHA), almost 93% of the healthcare workers reported experiencing stress, 86% reported anxiety, 77% reported frustration, 76% reported exhaustion and burnout.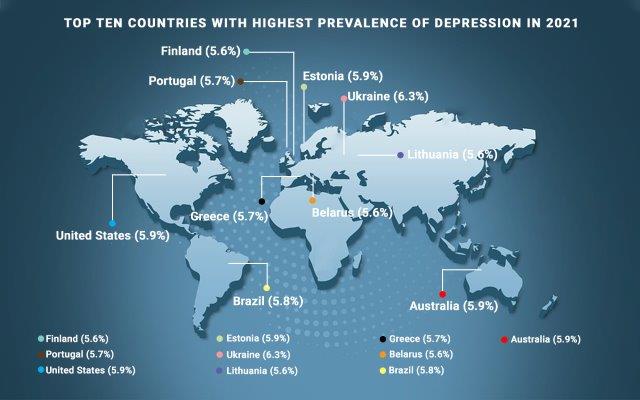 Mental Burden of Job Losses
The wide-scale suspension of economic activities resulting from the COVID-19 pandemic led to job losses, which impaired mental well-being significantly. The increasing health costs had put immense pressure on workers whose wages were low or were forced into temporary positions. As the pandemic intensified, employer-employee bond broke and temporary layoffs increased, which amplified societal and economic damages. Besides, the overall economic contraction resulted in steep competition for work, which has aggravated stress on the unemployed population seeking a job. In the USA, the unemployment rate rose from 3.8% in 2019 to 8.6% in 2020 while in European Union, the rate grew from 6.9% to 7.1%. The job not only impacts financial stability, but also work-life balance, daily structures, and an essential sense of self-purpose, which often leads to reduced self-esteem. Besides, the insecurity of income and the risk of a drop in standard of living in future adds to the anxiety arising from joblessness.
Remote Working During COVID-19
The sudden shift to remote working has been stressful for many employees with the sudden lack of physical connection, resulting in isolation and burnout. Without the necessary support, employees tend to feel more stressed and anxious. Even the work becomes more challenging with the no disconnect between home and office life. Besides, the new trend of the virtual meeting provides fewer opportunities for informal catchups, which triggers fatigue and leaves participants feeling-ironically-disconnected. The heightening psychological and emotional workload amounts to intensified stress and anxiety levels, which could be bad for long-term employee well-being. With absolutely no physical mobility and less exercise, employees are developing musculoskeletal problems and disturbed sleep, impacting their mental health even more.
After months of non-stop video calling, the monotony of sitting for long hours led to an issue of "virtual meeting burnout", which resembles a feeling of fatigue, exhaustion, or drain. The constant self-evaluation in front of the camera increases cognitive workload and reduces the level of concentration for the task on hand, resulting in overall less productivity.
Increase in Online Psychotherapy
With the rising cases of mental disorders across the globe, online counseling searches increased by 124%. The popularity of online counseling in the form of instant messaging, emails, and video chats spiked in demand as people were unable to access face-to-face counseling. People who experienced uneasiness and social separation are likely to make deep and meaningful conversations with online/cyber counselors than with in-person counselors. Online counseling overcomes the logistical limitations of traveling great distances to have a therapy session. People with a physical condition can also gain access to teletherapy without having to worry about adequate transportation. Besides, patients cannot miss their therapy sessions due to traffic, bad rains, or illnesses, allowing more consistent care, which increases the chances of mental health improvement. As per a recent study, people who undergo message-based online therapy are likely to experience a 50% reduction in depressive symptoms and a 57% decrease in anxiety symptoms with 4 months of consistent counseling and care. The cost-effectiveness of online therapy makes it a viable alternative for people unable to seek comparatively expensive traditional counseling.
Reducing Stigma Around Mental Health
There has been a significant decrease in stigma and negative assumptions related to mental illnesses. More and more people are now openly talking about their mental health disorders, which is helping to reduce the stigma associated with them. Even celebrities are publicly sharing their mental health struggles and backing initiatives to tackle mental health. Funding in medical health start-ups has also tripled over the past five years, and sales of mental health-related books have amplified. However, people eager to seek mental health treatments tend to face some challenges such as health plans not covering mental health conditions on a part with medical issues, shortage of qualified professionals, inadequate quality of mental health treatment, etc. As per the World Health Organization, COVID-19 disrupted mental health services in 93% of countries while countries spend less than 2% on mental health budgets. According to recent data, 75% of Americans and Europeans do not seek mental health treatment due to fear of anxiety, embarrassment, shame, or societal pressure. Educational campaigns can help to normalize conversations surrounding mental health even further.
According to TechSci Research report, "Global Psychobiotics Market By Type (Food Supplements, Nutritional Supplements, Specialty Nutrients, Infant Formula) By Psychotropic Agent (Streptococcus, Bifidobacterium, Lactobacillus, Clostridium, Others) By Form (Powder, Liquid/Fluid, Tablets) By Distribution Channel (Retail Shops, Hypermarkets/Supermarkets, Drug Store/Pharmacy, Online) By Application (Gastrointestinal Function, Antidepressant, Anxiolytic, Autism Spectrum Disorder, Attention Deficit Hyperactivity Disorder, Schizophrenia, Others) By Region, Competition Forecast & Opportunities, 2026", global psychobiotics market is anticipated to grow at a formidable CAGR owing to the rising demand for probiotics for the psychological ailments and rising instances of mental health disorders across the world. The coronavirus pandemic has further exacerbated the mental health ailments, leading to the growth in demand for global psychobiotics, which is accelerating its market growth.