September 28, 2017
MBBR Market: Technology of Choice in Wastewater Treatment
Dwindling water resources, rapid scale industrialization and rising water pollution levels are catalyzing the demand for advanced and sophisticated wastewater treatment technologies and equipment. Conventional biological treatment processes, such as activated sludge, trickling filters, oxidation ponds, etc. are witnessing replacement by Moving Bed Bioreactors (MBBR) owing to the ability of MBBR to handle much higher, variable flows and pollutant loads with a reduced carbon footprint.
During 2016, the global MBBR market stood at USD1.1 billion which is projected to reach USD6.9 billion by 2026, showcasing a healthy CAGR of 19.92% during 2017-26. The growth in the global MBBR market can be attributed to the increasing adoption of MBBR across municipalities and multiple industries including food & beverage, pulp & paper, chemical & pharmaceutical, distilleries & breweries, textile & machinery, leachate and many others. In addition to this, other MBBR installations across educational institutions, healthcare centers, hotels, labor & refugee camps, parks, military bases, building complexes (offices, shopping centers, small townships), IT parks & Special Economic Zones (SEZ) are further expected to boost the global MBBR market significantly during the forecast period.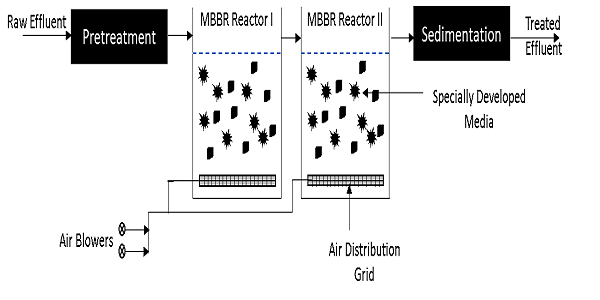 Furthermore, the growing environmental concerns and emerging focus on energy efficiency, recycling, resource recovery, reuse, and wastage reduction are promulgating the global MBBR market at a prodigious rate. Government agencies operating worldwide have laid stringent regulations regarding wastewater treatment & management, thereby steering the applications of MBBR in municipal and industrial settings, for instance:
United States: Under the Clean Water Act, US Environment Protection Agency has implemented pollution control programs such as NPDES permit program defining wastewater standards for industry.
India: Strict directives have been issued by Central Pollution Control Board (CPCB) regarding the adoption of Best Available Technology (BAT) to upgrade and modernize existing effluent and sewage treatment plants.
China: Ministry of Environmental Protection (MEP) has launched the Grade 1- level A and B discharging standards in the municipal sector.
Another factor driving the pace of adoption of MBBR worldwide is the easy implementation of pre-and post-treatment methods to existing plants for process improvements. MBBR offers cost-effective replacement of older wastewater treatment plants to maintain superior efficiency standards and maximize capacity utilization. As a result, oxidation ponds and activated sludge plants primed for upgradation are switching to MBBR technology on account of lower capital costs, operation and maintenance costs.
Request for Sample Report Today!
Partial List of Commissioned and Upcoming Moving Bed Bioreactor (MBBR) Plants Worldwide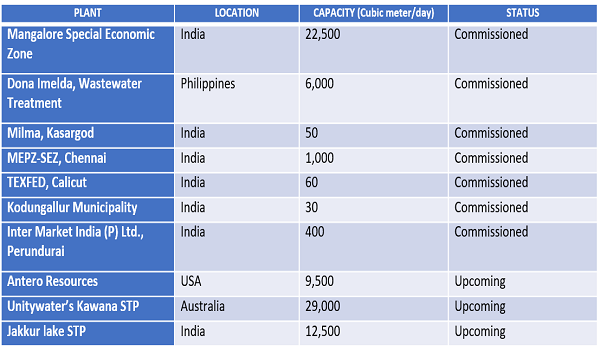 Partial List of MBBR Manufacturing Companies and MBBR Brands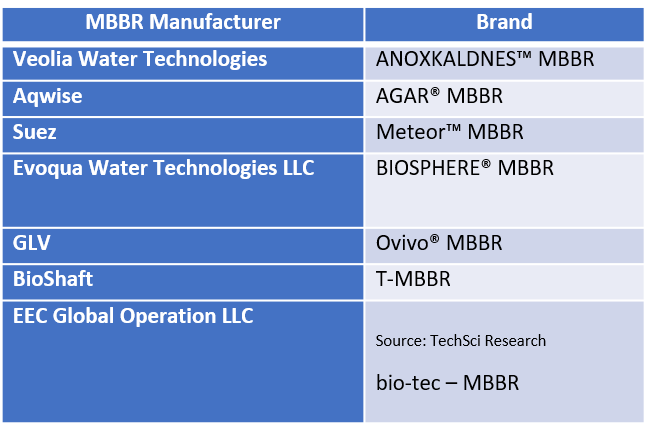 In conclusion, the rigid nutrient discharge regulations coupled with prime focus on generation of renewable energy, reduction of carbon footprint and protection of wildlife and ecological habitats are expected to accelerate the demand for Moving Bed Bioreactor (MBBR) across the globe.