September 15, 2021
Manufacturing Air Filters | TechSci Research
Introduction:
An air filter is a device composed of porous materials which removes solid particulates such as pollen, dust, and bacteria from the air. Air Filters are used in applications where air quality is important, particularly in house/building ventilation systems and in engines.
Summary:
An Air Filter helps keep strong particles, residue, soil, and different things in the air out of your power equipment's carburetor to assure it works properly. Some air filters come in one single piece, others in different pieces that needs be assembled. Materials used in the air filters are: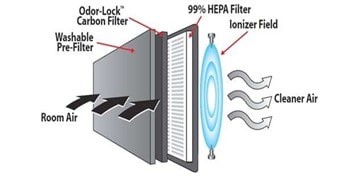 • Pleated Paper – Thin enough to allow air to pass through, but particles and debris are caught within the pleats
• Foam – Often coated in oil to help catch smaller particles and debris
• Pre-Filter – A thin foam filter typically placed over a pleated paper air filter
Type & Function of Air Filters
In commercial HVAC Systems several types of air filters are common: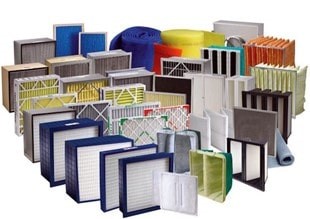 Fiberglass Filter- This is the most common type of the filter. Layered fiberglass Fibers are placed over each other to form the filter media and are strengthened with a metal grating that supports the fiberglass to prevent it from failure.
Polyester and Pleated Filters- These filters are like fiberglass filters but have a higher resistance to the flow of the air and has a superior dust-stopping capability.
High Efficiency Particulate Absorbing (HEPA) Filters- In this, the air passes through it at a very fine scale. The U.S. Department of Energy (DOE) and its contractors use HEPA filters that meet DOE standard STD-3020-2015.
Washable Air Filters- These products are not as common and depend on the build-up of dirt along the cloth to improve the effectiveness of the filter.
Some applications where air filters are considered a requirement include:
• Food & beverage production plants such as dairy, beer, mushroom, coffee/tea or yogurt production facilities have very careful stages of air filtration to keep the flavour of what is supplied to the consumer.
• Automotive manufacturing plants require air filters with efficiency as low as MERV 5 for the removal of particles over 10 microns in size that protect the paint finish. These manufacturers are also concerned about the health of their employees typically applying MERV 13 air filters where high human involvement is part of the process.
• Construction materials or fabrication facilities produce inordinate amounts of dust that may be considered hazardous to the employees or must be captured before exhaust. The manufacturing units apply air filters with MERVs of 4 to 8.
• Chemical manufacturing facilities also need air filtration to protect the employees. Many employ carbon absorbers, or catalytic or oxidizing agents as part of their process or in their HVAC systems.
How does an Air Filters Work?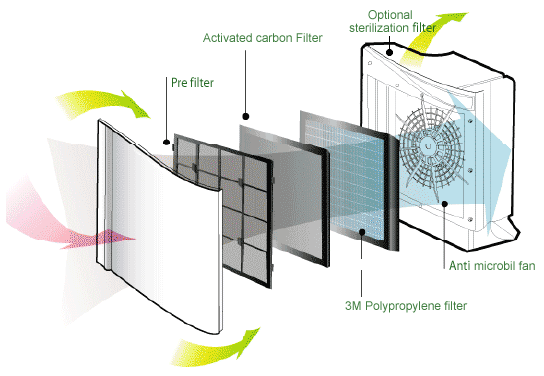 Air filters work by catching a portion of the small particles that exist in many situations while enabling air to flow relatively unimpeded. In automotive intake system, the air filter dependably sits in front of the throttle body and mass wind stream sensor.
Pre-Filter: An air filter for an engine includes a pre-filter which gets air containing dust, particles and a primary filter which gets the air from the pre-channel. The pre-channel leaves a first extent of particulates from the air, and the primary filter removes a second proportion of particles from the air. The pre-filter is independently functional from the primary filter.
Activated Carbon Filter: Carbon filtering is a method of filtering that uses a piece of activated carbon to remove contaminants and impurities, utilizing chemical adsorption. Activated carbon, also called activated charcoal or activated coal, is a form of carbon that has been processed to make it extremely porous and thus to have a very large surface area available for adsorption or chemical reactions.
In older applications, the air filter ordinarily sat straightforwardly over the carburetor. In today's applications, air filters are normally introduced in "air filter boxes" at the head end of the admission framework. In those cases, the air inlet might be situated on the box, or there might be a tube that leads from the box to the front of the engine compartment.
At the point when air first enters the admission framework, it must go through the air filter. As it goes through the filtration media, any particulate matter larger than the pore in the filter gets stuck, while the air itself can go through. This causes a specific level of limitation on the stream of air; however, it is ordinarily insignificant when the filter is relatively clean.
Without an air filter, particulate matter would have the capacity to enter the throttle body and go into the ignition chambers. Over time, the filter will continuously wind up obstructed, and it will in the end must be cleaned or replaced.
Products & Application:
The main application for air filters is to supply clean combustion air. The air-filtration industry has seen a lot of changes during the most recent decade. Manufacturers have made new items that have enhanced indoor air quality (IAQ) as well as have lessened the expense of its production.
Apart from technological advancements, industries are adopting standards, guidelines and requirements that approves healthy IAQ by providing them with more efficient HVAC systems and components. The technological advancements include reduced pressure drops and improvement in the filter efficiency, as well as smaller fans and motors.
Why you should care about dust in the air?
The basic function of Air Filter is to clean the air that circulates through your heating and cooling system. Air Filters are made up of spun fiberglass material or from pleated paper or cloth enclosed in a cardboard frame. These filters can hold many types of contaminants or particulates that could affect your health, including:
Dust and dirt
Hair and animal fur
Fibers and lint
Metal, plaster or wood particles
Bacteria and microorganisms, among others.
Filtration for the most part happens when exhausted air is brought once more into the HVAC equipment to be conditioned and circulated once more. The air is enforced through the channel, and the material removes particulates and contaminants from the air.
What MERV Rating Should We Use?
Not all air filters will clean your indoor air with a similar level of efficiency. Higher-quality filters, while costing more, will have the capacity to remove more contaminants from your indoor air.
Filter productivity and performance is frequently demonstrated by the filters' base proficiency detailing quality, or MERV rating. Standard MERV values range from 1 to 16, with the number filling in as a marker of how well the channel will remove material from the air. Higher MERV numbers show better filtration.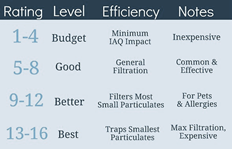 MERV 1-4: These filters provide a basic level of filtration at low cost.
MERV 5-8: They're often made of pleated cloth or paper that provides good filtration and are used in residential settings.
MERV 9-12: These are the Mid-range filters of relatively high quality and can capture very small particles of 1 micron or larger.
MERV 13-16: These filters are of high-efficiency and are the best standard filters available in the market. They can remove very small particulates of 0.3 microns or larger.
Filters and filtration frameworks are additionally accessible with MERV evaluations higher than 16. These sorts of filters are exceptionally viable, but on the other hand they're thick and can interfere with wind current inside your home's HVAC gear. High-MERV filters can diminish your warming and cooling viability and could harm your HVAC framework by limiting wind stream.
Why is it important to clean your air filter regularly?
It is extremely important that you keep filters clean since all the air that heats or cools your home will eventually pass through the air filter in the HVAC system.
Dirty, clogged air filters are a primary source of HVAC system malfunctions. In extreme cases, dirty filters can also harm heating and cooling equipment.
Dirty air filters can reduce the airflow inside the HVAC system
Dirty air filters can't eliminate particulates and contaminants well
Dirty air filters can cause contaminants to accumulate in your HVAC system's ductwork.
Dirty air filters can cause HVAC equipment to work harder which can drive up your monthly energy bills.
Air filters should be checked every month and changed when they get dirty. A visual examination should show you whether the filters are dirty or clogged. You can simply try this doing at home by holding the filter up to a light source, if you can't see the light through the filter, it should be replaced.
Air Filters- Manufacturing Processes
Air filtration began to secure the HVAC framework and to increase the returns in the form in the form of money. Large particles formed from machinery, high activity processes or gaseous contaminants are all problems that may be addressed with air filtration in manufacturing facilities. There are many industries across the globe that are employing different types of manufacturing processes.
Raw Material Required:
CRCA sheets
Cast aluminium/ zinc / plastic components for top and bottom holding rim
Enclosures and filter paper/ non-woven fabric
PU foams
Fasteners
Filter paper comes in a wide variety and grades depending on the applications it is meant for. The important parameters are particle retention, wet strength, volumetric flow rate, compatibility, efficiency and capacity.
Machines Required for the Manufacturing of Air Filter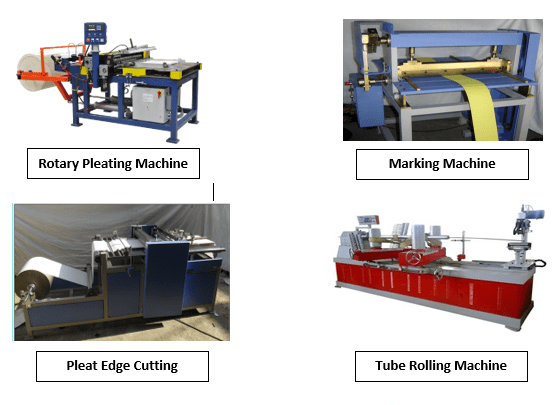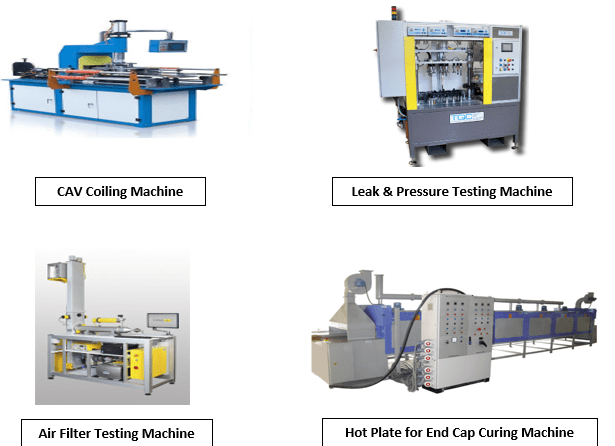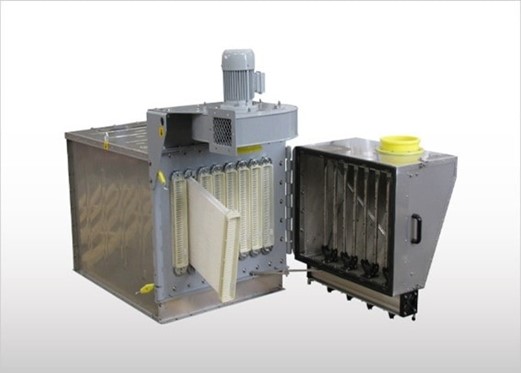 Quantity of machinery required and their prices (approx.):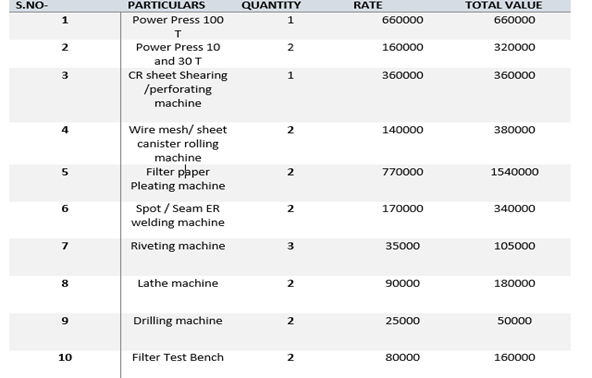 Manufacturing Process:
The important activity of the manufacturing unit is the fabrication. Sheet metal trimming and cutting of top & bottom cap or machining of cast bottoms/tops caps of filter element or get finished sheet metal or plastic filter element rims.

Implementation schedule:
The unit can be implemented within 7-8 months:

Estimated Cost:

Break Even Analysis:
The project can reach break-even capacity at 23 % of the installed capacity as depicted here below:

Statutory/ Government Approvals:
The unit shall have to get local state industrial unit registration, IEC Code for Export and local authority clearance
The industry registration and approval for factory plan
Safety for Fire requirement
Registration as per Labor laws ESI, PF etc. shall be required as per rules and applicability.
Before starting the unit will need GST registration for procurement of materials as also for sale of goods. Entrepreneur may contact State Pollution Control Board wherever it is applicable.
Some of the Filter Machine Manufacturing Companies in India are:

Contact Details:
Air Filter Industries Pvt. Ltd.
23, Circus Avenue,
Unit 9C,
9th Floor,
Kolkata – 700 017
West Bengal, India

Contact Details:
Gali No – 3-4, Sector 5 Road
Sheetla Colony
Jacobpura, Sector 12
Gurugram, Haryana 122001

Contact Details:
FF-9, Devnandan Avenue,
Behind Seema Party Plot 100 Feet Shayamal
Karnavati Club Road
Satellite, Ahmedabad-380015
Gujarat, India

Contact Details:
F-138, Mayapuri,
Indl. Area Phase-II
New Delhi – 110 064, India
Air Filter Industry Outlook & Trends
Deteriorating air quality due to increasing urbanization and industrialization are increasing pollution levels, and thereby, driving need for air filtration systems in residential, commercial as well as industrial sectors.
Increasing health awareness among consumers, rising consumer disposable income levels and implementation of stringent regulations pertaining to air quality in automotive and other industries is also fueling the global air filters market.
Technological advancements and expansion plan of leading air filter companies in different geographies across the globe is projected to positively influence the air filters market over the next five years. Moreover, increasing government focus towards adopting modern equipment in the existing manufacturing and industrial set-ups is expected to augment demand for HVACs, clean rooms and bag houses in the coming years, thereby boosting sales of air filters through 2021.
Market potential and marketing issues. If any:
From residential, commercial to industrial sectors, filters equipment's are widely used to filter and remove atmospheric particulate matter. Air filters equipment are global equipment used in diverse industries and fields, given the universal need to maintain particulate cleanliness also to improve indoor air quality for procession industries, hospital and even residential premises.
Apart from automobiles, filters are broadly utilized in mining machines, trucks, generator sets, forklifts and different kinds of motor prepared machines. There is great possibility for the air filter utilization in specialized air filter systems.
If we take about automotive filters, there are more than 80 manufacturers various types of automotive filters for passenger cars, commercial vehicles, two wheelers, three wheelers, Off Road vehicles and earth moving machines. Major players are majorly located in North Indian centers like Punjab, Haryana, Delhi, West UP, Maharashtra etc.
As per TechSci Research, United States Air Purifier Market By Filter Type (HEPA + Activated Carbon, Pre-Filter + HEPA, HEPA and Others (Ion & Ozone, Electrostatic precipitator, HEPA+ Activated Carbon+ Ion Ozone, etc.), By End Use (Non-Residential/Commercial, Residential/Household), By Distribution Channel (Direct/Institutional Sales, Offline Retail Sales, Online Retail Sales), By Region, Competition Forecast & Opportunities, 2016 – 2026F, the United States market for air purifiers is forecast to cross US$ 4.3 billion by 2026, due to rising demand from rising demand from the consumer to overcome indoor and outdoor air pollution. Increasing incidences of airborne diseases and wildfire pollution coupled with growing awareness about ramifications of air pollution on cognitive abilities, apart from causing lung diseases, are the other key factors expected to boost sales of air purifier in the US during the forecast period. Moreover, rising demand from the commercial sector, owing to growing incidences of bacterial and communicable infections, is anticipated to positively influence the United States air purifier market through 2026F.

Global Air Purifier Market By Filter Type (HEPA & Activated Carbon, Ion & Ozone, Electrostatic Precipitators, HEPA & Activated Carbon + Ion & Ozone, HEPA, Activated Carbon and Others), By End User (Residential, Commercial, and Industrial), By Region, Competition, Forecast & Opportunities, 2025, the global air purifier market is anticipated to grow with double digit CAGR of more than 13% in the forecast years until 2025. The market growth can be established over the factors like increasing instances of pulmonary lung disorders and cardiac failures that rises mostly from the polluted air. Technological advancement in air purifiers have confirmed to fulfil the consumer demands and satisfy the need of innovative approach to a better product and thereby is anticipated to sustain the market growth in the future five years. Presence of major players in the APAC region assures the possible promising market in the next five years, until 2025.