November 2, 2022
Is Biobanking Changing the World?
Increase in genomic research activities to improve understanding of the health and diseases and discover diseases-relevant biomarkers have increased the popularity of biobanks in recent years. Biobanking refers to the practice of creating wide-range repositories for the collection, processing, and preservation of biological samples such as blood, plasma, urine, tissues, cells, nucleic acids, and others for research and development activities. Rising incidences of cancer, cardiovascular disorders, respiratory diseases, Alzheimer's, etc. have led to the development of disease-oriented biobanks, population-based biobanks, tissue banks, blood banks, etc., which are contributing to the growth of the global biobanking market. Besides, growing investments for drug development by government and private players to support regenerative medical research is accelerating the growth of the global biobanking market. The COVID-19 pandemic highlighted the importance of gathering and preservation of samples and related data to develop effective vaccines and treatments. As clinical trials are becoming more frequent, the demand for population-based and disease-oriented biobanks is increasing exponentially.

The rapid integration of advanced technologies such as next-generation high-throughput sequencing and big data, automation and data analytics have changed the traditional biobanks into virtual biobanks. More informatics toolsets are becoming available to ensure the quality of biospecimens and data. ISBER Biospecimen Science Working Group has developed an informatic tool, Standard PRE analytical Code (SPREC) that identifies and records the main pre-analytical factors that might impact the integrity of sampled clinical fluids and solid biospecimens during sample collection, processing, or storage. The integrity of biospecimen is essential to the provision of high-quality tissue samples for research, effective and efficient interconnectivity. Other informatics tools enable standardization of biospecimen management and tracking including freezer inventory technologies and freezer mapping systems, pre-packaged commercialized endeavors for PC software, etc. Some cloud-based platforms are offering advantages such as real-time, sharable, and easy-to-access biospecimen data that could help in improving efficiency of obtaining approvals.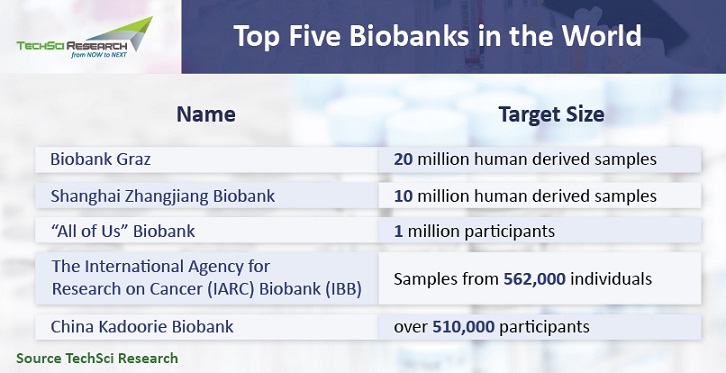 Biobanks: New Frontier for Digital Health Research
Biobanks have proven their essential role in gathering deeper understanding about diseases and finding new approaches to prevention and cures. The biobanking market is showing no signs of slowing down, with both academic and industry-focused analysts relying on them for their research activities. With enhanced focus on precision medicine—treatment and research methodologies based on an individual's lifestyle, environment, behavior, genetics, the opportunities can expand exponentially. Biobanks can help one gain a bigger understanding of the relationships among ancestries, personality traits, risk factors, etc., which can help provide a holistic picture. However, biobanks go beyond the collection and storage as it is an approach based on the longitudinal lifecycle of research.
Digital health platforms provide technological foundation for helping researchers utilize biobanks to make personal health information easier to collect and share. These platforms boost growth and diversification of biobanks' cohort registries, increase relance, and sharpen their competitive advantage. The digital health technologies can range from real-time analytics to customizable reporting and personalized digital marketing and communications to strategy building. Electronic consent forms for sampling can help eliminate the paperwork and create more efficient and transparent records. Leveraging the use of smartphones, tablets, laptops, and other mobile devices, app-based research and virtual clinical studies are making personal health information easily accessible. Automation can also be helpful in improving traceability, retrieval, and delivery speed of samples while reducing the probability of human errors. This way automated biobank storage systems can reduce operational and delivery costs of biobanking.

Virtual Biobanks
Virtual biobanks are emerging as a suitable option for researchers to enable broader access to resources. In virtual banking, information regarding biological specimen is stored in an electronic database, irrespective of the specimens' physical location. These biobanks offer the ability to collect specific and rare samples which the commercial biobanks cannot provide. One of the best advantages of biobanks is that they make it possible to collect biospecimens from a wide range of locations along with genetic-based information and other kinds of background data into a virtual repository. This way, scientists can have access to high-quality samples and donors can be guaranteed that their samples would be utilized in relevant research projects. Moreover, the biological samples are stored in a decentralized manner, which makes it possible for investors to locate biospecimen quickly using digital platforms rather than contacting multiple biobanks.

Rising Prevalence of Chronic Diseases to Accelerate Biobanking
There has a significant growth in the mortality rate due to chronic disorders around the world, owing to factors such as lifestyle changes, excessive smoking and alcohol consumption, poor diet, etc. This has led to an increased focus of healthcare on research and development initiatives to control the occurrence or reduce the symptoms of chronic diseases such as diabetes, high blood pressure, hyperthyroidism, heart diseases, cancer, etc. Population-based biobanks collect samples and data at regular intervals to compare the individuals that remain healthy with those that develop an illness, which eventually helps in determining the extent to which specific diseases are caused by genetic or environmental factors. This approach can be helpful in identifying mutations to predict disease onset and developing preventative measures. The disease-based biobanking focus on discovering biomarkers of a specific diseases such as diabetes via collecting samples such as tissue biopsies, blood, and other fluids from sick patients. This way, researchers can better predict disease progression, mortality, and response to certain medications and treatments in reducing the symptoms. The disease-based biobanks are beneficial to discover new targeted therapies and generate complementary data for robust findings, which are key to the development of personalized medicines and pushing the healthcare field forward.

Challenges
Biobanking managers find difficulty in recruiting skilled staff due to lack of experience and insufficient funding for training and development activities. Besides, limited awareness and novelty of the concept of biobanking as well as resistance from stakeholders are presenting challenges for the establishment and expansion of biobanks across the world. Moreover, reluctance of patients to donate their biospecimens and data represent another challenge for biobank managers. However, partnerships with private companies represent a potential source of income for biobanks but the commercialization issues and benefit sharing might endanger mistrust among stakeholders, especially the donors.

According to TechSci Research report on "Biobanks Market – Global Industry Size, Share, Trends, Competition, Opportunity and Forecast, 2017-2027 Segmented By Type (Disease Oriented Biobanks, Population Based Biobanks, Tissue Biobanks, Others), By Sample Type (Blood Products, Biological Fluids, Nucleic Acid, Cell Lines, Others), By Application (Therapeutics, Drug Discovery, Clinical Diagnostics, Clinical Research), By End User (Academic & Research Institutes, Pharmaceutical & Biotechnology Companies, Hospitals & Clinics, Others), By Region", the global biobanks market was valued USD40.70 billion in 2021 and is anticipated to grow at a formidable CAGR of 8.22% during the forecast period. The market growth can be attributed to increasing investments in research & development activities for advanced therapies such as cancer and personalized medicines.