September 22, 2017
India's Electricity Troubles are Fading, but will India UPS Market Fade with It?
Uncertainty over electricity and optimized efficiencies play a major role in the upward thrust projected by India UPS market over the coming years, feels TechSci Research
In many ways, Uninterruptible Power Supply (UPS) is a typical middle-income country product. The usage of UPS is primarily in areas where power supply is present, and steady, but suffers from various grid failures due to poor infrastructure, etc. Therefore, the demand generated in India UPS market has been immense, and will only rise as the electrification drive continues. TechSci Research experts are on hand to examine some fascinating aspects of the India UPS market.
India: Blackouts and the India UPS Market
Perhaps the most famous case of blackouts suffered by India were in 2012 where two severe power blackouts affected most of northern and eastern India on 30 and 31 July 2012. The 30 July blackout, the worst in history, affected over 300 million people. The two cases, together dubbed the "2012 India blackouts" affected over 620 million people.
While India has progressed a lot since then, there is no doubt that the electricity services being provided still come with more than a whiff of uncertainty. In cases like this, India UPS market becomes important, as a lot of services providers etc. with backup up power sources continued operating as usual.
To know more download the sample report at:  https://www.techsciresearch.com/sample-report.aspx?cid=770 
While there is a certain amount of expense associated with India UPS market products, there is no doubt that in places with uncertain supply, the benefits of UPS's outweigh the economic costs of the same. This appears to be one of the primary reasons as to the proliferation of India UPS market products in the country.
In a country where real wages are rising fast, along with nominal incomes, and there is significant social mobility, India UPS market is bound to rise given that people view a UPS as an investment against bad fortune, both for business and at home.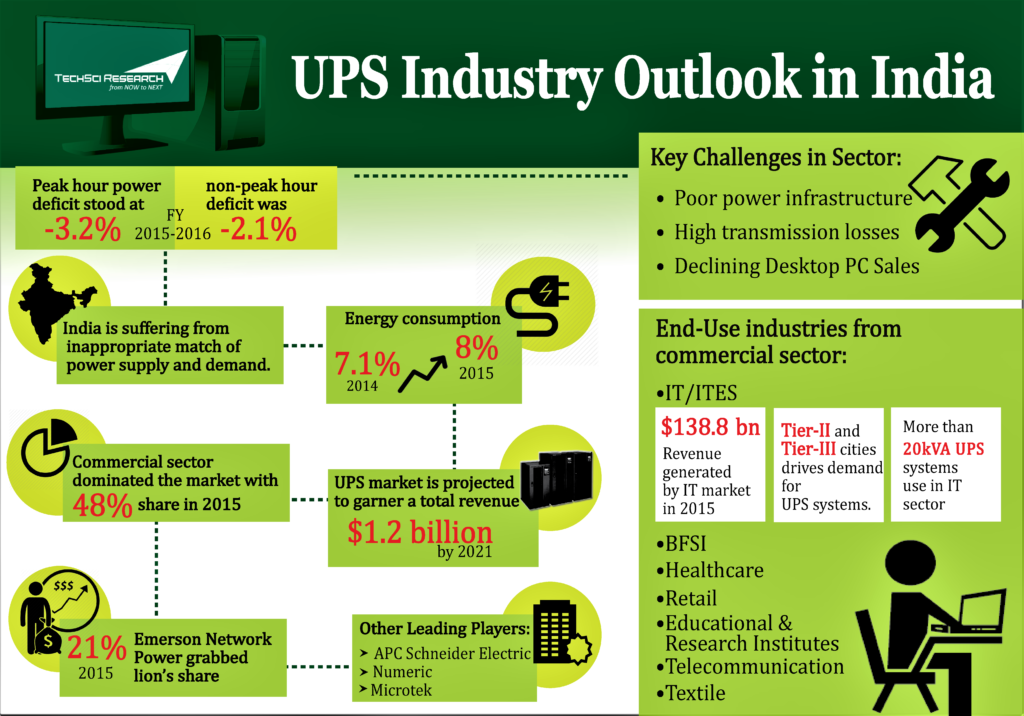 Going Green: Efficiency in India UPS Market
 India is going all out to become a global superpower in terms of renewable energy. Keeping in mind that the narrative in India is decidedly pro-climate, operators in the India UPS market are also pushing products that underline their seriousness towards the environment.
As per TechSci Research report "India UPS Market, Competition Forecast and Opportunities, 2011 – 2021", the trend of 'green UPS systems' is actually gaining ground in the country. Given that a significant amount of electricity is lost by even energy efficient UPS systems, operators in the India UPS market are trying to develop the best, most energy efficient models possible for the discerning Indian buyer.
Given that India UPS market is home to some global UPS manufacturing firms, including Emerson Network Power, APC Schneider Electric, Numeric, Microtek etc. there is no doubt that over the coming years, there will be an influx of technology which will lead to more efficient UPS's.
Given that there is a positive sentiment for the products manufactured in the India UPS market, the sector faces promising growth over the next few years, with TechSci estimates even pegging the market to grow to the $1.2 billion level by 2021. While there may be some supply side and demand side consideration that may affect the market in different ways, overall, the India UPS market will have a very long and happy life in the country.