September 25, 2017
India Port Infrastructure Market – From Now To Next
The cargo traffic in India's 12 major ports recorded an increase of over 4 per cent to 222 million tonnes (MT) in April-July 2017, according to reports from Indian Ports Association (IPA).
The association believes that it is mainly due to vibrand demand from sectors such as iron ore, petroleum, oils and lubricants that resulted in higher demand for cargo at various ports in the country.
The ports infrastructure market in India is forecasted to grow at a CAGR of over 9 per cent during the period 2016-25, as per market research report "India Port Infrastructure Market By Type, By Cargo, Forecast & Opportunities, 2011 – 2025", released by TechSci Research.
The report discusses the following aspects about the industry in a detailed manner:
Indian Port Infrastructure Market Size, Share & Forecast
Segmental Analysis – By Type (Major Ports & Minor Ports), By Cargo (Export & Import)
Changing Market Trends & Emerging Opportunities
Competitive Landscape & Strategic Recommendations
If you wish to know more about the India ports infrastructure market, please request for a sample report on this page: https://www.techsciresearch.com/sample-report.aspx?cid=786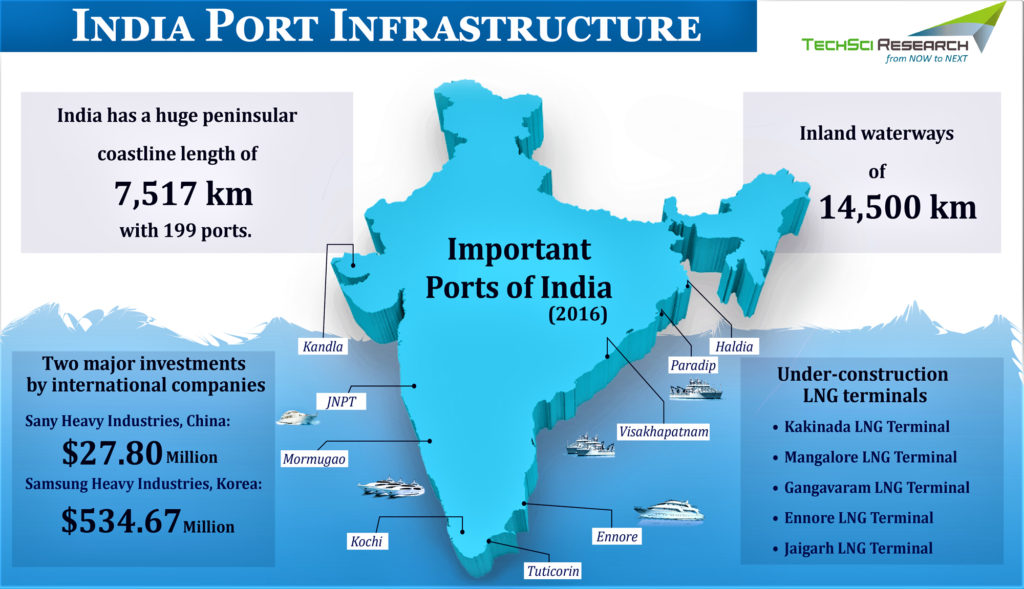 Key engines for growth for India ports infrastructure market
There is a flurry of factors that is driving growth in the ports infrastructure market in India. But if we were to mention the single largest factor behind the growth, we would certainly talk about the positive approach of the government. In the past few years, the government of India has re-enforced its commitment to improve the fundamental infrastructure in the country. Be it ports, airports, railways, roads, highways, power plants or any other infrastructure sub-sector, a number of key initiatives have been taken and there is no slack as far as the momentum of growth is concerned.
In terms of ports infrastructure in India, the government has launched its ambitious project called Sagarmala. Under this project, the government of India has planned to connect all the major port cities. This mega project is a big boost for the maritime trade in India.
Moreover, this project encompasses modernization and expansion of ports by private international companies, propelling growth in marine transport sector in India, during the forecast period.
Additionally, several Coastal Economic Zones (CEZs) projects are underway to concentrate manufacturing clusters near major ports and this is expected to surge demand for maritime trade in the country during 2016-2025. Port led industrialization is anticipated to provide immense scope for reduction in logistics costs. Rising number of Public Private Partnerships and 100% FDI under automatic route for development of ports is anticipated to encourage international companies to start operations in India in the ensuing years.
If you are a part of a company interested in understanding the India port infrastructure market, you should consider going through the in-depth market research report released by TechSci Research. The report discusses the top trends and forecasts, and at the same time provide strategic recommendations to the players who wish to leverage on this high potential industry in India.
The research report is an output derived from a combination of primary and secondary research, and profiles the following companies Port of Chennai, Kolkata Dock System, Haldia Dock Complex, Jawaharlal Nehru Port, Kamarajar Port, Mumbai Port, Mormugao Port, Kandla Port, Paradip Port, Visakhapatnam Port, V.O. Chidambaranar Port (Tuticorin Port), Cochin Port and New Mangalore Port.