October 3, 2017
How to Cope Up With Air Pollution?
Since the past two decades, air pollution has become a global public health issue and is identified as a major environmental health hazard. Since the introduction of Air (Prevention and Control of Pollution) Act, 1981, various pollution control programs have been focusing on controlling air pollution in India; however, the current measures do not seem to be adequate to tackle the rising levels of air pollution, effectively.
According to United States Environmental Protection Agency (USEPA), India spending on environment protection as a share of total GDP is meager 0.01 per cent, which is much less as compared to other large emerging economies such as China, which spends 1.45 per cent for that matter.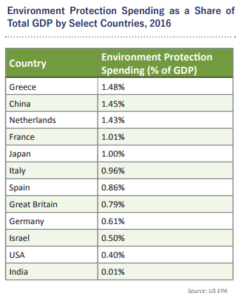 Major factors contributing to air pollution in India
The major sectors/industries responsible for air pollution include Energy, Mining, Cement, Automotive, Chemicals and Indoor Air Pollution. Increasing energy demand and growing per capita energy consumption has led to high greenhouse gas emissions.
Rising coal consumption in India has been largely responsible for deteriorating air quality. Illegal mining operations, less efficient industrial processes and lack of proper regulatory procedures followed in sectors like cement have also contributed negatively towards air quality.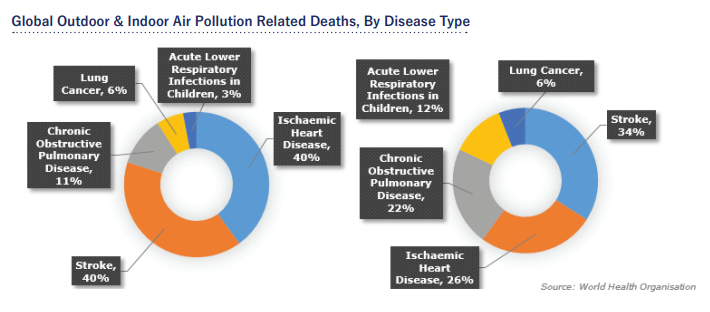 Request sample report of this report @ https://www.techsciresearch.com/sample-report.aspx?cid=1050
Pollution from vehicles is responsible for about two thirds of air pollution in urban areas. Moreover, in semi urban and rural areas, the vehicle emission control regulations are not being followed diligently. Recently, indoor Air Quality has also emerged as a major concern as most Indians in urban areas spend more than most of their time indoors and poor quality can adversely affect the health and indoor environment. Central and State Pollution Control Boards have been carrying out various control measures and have laid down various regulatory measures to address this concern.
The rise of air purifiers market in India
Many initiatives by public as well as private organizations have also help raising awareness towards air pollution control in India. These concerns have also increased the demand for various air pollution and control equipment such as Air Purifiers, Air Filters, Pollution masks and Pollution detection equipment. It is necessary for the government to properly design air quality strategies in order to help the country to achieve ambient air quality goals in future.
A report by market research and consulting major TechSci Research, "India Air Purifiers Market By Filter Type (HEPA & Activated Carbon, HEPA, Activated Carbon + Ion & Ozone, etc.) By End User (Commercial, Residential & Industrial), By Region, By Leading City, Competition Forecast & Opportunities, 2012 – 2022", states that India air purifiers market stood at $ 46.45 million in 2016.
This market is forecast to grow at a CAGR of 33 per cent, in value terms, reaching a staggering USD270 million by 2022. These numbers simply suggest the kind of exponential growth the air purifiers market in India is set to experience.
Major players in India air purifiers market
The TechSci Research report analyses leading market players such as Eureka Forbes,  Panasonic, Kent, Atlanta Healthcare, Crusaders Technologies, Blue Air, Daikin, Sharp, Philips and  Honeywell.