November 11, 2022
How India Became the Biggest Exporter of Generic Drugs?
India with a population of 1.3 billion people plays an essential role in the global pharmaceutical industry. In terms of volume, the country accounts for around 20% of the total worldwide pharmaceutical exports on an average. During the COVID-19 pandemic, India's pharmaceutical exports crossed USD24.4 billion, according to the data available with the Pharmaceuticals Export Promotion Council of India (Pharmexcil). While many developed countries such as USA and Europe struggled to meet the demand for pharmaceutical products, India could meet most of the requirements on their own. Export of generic medicines in India grew to a high 19.53% during the FY2021, reaching a value of over INR1.8 trillion, compared to INR1.4 trillion in FY2020. As of February 2022, the country has exported pharmaceuticals worth over USD22 billion. Robust demand from countries such as USA and Europe contributed to the India's soaring sales of generic drugs, especially antivirals and antibiotics.
The nation is the largest provider of generic medicines to more than 200 countries around the globe including the highly regulated markets of US, Europe, Japan, and Australia. The United States and Europe are the major importers of generic drugs from India. The robust [AC3] manufacturing capacity and high export volume are helping the Pharma industry to grow in India, which is contributing significantly to the growth of the Indian economy and net foreign exchange for the country. The unparalleled demand for Indian pharmaceutical products has enabled the industry to carve a niche for itself on the global platform, which in true sense, made Atmanirbhar Bharat model a success. Moreover, unique blend of low-cost manufacturing, skilled workforce, and R&D infrastructure are some of the attributes adding to the country's gigantic domestic market and world population in generics production.
Presence of a huge number of trained chemists and a large domestic market has made India one of the greatest producers of generic drugs. One of the major reasons for the immense growth of India pharmaceutical industry is the availability of high-quality generic drugs at low-cost. Some of the economic factors contributing to the low-cost generic medicines are competitive land rates, cheap labor, low-cost utilities, and affordable equipment. The drug affordability is expected to continue to rise, owing to sustained income growth and increased insurance coverage in India. Furthermore, increasing healthcare spending by the government and introduction of various policies intended towards enhancing the accessibility and affordability of medicines are some of the factors expected to boost the growth of India generic drugs market. In 2020, India exported nearly 50 million hydroxychloroquine tablets to United States. In addition, the foreign ministry continued supplies of other essential medicines to 123 countries including Germany, Brazil, Spain, Nepal, Bhutan, Bahrain, Maldives, among others.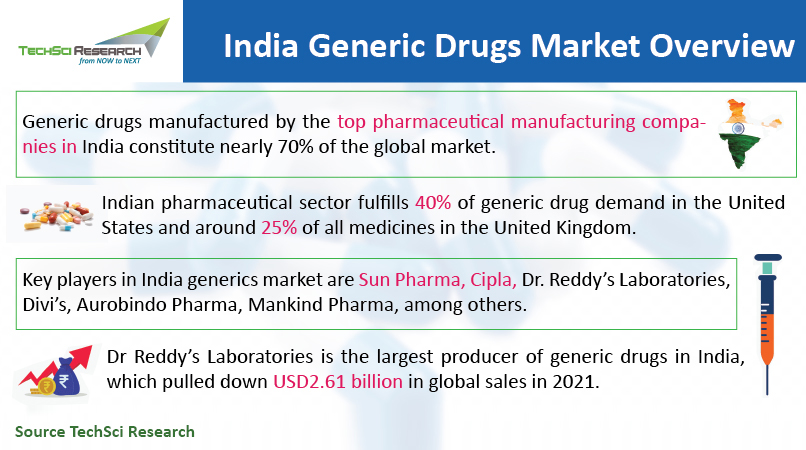 Some other factors expected to drive the growth of the India generics market are as follows.
New Advancements and Innovation in Research Activities
Rising incidences of infectious and non-infectious disorders are pushing the pharmaceutical companies to innovate and introduce new medicines. Besides, looming patent cliffs on blockbuster drugs and constrained pricing environment are enforcing many companies to prioritize R&D productivity improvements and maximize revenue potential. Scientific breakthroughs by R&D organizations are creating enormous opportunities to address unmet needs and boost throughput of innovative medicines. Companies are seeking to boost their new drugs' chances of success and stepping up the pace at which they introduce medicines to the patients. Historically, the drug discovery research used to take a backseat in the Indian pharma ecosystem since most players in the generics-driven market kept themselves aloof from high-risk gamble. The amount of money spent on the development of new drugs depends on the prices that companies expect to charge across different markets around the world. Thus, the expected cost to develop a new drug, including capital costs and expenditures that fail to reach the market can result in huge losses, ranging somewhere between USD1 billion to more than USD2 billion. However, now the pharmaceutical players are becoming interested in having a tryst with new drug discovery research as the government is providing subsidies and growing adoption of Indian generic drugs on the global platform. Many domestic players have achieved significant profit after making huge investments in the research & development of pharmaceutical products.
Pradhan Mantri Bhartiya Janaushadhi Pariyojana (PMBJP)
The Indian government has launched the Pradhan Mantri Bhartiya Janaushadhi Pariyojana to boost the production of high-quality generic medicines and make them accessible at affordable rates for the citizens. The initiative is expected to promote greater awareness about low-cost generic medicines that are same in potency and efficacy compared to its branded expensive equivalent. Besides, the PMBJP will encourage medical professionals to prescribe generic medicines and ensure substantial savings in health care for poor patients. With this initiative, India can generate up to 500,000 high value jobs for its youth and provide the country with low-cost healthcare for chronic and life-threatening diseases.
PLI Scheme for the Development of APIs
Currently, India has the most number of pharmaceutical manufacturing facilities including 3000 drug companies and 10,500 manufacturing units and 500 active pharmaceutical ingredient (API) producers, which constitute around 8% of the global API market. Pharmaceutical manufacturing is a highly capital-intensive business and most of the drug manufacturers rely on other countries for much of its APIs. India's dependence on China is about 70%-90% for the APIs. Hence, the government introduced Production Linked Incentive (PLI) scheme to meet its API demands locally. The government has earmarked over USD2 billion worth of incentives under this scheme to start producing 53 APIs to reduce reliance on imports, especially from China. After the introduction of the scheme in 2020, India has managed to develop 35 imported APIs across 32 plants in the country. Some of these APIs are commonly incorporated in anti-high blood pressure drugs such as Valsartan, Losartan, and Telmisartan. The scheme also aims to promote the innovation for the development of complex and high-tech products.
Foreign Direct Investment (FDI) in Pharmaceutical Sector
The foreign direct investment (FDI) inflows reached USD1.41 billion between FY2021-22 in the Indian pharmaceutical industry. Current Foreign Direct Investment (FDI) policy allows 100% FDI under automatic route in greenfield pharmaceutical projects and 72% under the brownfield projects. Under the greenfield category, any foreign company can establish their subsidiary and establish their won production by construction new plants and facilities. Under brownfield investment, the company can simply buy or lease existing facilities to initiate any new production activity. During the financial year 2021-2022, the Department of Pharmaceuticals has approved FDI inflows worth INR7,860 in brownfield pharmaceutical projects. Currently, India accounts 12% of all global manufacturing sites catering to the US market. The Indian government is now courting foreign investments from Latin America and Caribbean countries, given the benefits of setting up in India. Besides, the cost of manufacturing drugs in India is approx. 33% lower than that of the US or other developing countries. Drug companies based in India can have access to markets in US, Japan, Europe Union, and Southeast Asia All these factors are attracting huge investments from foreign players in the India pharmaceutical industry and contributing to the growth of India generic drugs market.
Way Ahead
Currently, the Indian pharmaceutical industry is valued at USD42 billion and is projected to reach more than USD120 billion by 2030. The growth trajectory is expected to be driven by rising exports and enhanced contract research opportunities. Low-cost of production, low R&D costs, and innovative scientific manpower can steer the industry to a high level. With right support and initiatives, India can become even bigger pharmaceutical powerhouse.