December 2, 2022
How Genomic Advancements are Fueling Innovations in Nutraceuticals
Increasing incidences of polygenic diseases such as obesity, cardiovascular diseases, and type-2 diabetes in recent years have been linked to rapid transition in lifestyle. Sedentary behavior, smoking, unhealthy eating, chronic stress, and lack of sleeping are some of the factors attributing to the rise of non-communicable diseases. These are largely preventable diseases that are posing challenge for health care systems. Disclosing early stages of prevalent diseases and identifying at-risk individuals by understanding the genetic basis of diseases is presumed to yield improved diagnosis and find better-targeted treatments. Growing data generated through genotyping and genetic sequencing are inspiring new avenues for polygenic disease prevention and treatment.
Nutraceutical Industry Registering Significant Growth
The nutritional supplements and nutraceutical industry in the United States currently values at USD96.3 billion, which is anticipated to grow at a CAGR of 5% by 2028. Currently, 80% of the US population has either taken or currently taking nutraceuticals to improve the quality and length of life. As the popularity of nutraceuticals is growing by leaps and bounds, many brands have proven themselves to be outstanding and truly innovative in their approach. Yemaya Organic provides the purest naturally harvested sea moss and seamoss-based nutrition products that aims to bolster the health and immune system of the consumers. MyPEAK Supplements provides completely plant-based and dairy-free nutritional supplements, formulated by physicians. These young companies are disrupting the nutraceutical industry, which was earlier dominated by large and well-established vitamin companies and pervasive drug chains.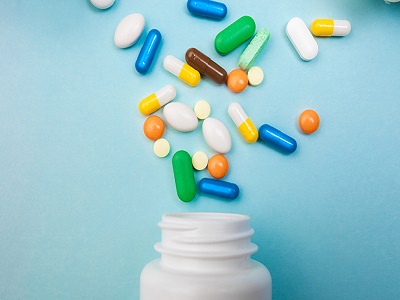 The type of nutraceuticals being offered to the population are evolving to have greater potency and specificity of targeted actions, owing to genomic advancements which are enabling market players to launch new and innovative products. Consumers are demanding high standards of quality since they are now well-informed and pay attention to the kind of ingredients making way into the product. Using the years of research and knowledge gathered in clinical trials, many pharmaceutical companies are trailblazing into the nutraceutical space. In the long-term, more pharmaceutical companies are expected to pursue non-pharmaceutical health products as consumers continue to prioritize health maintenance and natural solutions.
How can Nutrigenomics Boost the Growth of Nutraceuticals?
Research studies show that Nutritional genomics is an extension of precision medicine intended to treat, prevent, and manage diseases through targeted therapies formulated by taking into consideration how an individual's genetic makeup affects metabolism and response to nutrients and other bioactive components in food. Nutrigenomic services are sold as laboratory services where patient or consumer specimens are analyzed, identifying their dietary patterns, dietary supplementation, and lifestyle. Scientific advancements are enabling nutraceutical companies to develop more effective products with the help of cutting-edge nutraceutical ingredient suppliers utilizing modern genomics for meeting the rising demands of health-conscious population. Besides, there have been a greater emphasis on tracking the effects of personalized diets or nutrition using technologies with the use of wearables and mobile applications.
Nutraceuticals combine nutrition with pharmaceuticals, comprising non-toxic food extracts that have scientifically proven health benefits for both disease treatment and prevention. These include phytonutrients and pro-health nutrients, which positively influence the human health and prevent disorders such as cancer, diabetes, etc. Natural phytochemicals affect genome expression and signal pathways that act as epigenetic modulators. Customizing nutritional approaches to the pattern of response, immune system's functional capacity can be restored, which can make bodies more resilient. Growing geriatric population and rising consumer interest in personal ownership of health and wellness are expected to fuel the adoption of genomic advances in nutraceuticals.
New Developments in Genomics
One of the genomic advances fueling innovation in nutraceutical industry is next-generation sequencing technologies. The sequencing technology enable scientists to better understand the mechanism of action of a production and identify genetic signatures associated with various health disorders. The next-generation sequencing technology is an incredibly powerful technology that works by conducting massive parallel processing to detect changes in gene expressions when exposed to a compound or formulation. This new genomic technology is a high-throughput, scalable, and fast method of identifying common and rare genetic variations. Many companies are utilizing next-generation sequencing to develop health and wellness products. Recently, Mikra, a biosciences and wellness company announced to launch a novel cellular therapeutic compound, CELLF that targets systematic fatigue. The compound also promotes upregulation and downregulation of certain cellular detoxification pathways that aids in the creation of mitochondria and increase their efficiency, which help to combat brain fog, fatigue, and inflammation.
Symrise AG, a major producer of flavors and fragrances has collaborated with Netherlands-based Wageningen University and Research (WUR) to develop next-gen seeds with an aim to contribute towards alternative protein transition. Breeding pulses and legumes for optimal flavor, functionality and sustainability, the company expects to enable significant growth in the European pulses supply chain, driving the development of responsibly sourced ingredients. As the food industry and consumers are looking forwards to new protein sources to replace alternative meat and dairy products, this project by Symrise could address the challenge of lack of optimal flavor and functionality in legume proteins.
CRISPR-Cas System
The CRISPR-Cas system is being increasingly used for developing biofortified crops due to its diverse applications in genome editing. The system allows genomic modifications that prevent crops for disease resistance, drought, salinity, and thermotolerance. The genome editing method also aids in developing climate-ready crops and improving crop quality parameters such as nutritional components, palatability, etc. The genome editing tool has immense potential to eliminate the nutritional deficiency in crops as well as provide food security to ever-increasing population around the world. Other such genome editing tools like meganucleases, zinc finger nucleases, transcription activator-like effector nucleases, etc. are being applied to enhance the quality of food.
Over the past two decades, a rapid increase in the use of nutraceuticals, owing to the mass information available on the internet and enhanced public awareness are expected to drive the adoption of nutraceuticals. Moreover, marked side-effects and ineffectiveness of modern pharma has led to an increasing use of nutraceuticals as medicines. Further advancements in genomic techniques and technologies are expected to aid towards innovation in nutraceuticals, which could provide growth opportunities for the industry players.
According to TechSci Research report on "Global Nutraceutical Ingredients Market, By Type (Omega-3 Fatty Acids, Minerals, Prebiotics, Probiotics, Proteins & Amino Acids, Vitamins, Carotenoids, Fibers & Specialty Carbohydrates, Phytochemical & Plant Extracts and Others), By Application (Dietary Supplements, Functional Food, Functional Beverages, Animal Nutrition and Personal Care), By Form (Dry and Liquid), By Health Benefits (Gut Health, Heart Health, Bone Health, Immunity, Nutrition, Weight Management and Others), By Company and By Geography, Forecast & Opportunities, 2027", the global nutraceutical ingredients market is anticipated to register growth at a significant rate during the forecast period. The market growth can be attributed to the rising awareness regarding healthy diet and increasing incidences of chronic disorders.
According to another TechSci Research report on "Nutraceuticals Market – Global Industry Size, Share, Trends, Opportunity and Forecast, 2017-2027 Segmented By Product Type (Dietary Supplements, Functional Foods, Functional Beverages), By Form (Tablets, Capsules, Powder, Liquid, Others), By Source (Animal, Plant, Microbial), By Distribution Channel (Specialty Stores, Online, Pharmacies, Hypermarkets/Supermarkets), By Region", the global nutraceuticals market is anticipated to grow at a significant rate during the forecast period. The market growth can be attributed to the rising incidences of chronic disorders and growing healthcare awareness among the population.