November 25, 2022
Hottest TV Technologies in 2022
With the advent of breakthrough technologies, television has been making big leaps in terms of clarity, overall brightness, and color vibrancy. Movies and games have never looked better as the long-running success of liquid crystal display (LCD) screens continue to get eroded by organic light-emitting diode (OLED). Every year, TV industry pioneers such as LG, Samsung, Panasonic, Sony, and the rest others releases hundreds of new TVs with new features and technology to revamp their ranges and debut striking new sets. All the TV brands are emphasizing smart features and gaming, making it easier for users to find content and streamline the experience of navigating gameplay. However, the hottest TV technologies dominating the industry are Mini-LED, Micro LED, and OLED, revolutionizing display like never before!

Mini-LED
Mini-LED is an evolution of tradition LCD TV tech that most TV manufacturers are using. LEDs smaller than 2 millimeters are called mini-LEDs. The TV technology uses thousands of tiny light emitting diodes to improve the picture quality. From Phillips to Samsung, LG to Hisense, every TV maker is introducing new mini-LED TVs. Samsung is calling its mini-LED version Neo QLED, while LG is going with QNED while the latest version from TCL is called OD Zero. The mini-LED technology uses more and smaller LEDs to illuminate the screen, which leads to better contrast and image quality, especially with HDR shows, movies, and games. Compared to OLED, mini-LED is more affordable, particularly in large screen sizes. In the coming years, more such mini-LED TVs from different brands can be expected as the companies are trying to nail down sweet spot between price and performance. If the mini-LED technology is deployed effectively, the LCD panels would get more closer to OLED levels of performance.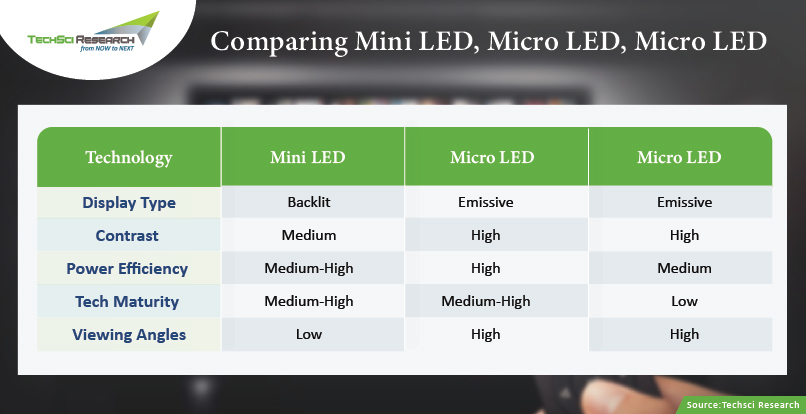 The Hisense U7G features full-array local-dimming backlight for superb black levels and image contrast as well as 120 Hz refresh rate. Thanks to its high brightness and rich color, the mini-LED TV shows high dynamic range video and supports advanced Dolby Vision HDR standards. For people who want to move beyond the standard LED backlight in the Hisense U7G and willing to pay a higher price, Samsung QN90A is the ideal option. In addition to better contrast ratios and brighter HDR highlights, the mini-LED TV also has a wide viewing angle so that everyone can enjoy a good-looking image no matter where they sit in a room. Samsung QN90A comes in more screen size, from 43 to 98 inches and support most of the popular streaming services. One of the drawbacks of Samsung QN90A is that is does not support advanced Dolby Vision high dynamic range format.

The idea with mini-LED models is to provide consumers with improved color and contrast compared to what standard LED TVs offer. However, they are generally less expensive than OLED.

Micro LED
Micro LED TV uses a new kind of technology that combines new LED and OLED TVs. Micro LEDs light their own individual pixels which provide incredible light control, brightness, and contrast. Compared to LCD display, a micro-LED is much simpler and can be made flexible. Micro-LEDs promise to be much brighter and more durable with high color gamut during their lifetime. Some of the other advantages of micro LED TV include increased brightness, long lifespan, and low power consumption. Since micro LEDs are self-emitting pixels that do not require any backlighting, the screens are slimmer, and images can be controlled better across the board. Besides, micro-LEDs do not use any organic components, so the performance does not deteriorate even after thousands of hours of use. Samsung has been successful in developing 10,000 nits micro-LED screens, which provides astonishing brightness with pure black tones and enormous contrast ratios. The brightness promises big color volumes since there is no 'cross-talk' of color or light. Viewing angles of micro-LEDs are as good as OLEDs and lighting is ought to be utterly precise.

Samsung's Micro LED offers best-in-class picture quality thanks to 25 million micrometer-sized LEDs that are self-emitting. The company unveiled the Micro LED in three different sizes, 110'', 101', and 89' that support 20-bit greyscale depth and express every detail in a scene and offer finest control of brightness and color levels. Expressing 100% of DCI and Adobe RGB color gamut, the micro-LED TV offers an immersive experience and revolutionary performance to viewers.
The potential of micro-LED is immense in enabling businesses in luxury industry to hospitality to achieve more. Micro-LED TVs are a rage among home cinema enthusiasts due to their greater brightness, low power consumption and long lifespan.

QD-OLED
Quantum Dot LED (or QLED TV) is a new hybrid display technology, debuted at CES 2022, which is not being incorporated into TVs from Sony and Samsung. The new technology aims to take the very impressive qualities of OLED TV and improve on brightness and color through the use of quantum dots. The QLED TV exhibits stunning levels of contrast and perfect blacks of OLED, giving viewers experience of the best of both worlds. QLED TV has four essential elements, LED backlight, a layer of quantum dots, LCD matrix, and color filter. Compared to OLED TVs, QD-OLED TVs deliver a wider range of colors on screen, beneficial for HDR content and brighter rooms.
QD-OLED are presently sold by Samsung and Sony in 55- and 65-inch screen sizes. These TVs currently rank among the top models in 2022, with both sets garnering rare 5-star ratings. Samsung S95B QD-LED has a peak brightness level of over 1000 nits, which makes it the brightest OLED TV. However, the Sony A95K has a peak brightness level of just below 1000 nits.

Next-Generation Apple TV 4K
Apple recently introduced powerful next-generation Apple TV 4K that features A15 Bionic chips, which deliver faster performance and impressive cinematic quality. With CPU performance 50% faster than previous generation, the TV showcases greater responsiveness, faster navigation, and snappier UI animations. The GPU performance of the TV is 30% faster than the previous generation, which allows smoother gameplay. The touch-enabled clickpad of Siri Remote enable users to easily navigate and offer precise control on the elegant user interface of Apple TV. Apple TV experience integrated with tvOS16 would allow consumers to use their voice for controlling Apple TV and interact with results.
More such innovation by the key player in the TV industry could be expected in the coming years, which would take the TV viewing experience to the whole next level for consumers.

According to TechSci Research report on "Global Television Market By Screen Size (39" and Below ,40"-49", 50"-59", Above 59"), By Display Type ((LED, OLED, Others (LCD, QLED, etc.)), By Distribution Channel (Multi Branded Stores, Supermarkets / Hypermarkets, Online, Others (Institutional Sales, Exclusive Stores, etc.), By Region, Competition, Forecast & Opportunities, 2027F", the global television market is projected to grow at a significant rate during the forecast period. The market growth can be attributed to the technological advancements in the television industry and rise of the e-commerce industry. Besides, increasing internet penetration and increasing innovation in TV technologies are expected to aid the growth of the global television market.

Web: https://www.techsciresearch.com