September 28, 2017
Growing Market Prospects for Membrane Bioreactor in United States
United States Water Scenario:
Globally, the United States accounts for the largest demand for water, followed by China, India and Brazil. The main sources of water supply in the country are public water supply, domestic wells, surface sources and publicly owned water systems. However, the country's fresh water resources are turning brackish due to increasing water pollution. The country has been facing issues related to quality, scarcity and difficulty in access to water resources, and these issues are prominently prevalent in southwestern states such as California, Utah and Arizona. However, the quality of surface water in the country has maintained owing to stringent government regulations, large number of water monitoring systems and water quality standards. More than 50% of the publicly supplied water in the country is used in households, while the remaining is used by industries. Increasing number of urban households and growing industrial activities are some of the major causes of water pollution in the US. Moreover, the recurring floods in California and leakage of crude oil during transportation has polluted rivers and lakes in the country. Consequently, the country is witnessing boisterous demand for advanced wastewater treatment systems, which in turn is driving the United States Membrane Bioreactor market, at a considerable rate.
United States Municipal Wastewater Treatment Market Size, By Value, 2014-2017F (USD Million)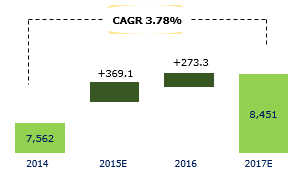 United States Utility Capital Expenditure on Wastewater Treatment Plants, 2014-2018F (USD Million)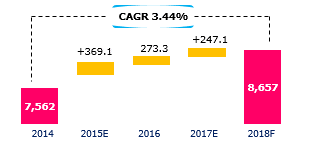 Regulatory Drivers:
Strict government regulations on discharge of wastewater is a major driver for MBR installation across the United States. For instance;
United States has NSF/ANSI 350 (for Water Reuse) and California Title 22 standard which highlights the prospects related to water quality parameters when using MBR. Moreover, aging water infrastructure in the United States has motivated the government to develop the existing water treatment infrastructure as well as increase investments on cost effective water & wastewater recycling & reuse programs.
Enforcement of Clean Water Act, which regulates the amount of pollutants discharged from industrial effluent plants, municipal & industrial wastewater treatment plants and municipal corporations, through the National Pollutant Discharge Elimination System (NPDES) Program is another major factor expected to boost the installation of highly efficient technologies, including MBR, across the country.
On account of stringent regulations imposed by regulatory bodies, the United States is expected to remain the largest wastewater treatment market in the world in coming years as well.
Conclusion:
US Membrane Bioreactor (MBR) market is expected to witness healthy growth over the coming years. Strict government regulations on discharge of wastewater coupled with increasing investments are the major drivers for MBR installation across the United States. Suez, Koch Membrane Systems, Inc., Evoqua Water Technologies LLC, Kubota Membrane, USA, Ovivo USA, LLC, etc. are some of the international players which are actively operating in the United States Membrane Bioreactor market.
Request for Sample Report Today!
Partial List of Installed Membrane Bioreactor Plants in the United States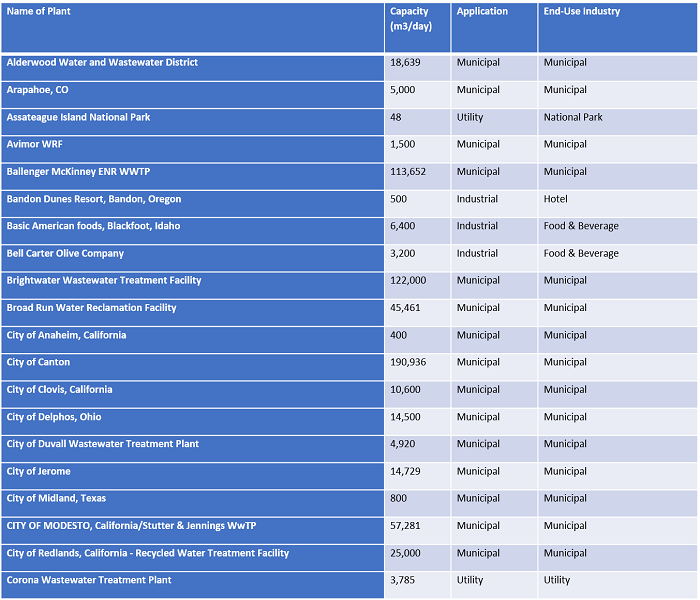 Get Complete List of MBR Plants in Australia!